---
How to Make Money Without Really Trying
Scramble Squares Puzzles Create an Ongoing Event in Your Store
The following is an advertorial. After watching how the Scramble Squares® 5-MINUTE CHALLENGE® display works, the author happens to believe that b.dazzle, inc. puzzles and displays are a must-have for toy and gift stores. She has solved two b. dazzle puzzles so far. Don't ask her how.



"The puzzles make money and build buzz for the store without creating any extra work for the owner."

What would you say if someone invented an inexpensive, braintwisting puzzle that came in a multitude of designs that appeal to players from 4 to 104, plus was accompanied by a game display that hooks customers on the challenge of solving it?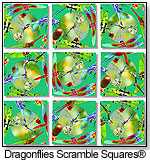 What if the puzzle also had a proven sales track record and retailers sent the manufacturer comments such as:

''Your puzzles sell great and fast!''
''I sold 13 this morning in a little over an hour.''

and say they're the most profitable item per square inch in their store?

Would you buy it? (If not, could you please email me and tell me why not?)

If you would buy it – whether in the past or as soon as you finish this article – you are not alone. More than 2,000 retailers work with
b. dazzle, inc., and there's a good reason why: The puzzles make money and build buzz for the store without creating any extra work for the owner.

How? By using the display to create an addictive challenge that keeps customers coming back and transforms winners into PR reps when they win a free puzzle and then brag about their victory around town.

Watch these videos to learn more:

What are Scramble Squares®?

Get the Flash Player to see this video.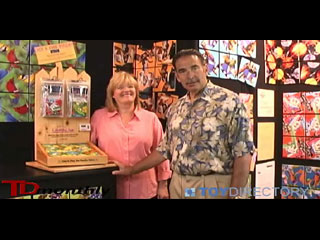 What's a 5-MINUTE CHALLENGE®?
Get the Flash Player to see this video.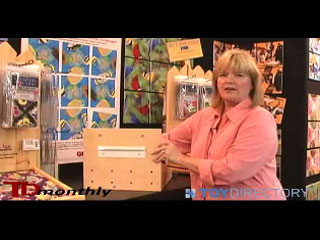 Scramble Squares® puzzles are small, diverse, beautiful, can take up very little space and – this is their tagline and the key to their success – they are easy to play, but hard to solve.

What does that mean? It means that I could explain to my three hyperactive 8-year-old nephews the basic concept of Scrambles Squares® and, with just a few adjustments, they were busily rearranging the puzzle pieces and trying to figure out the solution. It also means that they did not find the solution and neither did their 70+ highly successful, hyperfocused grandpa.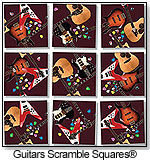 The nine-piece Scramble Squares® puzzles retail for just under $10 and intrigue players of all ages and backgrounds with their deceptively simple design and original artwork. The concept of the puzzle is easy to grasp — line up three rows of three puzzle pieces each and complete the pictures where the puzzle pieces touch in every direction — but the number of possible non-solutions is so vast that players rarely discover the one pattern that will solve each puzzle.

Because the solution seems intuitive and yet remains elusive,
b. dazzle, inc. founders, Marshall and Kathie Gavin, designed an in-store display that challenges players to work out the correct pattern in five minutes or less. Those who win the 5-MINUTE CHALLENGE® are rewarded with a free puzzle of their choice, and the sponsoring store receives a replacement puzzle of its choice from b. dazzle, inc.

Does that mean the store is handing out a ton of free Scramble Squares? Hardly! As Kathie put it, "The average time to solve a Scramble Squares® puzzle is 2-1/2 hours to never!" Marshall adds that they give away approximately one free puzzle for ever 5,000 sold.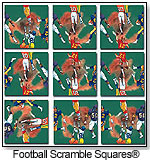 Consumers love them. Here's what two of TDmonthly Magazine's unbiased, unpaid expert reviewers said when they tested Scramble Squares on kids:

"My 11-year-old enjoyed playing with the Scramble Squares, and spent hours working on one until he finally solved it," wrote Emilie Hill, a former physics teacher.

Beth Carroll, Psy.D., a professional psychologist who specializes in child intervention and development, wrote: "This is one of the most unique puzzles I have seen in a while"

Scramble Squares® have won dozens of awards and just picked up five more awards this year including Dr. Toy's 10 Best Educational Products of 2010 by The Institute for Childhood Resources in San Francisco for the Dragonflies Scramble Squares®, Dr. Toy's Best Picks for Children's Products - 2010, Dr. Toy's Best GREEN Product Award for 2010, the 2010 Learning Magazine Teachers' ChoiceSM for the Family Award for the Kites Scramble Squares® puzzle and a "Giftys"award from Museum & More magazine for the Dragonflies Scramble Squares®.

Here are a few puzzles to get you started. If you order, write to tell us how they did for you!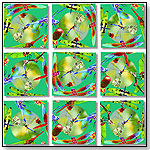 The Dragonflies Scramble Squares® puzzle features some of the most beautiful of the varied Dragonflies' coloration. The object of the Scramble Squares® puzzle game is to arrange the nine colorfully illustrated 4" x 4" square pieces into a 3 x 3 pattern to form a 12" square so that the realistic graphics of the dragonflies match perfectly. Each puzzle package includes a panel of facts on dragonflies, as well as a trivia question and hidden answer to the trivia question.
Awards: Dr. Toy 100 Best Children's Products - 2010

ToyDirectory Product ID#: 30738

(added 10/11/2010)

.

AD
---







Scramble Squares® are nine-piece puzzles that feature original art and only one solution. They're designed for everyone from age 4 to 104.

— Teri Lucas of

The Old Schoolhouse Magazine

loved Scramble Squares, describing them as "the puzzle lover's challenge, the perfectionist's nightmare, and loads of laughs."

—

Living Sola Gratia

's Brandi found Scramble Squares to be deceptively simple. She suggested keeping an unopened Scramble Squares on hand as a perfect last-minute gift.

ToyDirectory Product ID#: 28862

(added 6/14/2010)

.

AD
---






Retailers will be able to milk new profits from b. dazzle, inc.'s beautiful new Scramble Squares® puzzle on one of America's favorite topics. Retailers using b. dazzle's unique Scramble Squares® interactive playing surface point of purchase displays may offer consumers a free Scramble Squares® puzzle if the consumer can solve the demonstration 9-piece Scramble Squares® puzzle within 5 minutes. b. dazzle, inc. provides a free electronic timer and a

5-MINUTE CHALLENGE®

CERTIFICATE Kit with every display to support this very effective promotion. Once a consumer tries to solve the puzzle, he/she gets "hooked" and wants to buy at least one to take home and prove he/she can solve it! Because Scramble Squares® are less than $10.00 retail and they are available in over 140 exquisite styles, consumers who have taken THE CHALLENGE® usually buy at least two or three Scramble Squares® puzzles at a time to delight or torment friends and family members.You can also

watch a video

about how the

5-MINUTE CHALLENGE®

helps sell Scramble Squares® puzzles.

ToyDirectory Product ID#: 26587

(added 1/6/2010)

.

AD
---






Scramble Squares® are nine-piece puzzles that feature original art and only one solution. They're great for everyone from age 4 to 104. Interesting fact: Modern football had its start in the mid 1800s, when Webb Ellis of England's Rugby School scored a goal in a game of English soccer football by picking up the ball and running it over the goal line in a desperate attempt to win the game before the school's five o'clock curfew bell. From that day forward, English football divided into two distinct games: the "handling game," rugby, where the ball could be advanced by carrying it, and the "dribbling game," soccer, where the ball must be advanced by kicking it.

ToyDirectory Product ID#: 25325

(added 9/10/2009)

.

AD
---






A surprise best seller, the Symphony Scramble Squares® has hit a responsive chord as a gift for children learning to play musical instruments and music lovers and concert goers of all ages.

ToyDirectory Product ID#: 3031

(added 2/27/2005)

.

AD
---

Writer's Bio:
ALISON MAREK is an award-winning writer, director and cartoonist whose work has been published by Fairchild Publications and DC Comics (Piranha Press), broadcast on Showtime and other cable networks, and viewed worldwide in film festivals. See her short films and print work on www.alisonmarek.com. Watch her nefarious villains in the web series www.MuggsMovers.com. Get inspired by her cartoons "Daily ARFFirmations to Unleash Your Inner Fido" at www.ARFFirmations.com. Phew! And then ...
Read more articles by this author
THIS BANNER IS AN AD:
---
---