---
The House Jakks Built - Sequel
Eighteen months ago I wrote an article in this space on "The House that Jakks built". I then postulated that Jakks had two major skills – one was its talent in making well-priced acquisitions, the other to manage and supervise its supply chain. I also pointed out that its growth had come virtually totally from acquisitions and that without them, business would stagnate. I worried about the company's apparent inability to build an international business and thought that the loss of major licenses was probably at least partly due to this shortcoming. I also thought that they were overly dependent on Wal-Mart.

That was eighteen months ago. Let us now see where Jakks got to in the meantime.

Overall: They did not make any acquisitions since early 2009 and their business has, as predicted, stagnated and then declined. They lost the Care Bears and the WWE licenses and their Joint Venture with THQ went west. Their international business has not gone anywhere. Their Wal-Mart business declined sharply. Yet, it looks nevertheless as if they are turning around.

International Business: In their 2008 Annual Report, Jakks management said:

"We believe that foreign markets, especially Europe, Australia, Canada, Latin America and Asia, offer us significant growth opportunities. In 2008, our sales generated outside the United States were approximately $161.9 million, or 17.9% of total net sales. We intend to continue to expand our international sales by establishing a sales office and distribution center and capitalizing on our experience and our relationships with foreign distributors and retailers. We expect these initiatives to continue to contribute to our international growth in 2009."

In July 2009, I wrote that " JAKKS has also not been able to make meaningful inroads into the non-U.S. toy market, which represents about 70 percent of the world total". This has not changed: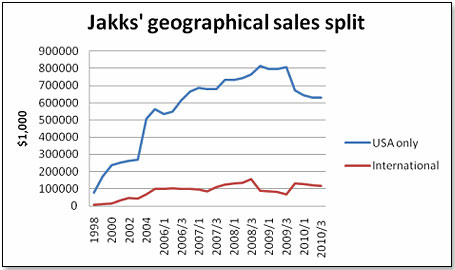 They have not made any progress since late 2008 and they are not in any of the major European retailers. I spoke to ToysRUs UK, Germany, Spain and France as well as Karstadt Germany, ASDA [Wal-Mart] UK and Migros Switzerland and none of them carry Jakks products. When asked why, they all said words to the effect that Jakks did not have strong brands nor strong licenses. Whatever the case may be, International accounted for only 17.2% during the third quarter of 2010 as compared to the lamented 17.9% during 2008.

U.S. Channel Split: Eighteen months ago I was worried that Jakks' dependence on Wal-Mart could prove to be dangerous. This concern proved to be justified – Wal-Mart was responsible for over 40% of Jakks' U.S. sales decline since 2008: This is how Jakks' business developed: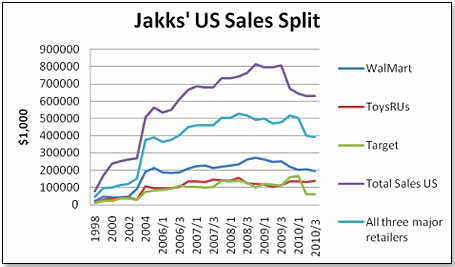 Equally, the quality of its distribution with the big three retailers suffered a sharp decline since beginning of 2009 if you take the number of endcaps and aisle caps as a measure: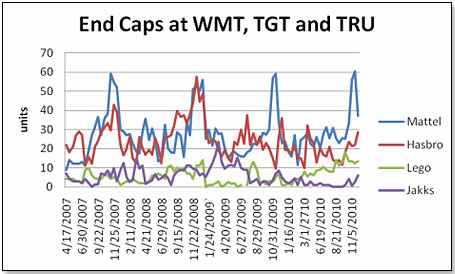 Failed Diversifications: For the past eleven years, Jakks has tried to diversify away from toys. In this they continue to fail: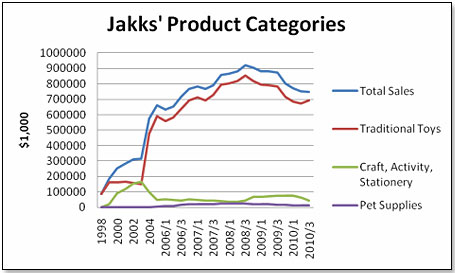 I hate to think how much senior management time and focus is devoted to these non-toy categories. My suggestion would be to sell them and to concentrate on what everybody at Jakks appears to be pretty good at – toys.

Yet, there is light at the end of the tunnel: While Jakks' business from virtually any point of view appears to at a dead end, there are in fact a number of signs that the company has embarked quietly and effectively on a direction which may well be its salvation. They have begun to build brands and relationships with major toy licensing entities.

Jakks' major success story is its relationship with Disney. They have put together a major stable of Disney products and are doing well with them. They have shown good marketing and distribution skills for Club Penguin, Tinkerbell, Fairies and Hannah Montana. They just got Princess and Me [which is the only fashion doll in TRU's list of the 15 Best-of-the-Best Toys of the Season] and as of next year the Pirates. Disney is continuously evaluating its licensee lineup and it is particularly this last license that is significant because it signals that Disney is happy with Jakks and intends to continue the relationship with them.

Jakks also replaced the WWE license with UFC and is getting placement and traction at Target and ToysRUs domestically. This is a worldwide master license and it includes Europe. They are doing very well with it in their U.S. major retailers and are nowhere in Europe. However, this may not be their fault altogether – wrestling toy figures are very much an Anglo-Saxon phenomenon and one that is not easily translated to the European Continent.

Finally, they also cornered the Smurfs license for the movie coming out in August next year. This should give them a very strong entry into the preschool category in a year when there are only two other competing films being screened – Kung Fu Panda on 6/3 and Winnie the Pooh on 7/15, both Mattel.

I looked at the Blog Sphere – which is one measure of consumer interest – and found that UFC and Princess and Me are doing particularly well. I used Toy Story, arguably the strongest toy range this year, as a control: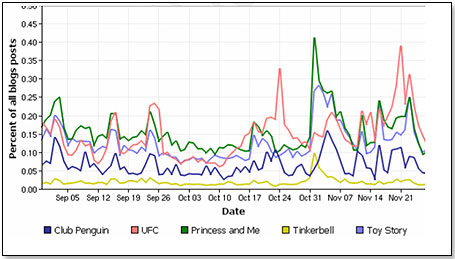 While they are clearly turning around in the U.S. the question is what happens in Europe. At the last earnings call, Jakks management spoke of their efforts to build an international business. They established a European office in the UK and staffed it with two seasoned toy execs – David Carscadden from Mattel and Chris Jones from Vivid. While these two execs bring with them a host of contacts and lots of expertise, they will still find establishing a potent European business somewhat of an uphill battle. Obviously, licenses are a key part for any European strategy; however, none of the licenses other than UFC include Europe and I suspect that they will not get European rights until they demonstrate that they are a significant force there. It is indeed a Chicken and Egg situation – without major strength in Europe they will not get top licenses there, and without top licenses for Europe they will not be able to build the sort of clout they need to get them. One of my contacts at a large European retailer suggested that what Jakks really needed to do to get out of this box was the decision to establish the most promising of their brands at a Europe-wide 5% market share in its category over a three-years campaign and by being ready to spend what it took to get there. Once that was achieved, the licenses would automatically follow.

Writer's Bio:
Lutz Muller is a Swiss who has lived on five continents. In the United States, he was the CEO for four manufacturing companies, including two in the toy industry. Since 2002, he has provided competitive intelligence on the toy and video game market to manufacturers and financial institutions coast-to-coast. He gets his information from his retailer panel, from big-box buyers and his many friends in the industry. If anything happens, he is usually the first to know. Read more on his website at www.klosterstrading.com.
Read more articles by this author
THIS BANNER IS AN AD:
---
---