---
E3 Wrap-up and Outlook for the Video Game Industry
Cloud Gaming and Digital Downloads Pose Threat to Major Players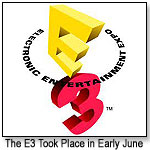 The E3 (Electronic Entertainment Expo) early this month was another milestone on the very rocky road the video game industry had travelled all of this year. It had started off with a negative January sales picture, followed by a somewhat better February, then the launch of the 3DS late March, and then a really strong April. The video game industry executives flocking to the show would have been excused for thinking that after incessant bad news for over two years the worst was probably behind them and that the video game biz, at least in the United States, had turned the corner. This fond hope would have been buttressed by the many rumors swirling around the Los Angeles Convention center on opening day that there would be momentous revelations from both Nintendo and Sony to the effect that blockbuster releases of new and ground breaking hardware were just around the corner.

Well, they were in for some disappointment.

First, Nintendo: Yes, they announced the impending release of the next generation Wii, the Wii U, for next year. I am not quite certain what the analysts expected but it was obviously something that could compete head-on with smart phones and tablets. Well, what they got was the old Wii, but on steroids - improved hardware and high definition capabilities; controller complete with 6.2" touch screen panel and motion sensors; HD visuals in full 1080p, putting it in the same performance bracket as the Xbox 360 and PS3. The release date is expected to be middle of next year and the retail price is at this point not determined.

The financial analysts took one look at the device and headed for the hills. The Nintendo stock tanked by more than 18% between June 6 and June 24 as compared to the Dow Jones, which went down by 1.4%.

Then there is the price issue. Game consoles have to maneuver between technical capability and cost. Or, to quote Nintendo designer and EAD general manager Shigeru Miyamoto: "the recently announced Wii U may not necessarily dramatically outperform the systems that are out now," presumably out of deference to price concerns. Nintendo President, Satoru Iwata, stated that the retail price of the new machine was likely to be above $250 – and, according to my sources, nearer $350 on release date next year. While a pretty heavy nut in and of itself, this compares to Microsoft - Xbox 360 4GB Console with Kinect at $299 and Sony - PlayStation 3 (320GB) with PlayStation Move Bundle at $350.

Complicating things further is the fact that the price of the Wii itself just dropped to $150 at the beginning of May. Will anybody other than the most fanatical early adopter consider the Wii U at a price more than double that of the Wii a reasonable proposition? I doubt it.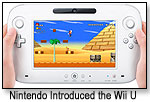 Nintendo also extolled the virtues of the 3DS, which had started off with a bang but was quickly reduced to a whimper. As I had predicted back then, a $250 price tag is one of the major reasons why the device did not make it past the most hardcore of early adopters. Nintendo tried to breathe new life into the 3DS by showcasing the many new and excellent games at long last becoming available for it – Mario Kart, Starfox, Luigi's Mansion, Super Smash Brothers, Zelda, Pokemon, Resident Evil etc., all in 3D. However, most industry insiders laud them for effort but doubt whether it will energize the product.

Sony focused its presence at the E3 on their upcoming new handheld – the Vita. A successor to the current PSP, the Vita is a portable game console with a 5-inch high contrast front display, a touch pad in the back and two cameras to support augmented reality games. The device is to be released before Christmas 2011 in the U.S. and is expected to retail for $249 for the WiFi version, or $299 for the 3G Vita model. In comparison, the current PSP runs at $129.99. It is clearly a better machine than its predecessor and arguably also in comparison to its competitor, the 3DS.

In addition, Sony announced that there would be a price cut for their current PS3 console - Sony - PlayStation 3 (320GB) with PlayStation Move Bundle – from the current $350 to well below $300 in the next few months.

Finally, Sony also announced that they were developing a successor console to the PS3 – e.g. the PS 4 – for release "sometime in the future." Betting is that this "sometime in the future" in fact means before Christmas next year.

Microsoft did not bring anything new to the party but basked in the continued Xbox 360 steamroller aided by the Kinect motion sensor. Kinect is the new title-holder for fastest-selling consumer electronics device in the world according to the Guiness Book of World Record. In addition, Microsoft dropped broad hints that the successor to the Xbox 360, the 720, would be released before Christmas next year.

It now seems that we are firmly at the end of the current between-console cycle and are beginning to look forward to the next cycle driven by the new consoles next year. The main question is whether we shall see a repeat of the last cycle when the market stagnated between 2002 and 2006 and then took off once the new consoles – the Xbox 360, the PS3 and finally the WII – hit the market: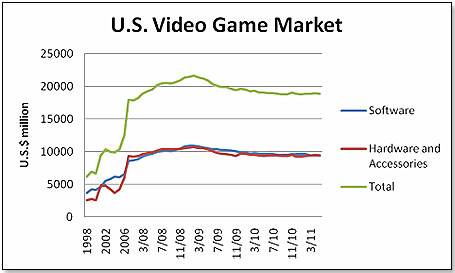 The in-between cycle last time around came to an end in 2006 when the video game market jumped in one year by 43% due to the introduction of the new consoles. It then grew another 20% from that point onwards until February 2009 when the market hit its peak. From then onwards it was nothing but declines. If history repeats itself, we will be looking at a growth spurt of about $8 billion next year – from $18,5 billion this year to $26.5 billion in 2012.

This may in fact be wishful thinking for three reasons – mobile platforms, cloud gaming, and digital downloads.

The first are the Mobile platforms – iPod, iPhone, and the iPad – which have made tremendous progress in the past few years and have in fact taken over a very major part of the gaming business.

Here is, according to Flurry Analytics, what happened in the portable video game software market between 2009 and last year: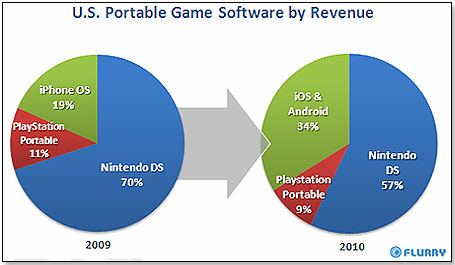 The market moved away from video-game specific handhelds to more versatile machines. In the specific case of Tablets, usage patterns are striking. A survey of more than 1,400 tablet owners in the US by Google's AdMob subsidiary has found that gaming is the most popular use for these devices, considerably ahead of music, video and ebooks. 84% of tablet owners play games, ahead of even searching for information (78%), emailing (74%) and reading the news (61%). 56% of tablet owners use social networking services on their device, while 51% consume music and/or videos, and 46% read ebooks.

As Chris Boothroyd, CEO of Gamestrong, aptly told me a few weeks ago:

"The console value proposition to consumers has been severely eroded by PC games (both AAA and browser based), smartphones (in particular the iPhone) and now SmartTVs. With market drivers like cheaper faster home broadband in the US and LTE popping up everywhere, its hard to see how expensive-to-develop, walled garden console development is going to compete with Free2Play and DLC."

The fact that Activision is contemplating developing games specifically for the iPhone and its competitors – as per Blizzard designer Greg Street in an interview with Eurogamer - should tell us something.

The second is Cloud Gaming, which in turn has come of age. OnLive, the first and major player in this space showcased its technological moxie very convincingly at E3. OnLive is for real and working. It is a technology whereby you can play games on your PC, or Mac, or TV, by accessing OnLive's games portfolio via the internet - "in the cloud" as it were. They now offer more than 100 titles for every possible application. All OnLive games played using the OnLive Player App will play seamlessly across all OnLive-compatible devices, including iPad, iPhone, Android, on HDTV via the OnLive Game System, on connected HDTV and Blu-ray/media players and on PC and Mac.

More than two years ago, in April 2009, I said in this publication that:

"While my friends at GameStop do not seem to be overly concerned about Amazon's and Toys "R" Us's entry into the used-game space, there appear to be two camps about the latter (the OnLive entry). One camp, C-level management, is officially dismissing OnLive as a gimmick, saying that a number of much more sophisticated companies have tried to achieve cloud-availability of video games and all have failed. The other camp, mainly middle-level types, such as district managers and country managers, are much less sanguine. They believe OnLive will, in fact, succeed. They listen to their contacts at the large publishers, those who have been supporting OnLive for a while, and believe what they are told — namely, that OnLive is real, is scalable, and is a game changer."


Well, it has come to pass. The problems predicted by most naysayers some two years ago – that you could not access the games, that it would take an inordinate amount of time to get at them, that it was technically not doable, etc – all have been disproven. OnLive CEO Steve Perlman told Gamasutra that he expects OnLive to be in 25 million televisions and 50 million Blu-ray players by the end of the year, on the basis of his partnership with electronics company Vizio [reputedly the leading producer of high definition televisions in America]. "You get to the point where our total addressable market is going to be larger this time next year than any game console," he says.

OnLive is probably one of the most direct threats to GameStop's brick and mortar survival in that it attacks both its software and its hardware business. It is also not viewed too kindly by the three console manufacturers.

That does not mean that OnLive, in turn, does not have competition. The most potent is Gaikai. Gaikai does pretty much anything OnLive does. All you need to access a game is an internet-connected device. Games of any genre can be streamed on the Gaikai platform. This includes first-person shooters and even games in Stereoscopic 3D.

Many in the industry in fact think that potentially Gaikai is superior to OnLive. It is reported that the web performance company Gomez recently tested Gaikai and OnLive's latency and found that Gaikai was faster 25 out of 26 times. And a behind-closed-doors E3 demo of Crysis 2, running off of a remote, high-performance Gaikai server, exhibited minimal noticeable latency. What impacts the latency issue is that OnLive has only three datacenters in the U.S., while Gaikai currently has 24, with more on the way.

Whatever the case may be, Wal-Mart for one seems to think that Gaikai is pretty hot stuff. Walmart.com, the retailer's online division, has just concluded an arrangement with Gaikai whereby Gaikai will offer free streaming PC game demos on Walmart.com, which will allow visitors to the Walmart.com website to stream and play PC game demos such as Dead Space 2 within just a few minutes of downloading the data. According to the story, Gaikai gets paid by Walmart based on the amount of minutes a person spends on the web site streaming and playing the free game demos. Naturally, if the consumer likes the game, Wal-Mart hopes that he or she will then also buy it from them.

In other words, cloud gaming is here to stay.

Digital Downloads

I estimated four months ago in an article written in this publication that digital downloads had represented 12.5% of the total retail value of all video game products (including hardware and accessories) purchased in 2010 in the United States. Because of the very low average unit price of these games, the percentage of downloads in units would have been considerably higher, at about 22%. We now know the actual number - digital delivery accounted for 24% of videogame sales in 2010, according to a report by the Entertainment Software Association.

Digital downloads are a software publisher's dream come true and the stuff of nightmares for both the retailers and the hardware manufacturers. In addition, used game sellers and pirates are not going to be too happy either. Simply put, a direct download does not have to go through a retailer, does not need an expensive console, cannot be resold as a used product, and cannot be copied by the pirates that infest these waters. It is considerably cheaper to produce since none of the physical product attributes – the disc, the packaging, and the instructions – are needed, nor is the 20% or so retailer margin a factor any longer.

For a variety of reasons, downloads are expected to grow significantly in this decade and in fact are likely to account for the total growth of the industry as per the graph below: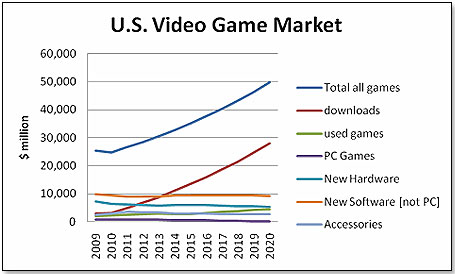 Overall conclusion of what went down at the E3? Absent a total game changer in the technological space, video game retailers and video game hardware manufacturers seem to be looking at a very tough decade.

Writer's Bio:
Lutz Muller is a Swiss who has lived on five continents. In the United States, he was the CEO for four manufacturing companies, including two in the toy industry. Since 2002, he has provided competitive intelligence on the toy and video game market to manufacturers and financial institutions coast-to-coast. He gets his information from his retailer panel, from big-box buyers and his many friends in the industry. If anything happens, he is usually the first to know. Read more on his website at www.klosterstrading.com.
Read more articles by this author
THIS BANNER IS AN AD:
---
---