---
OnLive Threatens Video Gaming As We Know It
New and Used Video Game Markets Undergo Change in '09
After a stellar 2008, the video game market is entering choppy waters. January and February were still decent, according to the numbers, but the advent of OnLive and new entrants to the used-game space are likely to shake up sales in the near future.

Growth on the graph below is shown in percent moving annual totals. NPD data tells us that the Nintendo Wii continues on its upward, trend as does Microsoft's Xbox 360 since it began turning around following the price cut. All other consoles are trending down.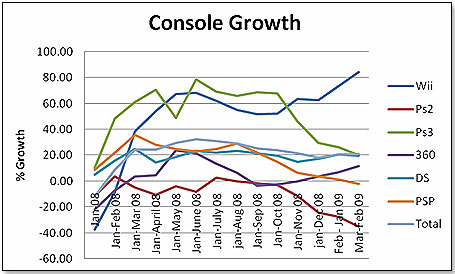 As for the overall video game scene — consoles, software and accessories — this is how growth in terms of percent on an annual movement graph evolved. It becomes clear that the rates of increase have flattened out.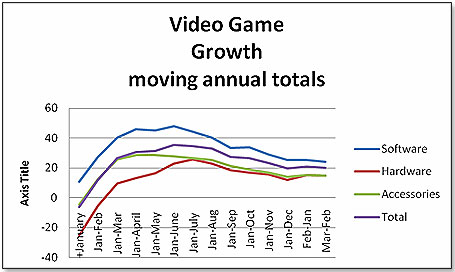 Nevertheless, the video game scene continues to be pretty strong, though not as strong as last year. I would normally look for something like 15 percent growth in the software area, 8 percent growth in the consoles and accessories, and 20 percent growth in used games for the remainder of the year.

However, there are two new developments that may put a spoke into the video game wheels.

1) Both Amazon and Toys "R" Us are poised to enter the used-game market.



Amazon is offering to buy games at a price that is slightly better, on average, than what one would get from GameStop. However, Amazon will not take every game, and those they do take have to come in the original box with the instructions. According to my sources at GameStop, about 20 percent of the used games they receive lack these components. Individuals submitting games to Amazon must download the shipping label, drop the box into the post, and then wait about 10 days until they have their Amazon credit for the game. I, and most of my friends, think Amazon is unlikely to pose a major threat to GameStop because I do not know any serious gamer who is willing to wait that long.

Toys "R" Us is a different kettle of fish. This third-largest retailer of new video games has, in each of its stores, a space and staff dedicated solely to video games. More importantly, they are absolutely committed to the venture.

As one of my more senior friends at Toys "R" Us explained, "We took a leaf out of Wal-Mart's strategy. They checkmated us about four years ago when they started to use toys in the fourth quarter as loss leader, knowing full well that we could not retaliate. If we do not make money on toys in the fourth quarter, we do not make money at all. We now use the same strategy towards GameStop. They cannot pay much more for the used games they buy, or go down too much with their used game prices because these margins represent half of their income. We, on the other side, can afford to pay higher prices and charge lower prices because, for us, this is a no-risk venture as long as we break even on the exercise."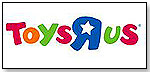 I believe Toys "R" Us is in the used-game business for keeps. I also believe, however, that there will be a cap to their inroads into GameStop's business, for two reasons. First, GameStop has some 4,000 stores in the United States, and Toys "R" Us has a mere 700. It is more convenient to go to a GameStop than to a Toys "R" Us.

The second reason is that there is a social aspect to the GameStop store. The people behind the counter are much more embedded in the gaming communities in which they operate than their Toys "R" Us equivalents, which will make migration to Toys "R" Us somewhat slow. Also, at least at this point in time, the Toys "R" Us video game attendants are not as savvy or well informed as their GameStop counterparts. As an example, I asked both a GameStop store employee and a Toys "R" Us video game store supervisor as to what they knew about Toys "R" Us's venture into used games. The GameStop employee knew all about it, while the Toys "R" Us employee had never heard of it.

2) The presentation of OnLive, an on-demand gaming service, at the Game Developers Conference in San Francisco late March generated some really large waves.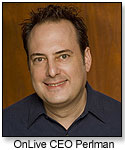 It is essentially the gaming version of cloud computing — everything is computed, rendered and housed online. In its simplest description, controller inputs are uploaded, a high-end server takes the inputs and plays the game, and then a video stream of the output is sent back to the computer. Think of it as something like Youtube or Hulu for games.

The game demonstrated at the conference was Crysis, a very complex 13-Gig game. The graphics were good but need to be sharpened. Lag time was minimal but still enough to annoy. However, while this is still a work in progress, the technology is close to being scalable. At this point, it is strongly supported by Electronic Arts, Take Two, THQ and Ubisoft. Activision is still sitting on the fence [because of its investment in World of Warcraft, the leading online multiplayer game?] and, obviously, console manufacturers are opposed to it.

The technology has the potential to eliminate the need for expensive consoles. My own view is that the first impact, once the technology is fully usable, will be on new console sales. I project OnLive will suck up half of them. Further down the pike, and more gradually, OnLive is likely to affect new software sales and, lastly, used-game sales. Publishers [with the possible exception of Activision] are strongly in favor of OnLive succeeding for four main reasons:

1) OnLive will cut out the middleman for new games.
2) Producing a game for OnLive is considerably more economical than putting it forth in packaged form.
3) OnLive cuts out pirates — and probably about 25 percent of all game sales worldwide are made with pirated copies.
4) OnLive eliminates used-game sales, which are a major irritant for publishers as they do not see a dime in license, royalty or other fees.

According to the CEO of OnLive, Steve Perlman, the technology will go into consumer [Beta] testing this summer and should be rolled out nationwide in fall 2009 — just in time for the Christmas shopping season.

Below is a graph of blog reaction to OnLive, and it speaks [very loudly ]for itself: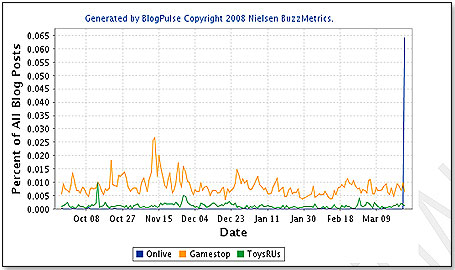 OnLive Web traffic shows a similar picture: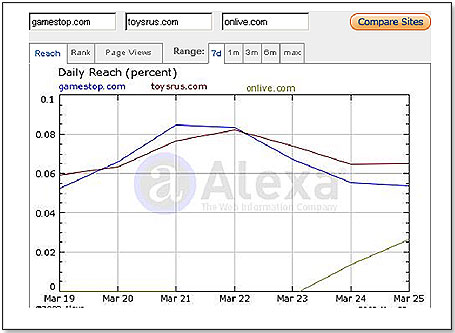 While my friends at GameStop do not seem to be overly concerned about Amazon's and Toys "R" Us's entry into the used-game space, there appear to be two camps about the latter. One camp, C-level management, is officially dismissing OnLive as a gimmick, saying that a number of much more sophisticated companies have tried to achieve cloud-availability of video games and all have failed. The other camp, mainly middle-level types, such as district managers and country managers, are much less sanguine. They believe OnLive will, in fact, succeed. They listen to their contacts at the large publishers, those who have been supporting OnLive for a while, and believe what they are told — namely, that OnLive is real, is scalable, and is a game changer.

Writer's Bio:
Lutz Muller is a Swiss who has lived on five continents. In the United States, he was the CEO for four manufacturing companies, including two in the toy industry. Since 2002, he has provided competitive intelligence on the toy and video game market to manufacturers and financial institutions coast-to-coast. He gets his information from his retailer panel, from big-box buyers and his many friends in the industry. If anything happens, he is usually the first to know. Read more on his website at www.klosterstrading.com.
Read more articles by this author
THIS BANNER IS AN AD:
---
---