---
Q&A w/ Dominic Crapuchettes of North Star Games
Dominic Crapuchettes, founder & co-president of North Star Games, entertained the idea of running a board game company when he was in college, but it seemed more likely that he would be come a literature professor and salmon boat captain.

After the collapse of the salmon fishing industry, Dominic found himself facing the opportunity to make his dream of owning a boardgame company reality.

Below, Dominic shares with TDmonthly Magazine how he came up with the idea for his first game, the steps he had to take to bring the game to market, and the biggest obstacle he had to overcome in order to find success.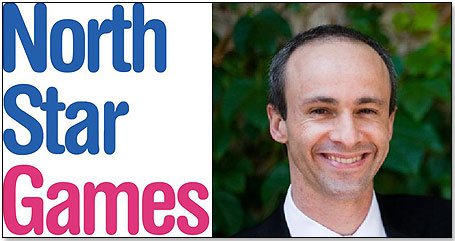 Q. What career path did you originally envision for yourself? Did you ever anticipate working with children's products?

A. I have been designing board games since I was 9 years old. Most of my earlier games were never finished, but I often returned to my favorite ones to complete them at a later time. My third completed game was banned from 8th grade because so many students were playing it during class. In high school, my final economics paper was a business plan for the board game company I wanted to start. That was my dream job, and there was nothing else I could see myself doing.

As I got older, it seemed more and more likely that I would become a literature professor. That would give me free time during the summers to continue captaining my father's commercial salmon fishing boat in Alaska. When the salmon fishing industry crashed in 1998, I decided it was time to start pursuing my dream.

I never anticipated working with children's products and so far, I have not done anything specifically for children. Our games are designed explicitly for parents AND children to enjoy playing together. There are very few games where both parent and child can play and enjoy. Many games like Candyland are boring for parents, and other games, like Scrabble, are not much fun for kids. I look for ways that players can interact that are fun for several different generations. That is what sets our products apart from others in the marketplace.

Q. How did you come up with the idea for your first product?

A. I started working on my first commercially successful game in high school. I had a bone to pick with Trivial Pursuit because it felt like a pop quiz at school. The whole process of regurgitating memorized facts for tests is something I have never been fond of. So, I designed a game called Conceptual Pursuit, which was about making good judgments instead of recalling memorized facts.

19 years later, as the poker craze swept across America, I considered ways to add gambling to Conceptual Pursuit. The first version was a game called Know-Limit Trivia Poker, but it was too competitive for a light party with friends. After several evenings of revisions, it transformed into the game that would soon become the most award-winning party game in history, Wits & Wagers.

Q. What steps did you need to take to go from the original spark of an idea to actual production? How long did it take?

A. I worked on Conceptual Pursuit for 20 - 30 hours in high school, and perhaps another 100 hours after I graduated from college. But the great appeal of Wits & Wagers comes from the interaction of three innovative sparks.

The second two sparks were added when I was starting North Star Games in business school. That's when the real work began. My business partner and I spent three years testing Wits & Wagers with over 1,000 people. At the same time, we were working on a business plan, raising money, working with graphic designers and figuring out how to manufacture 10,000 copies of the game. Each of us worked 80 - 120 hours a week for those first three years. It was a lot of fun, but it also required a lot of dedication.

Q. How much money did you need to create the first prototype and come up with a business plan?

A. The prototype only cost $20 or $30 to make. That part was easy. But since we published Wits & Wagers ourselves, we had to raise $95,000 for graphic designers, marketing and manufacturing. That was not enough to keep us in business for very long, but it was enough to get us to the milestones needed to raise another $500,000.

Writing a business plan is free. You can get advice on the Web and from thousands of cashed-out entrepreneurs who are looking to give back to their community. I worked closely with the Dingman Center for Entrepreneurship and one of my entrepreneurship professors. If you want to pay someone to write a business plan for you, then you should probably reconsider whether you are the best person to start a company. Licensing to an established publishing company is another great option.

Q. How did you raise it, and how long did it take to raise it?

A. We raised our money in three or four different rounds over a period of 4 years. The earliest money came from parents, friends, and one of our MBA entrepreneurship professors. Later, money came from a business plan competition by UnderAmour founder Kevin Plank, and a few investors in the audience that day.

It's hard to estimate how much time my business partner and I put into raising money. Our policy has always been to concentrate on growing the company and spend as little time as possible on raising money. In my experience, the best pitch to investors is talking about the impressive milestones you've already accomplished.

Q. What were the top two or three most significant obstacles you had to overcome to achieve success, and how did you do it?

A. Early in our history, we partnered with a company called Eagle Games. They controlled our entire inventory and went bankrupt after a year. We had no money in our bank account and our inventory was being sold to the highest bidder. At this point, I was not earning a salary, but I decided to max out three personal credit cards to purchase back our own inventory. It was a big gamble, but it turned out for the best. We earned enough money that holiday season to pay off the credit cards, and the company lasted long enough for Wits & Wagers to get picked up by Target. That's the milestone that enabled us to raise our final round of capital.

Q. What do you consider to be your greatest accomplishment in the toy industry? Why?

A. I am most proud of two things: Designing the most award-winning party game in history and winning the 2010 TAGIE for the Rising Star Inventor of the Year. Not only has Wits & Wagers already won 36 awards in the U.S., but it has also won several more overseas. It will be available in 16 countries for the 2012 holiday season.

Q. What makes your products better than the competition?

A. Our products are better than the competition if you are looking for a game to play WITH your kids. We are the only company that focuses on finding activities that are fun for both kids and adults. Children and parents often ask for several rounds of our games in one sitting. Our games are very easy to learn, have a lot of replay value and enable fun social interaction.

Q. What one piece of advice would you give to someone starting out in the toy industry?

A. Test your product with hundreds of people. The more diverse your test groups, the more universal your product will become.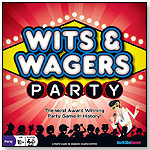 Wholesale Price: (Log in to view)Minimum Order: (Log in to view)Minimum Reorder: (Log in to view)Dropship Available?: (Log in to view)Ships From: (Log in to view)Terms: (Log in to view)

MSRP: $29.99

Age Range: 8 and upSpecialty: Yes (as of 2012)Made in: ChinaSKU or Item #: NSG-125Gender: Boys And Girls





Wits & Wagers Party is the latest version of the award-winning party game. It mixes the fun of Vegas-style betting with hilarious new trivia. Do you know what percent of bank robberies are committed by women? Of course not, and you don't need to! That's the fun. No one knows the answer, but everyone can take a guess. Wits & Wagers Party will instantly get large groups of people playing and laughing together. "Wits & Wagers Party is the simplest and most accessible version of the Wits & Wagers brand, the original trivia game where you do not need to know trivia to win," Luke Warren, PR Director for North Star Games, told TDmonthly. Launch date: July 2012.

ToyDirectory Product ID#: 33547

(added 2/3/2012)

.

AD
---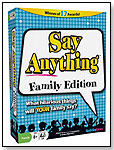 Wholesale Price: (Log in to view)Minimum Order: (Log in to view)Minimum Reorder: (Log in to view)Dropship Available?: (Log in to view)Ships From: (Log in to view)Terms: (Log in to view)

MSRP: $19.99

Age Range: 8 and upTarget Age Range: 9 to 12Specialty: Yes (as of 2011)Made in: ChinaSKU or Item #: NSG-250Launch Date: March 2011Gender: Boys And Girls





Say Anything Family has 350 family oriented questions that allows families to enjoy the laughter and fun of the original party game. Ask a fun opinion question, everyone else comes up with an answer, secretly pick which one you like the most, everyone bets on what they think you just picked. Reveal the answer and score. "This game is fun for both parents and kids, while helping kids develop social interaction skills," Luke Warren, a rep for North Star Games, told TDmonthly. Launch date: March 2011.

ToyDirectory Product ID#: 31818

(added 3/4/2011)

.

AD
---




MSRP: $19.99

Age Range: 8 and upLaunch Date: March 2010Gender: Boys And Girls





Wits & Wagers Family takes the unique trivia-betting game play of Wits & Wagers and makes it more family-friendly, for three to 10 players. The simplified, faster game-play and kid-friendly questions are designed to level the playing field and provide instant fun for all ages. "Previously found in hobby oriented board games, meeples have been gaining in popularity as gaming pieces. These cute wooden pieces serve as the perfect family-friendly replacement for the poker chips found in the classic Wits & Wagers game," Matt Mariani, Director of Marketing, North Star Games, told TDmonthly. Awards: Parent's Choice Award 2010; Mom's Best Award 2010. Launch date: March 2010.

ToyDirectory Product ID#: 27502

(added 3/10/2010)

.

AD
---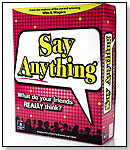 Wholesale Price: (Log in to view)

MSRP: $24.99

Age Range: 13 and upSKU or Item #: NSG-200Launch Date: July 2008Gender: Boys And Girls





Players can find out what their friends really think, by answering questions such as, "What's the best movie of all-time?" or "What's the coolest thing to have at a mansion?" Players then try to guess which of the answers will be the judge's favorite. Launch date: July 2008.

ToyDirectory Product ID#: 17271

(added 1/29/2008)

.

AD
---




MSRP: $14.99

Age Range: 12 and upSpecialty: Yes (as of 2012)Gender: Boys And Girls





Crappy Birthday is the hilarious game of giving bad gifts. The goal is to choose the worst gift for each player. Laughing together at funny pictures and the ensuing banter make this game a winner.
— As of 07/18/2012 this product had 4.6 out of 5 stars from 17 reviews on Amazon.com.
Awards: Summer 2012 Tillywig Award Winner

ToyDirectory Product ID#: 34623

(added 7/18/2012)

.

AD
---
Learn more about toy companies who are giving back with TDmonthly's 2012: A Year of Charity Giveaways:

Let the Giveaways Begin: 1,025 Specialty Toys Go to School!

Safari Ltd.®

Magicforest

Hape

Schoenhut

Writer's Bio:
Justina Huddleston graduated Magna Cum Laude from Emerson College with a BA in Writing, Literature, and Publishing in 2009. After graduating she was the on-site director of the Boston Children's Museum gift store for a year, selling educational, developmental, and creative activity toys that tied in with the museum's exhibits. Justina also interned at children's book publisher Candlewick Press before moving from Boston to Los Angeles, where she is now Editorial Director of
TDmonthly Magazine
.
Read more articles by this author
THIS BANNER IS AN AD:
---
---