---
10 Retailing Tips: Staffing and Training for the Holidays
With additional reporting from Chris Lundy and Brenda Ruggiero

The holiday season is make-or-break time for retailers of all sizes. In small stores, having a knowledgeable, friendly, and reliable staff is essential, especially if you want to stand out from the big-box stores.

Below, retailers shared with TDmonthly Magazine their best training and staffing tips for the holiday season. See what they had to say, then decide which strategies to incorporate into your hiring and training plans this year.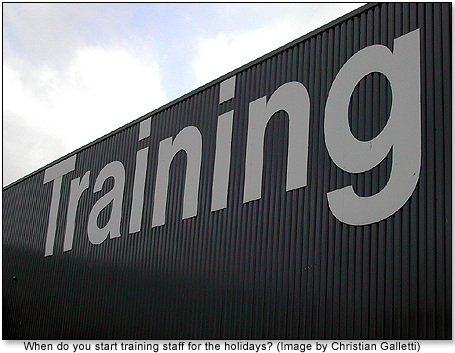 1. Look for Energetic Staff

Employees "must have a bubbly personality to work with children," Debbie Rogers, owner of Bear and Friends in Johnson City, Tenn., opined.

Deran Muckjian, owner of Catch a Falling Star in Lexington, Mass., agrees. "The employee must be able to look [me] in the eye, and not be shy or laid back. They must be excited to be in a toy store."

2. Don't Be Shy

"We tell staff to get out from behind the counter and be friendly. When you are physically nearby, customers are more likely to ask you questions — even if they say they don't need help," Mary Porter Green, owner of Curiosity Zone in Ashburn, Va., told TDmonthly.

3. Keep it Simple for Seasonal Staff

"We give seasonal staff low-pressure, simple jobs like wrapping and restocking. There is a lot of pressure to get 'the right toy' for the holidays, and seasonal staff cannot be trained adequately, nor be expected to handle the volume of customers," Dean Smith, owner of JaZams in Princeton, N.J., shared.

4. Support Existing Staff

"We try to support existing staff by hiring folks to do the low-pressure jobs...We also try to take the pressure off existing staff by buying extra treats, coffees, & breakfasts on the weekend," Smith of JaZams told TDmonthly.

5. Be Flexible

Being flexible with existing staff can make the holidays easier too; a happy staff makes for happy customers. "Allow time off if they want. Let them switch shifts. Make sure the schedule is covered, but allow them to make choices," Denise Magstadt, owner of Imagination Station in Kalispell, Mont., advised.

6. Know Your Products Inside Out

"We make a recommended toy list broken down by age group and gender so that our staff knows what to point out," Porter Green from Curiosity Zone advised.

7. Work With Reps

Muckjian from Catch a Falling Star said that he has salespeople come in and do training, so everyone is up to speed on the latest products. They'll hold employee game night, where they serve pizza, and sales reps from the game companies come in and teach the employees how to play their newest games.

8. Be Prepared

"We are hiring now...the people that we bring on now are the lead employees for the holidays and responsible for training the temp Holiday Help," so they need to be fully trained before the season begins, Diana Nelson, owner of Kazoo & Company in Denver, Colo., shared.

"We try to make sure that most administrative work and ordering is done by mid-October so that, as owners, we can be fully supportive of our staff on the sales floor," Smith of JaZams said.

9. Make Do with What You Have

Shana Hack, owner of Moon Rabbit Toys in Santa Fe, N.M., said that she keeps the same staff for the holidays, but gives them more hours, so she doesn't have to train all new people. Employees double up on shifts during the busiest hours.

Bryan Raddatz, manager of The Time Machine in Manchester, Conn., follows a similar strategy. "We expand everyone's roles" during the holidays, he said. They also typically increase part-timers' hours during the busy season, rather than hiring and training new staff.

10. Just Go For It

"The best way to train someone is to have them 'Jump into the fire with two feet.' There's a crash course, but really, it's learn as you go. It's too busy to really take the time on training," Cynthia Phillips Strinich, owner of Phillips Toy Mart in Nashville, Tenn., shared with TDmonthly.
Now that you're prepared to hire and train your holiday staff, get ready to order with our September Holiday Preview, and read these 7 Helpful Retailing Tips for Avoiding Holiday Burnout

Writer's Bio:
Justina Huddleston graduated Magna Cum Laude from Emerson College with a BA in Writing, Literature, and Publishing in 2009. After graduating she was the on-site director of the Boston Children's Museum gift store for a year, selling educational, developmental, and creative activity toys that tied in with the museum's exhibits. Justina also interned at children's book publisher Candlewick Press before moving from Boston to Los Angeles, where she is now Editorial Director of
TDmonthly Magazine
.
Read more articles by this author
THIS BANNER IS AN AD:
---
---