---
Little David is Threatening the Dollar Goliaths
Five Below Inc. could pose a threat to established dollar store behemoths
In April this year, in this space, I talked about the inexorable advance of the Dollar stores. Well, they continue to do very well indeed, but they now have a new competitor – Five Below Inc., owned by David Schlessinger and Tom Vellios, both of Zany Brainy fame. Still very small, with a mere 200 stores compared to Dollar General's 10,000, the chain promises to become a real threat to the three dollar store behemoths. Its growth has been phenomenal both in terms of overall sales as well as same-store performances. And they have just gone public and the share price has gone through the roof: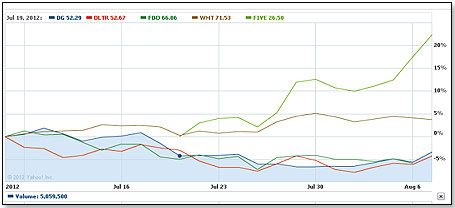 DG: Dollar General; DLTR: Dollar Tree, FDO: Family Dollar; WMT: Wal-Mart; FIVE: Five Below

I decided to look into this more closely to find out in what way Five Below was different from the other three Dollar stores. I did ask Tom Vellios, the Five Below co-founder, whether he himself or a designate of his could participate in this and answer a few questions. He said "no" but he said it nicely and very politely.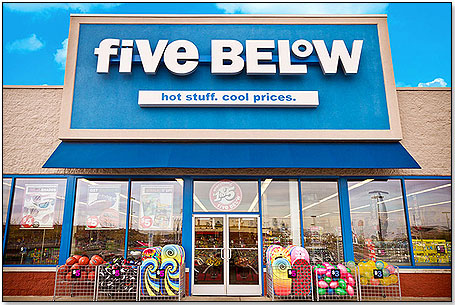 Firstly, as the name suggests, Five Below sells everything at $5 or lower. This compares with Dollar Tree's $1 only sticker, Dollar General's price structure that goes up to $35, and Family which goes a little higher than that.

Secondly, Five Below has very cleverly focused on pre-teen and teenage girls as their single largest consumer group. Compare this to the average consumer profile of a Dollar store consumer:

Female Head of Household
55% have less than $40K annual gross income
24% have less than $20K income
34% are African American of Hispanics
68% are 45 or older
Five Below's product assortment reflects this. Cosmetics, beauty aids, jewelry and accessories, funky backpacks, party supplies, DVDs, toys and other pre-teen and teenage products take up an inordinate percentage of the store. With this strategy they are likely to hold and increase their consumer numbers even when the economy turns around and the current Dollar store customers go back to Wal-Mart and beyond.

Thirdly, the entire store is much more inviting in its layout compared to that of the Dollar stores or Wal-Mart. Well lit, wide aisles, lots of colors, plenty of cheerful shop assistants – the Five Below store reminds me in many ways of the Zany Brainy of old.

Lastly, the store personnel are better motivated at Five Below than at any of the Dollar stores. I know this because all four – Five Below and the three Dollar stores – are part of my individual-store permanent retailer panel that reports to me on a bi-weekly basis sell-through, inventory levels, and other store metrics. The sense I get is that the people at Five Below are more content with their lot than what I typically encounter elsewhere. Yes, there is grumbling about too many meetings, too many motivational talks, not enough pay and so on but it is said with a wry smile rather than with the cold anger you would encounter at the Dollar stores.

In other words, the Five Below store is pretty much identical to what I had seen at Zany Brainy in the late nineteen-nineties.

Whatever the case may be, Five Below outstrips all three Dollar stores and Wal-Mart in terms of same-store sales, the most important criterion to judge the success or failure of a retailer: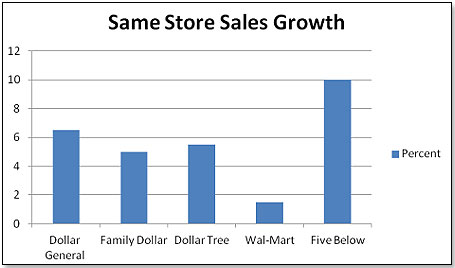 And there is of course a reason for this. The two co-founders and top executives of the chain had taken both the good and the bad learned during the time they had managed Zany Brainy about ten years ago.

Zany Brainy came to a sticky end. The chain was founded in 1991 by Dave Schlessinger, who ran it until he managed the IPO and then resigned all executive roles in 1999. His position as chief honcho was taken over by Keith Spurgeon, recruited in 1996 from ToysRUs where he had been Vice President for Asia and Australia. Tom Vellios, who had joined Zany in 1995, became its President and COO in 1998. The chain did well at that time and everybody thought that it would be plain sailing from that point onwards.

This was not to be. The management of Zany Brainy recognized the emerging power of Wal-Mart as a toy retailer and thought that their only course of action was to do two things – acquire another chain to obtain the muscle necessary to compete in a future dominated by big box retailers, and to jump into the online market place at a time when it was still in its infancy. Both moves were, in retrospect, excellent in terms of strategic vision, but terrible in their execution.

Their online venture went off to a promising start in September 1999 when Zany Brainy went together with Online Retail Partners, forming a joint venture under the name of AB Holdings, with the objective of creating and operating www.zanybrainy.com, an Internet shopping site. Zany Brainy put in $5 million for 55% of the shares in the venture. For reasons best known to the actors in that drama, things became unstuck in a real hurry. The end effect was that about a year later Zany Brainy had lost $11.5 million in it and then decided to cough up another $7 million in December 2000 to gain full control of the site.

In about the same time frame, in April 2000, Zany Brainy bought Noodle Kidoodle, a 60-store chain with sales of $135 million. Zany themselves had at that point about 100 stores and sales of $241 million. Even though both were specialty toy chains, they had widely different business philosophies and management styles. It was during the integration of Noodle Kidoodle into Zany Brainy when things became really unstuck and turned what had been two mildly profitable chains into a loss-making disaster.

Keith Sturgeon resigned from Zany on September 15, 2000, and Tom Vellios became acting CEO. He was then confirmed as CEO on May 1, 2001, in a position that was not to last very long. The company declared Chapter 11 bankruptcy two weeks later and was history by August of the same year.

Then, in 2002, Dave Schlessinger and Tom Vellios founded Five Below.

Five Below carried out a very successful IPO last month and is now poised to continue on its rapid expansion path. They are talking in terms of 2000 stores before the decade is out, up from the 200-odd stores they have today. The two chiefs – Dave Schlessinger and Tom Vellios – will no doubt remember the lessons learned when Zany took over Noodle Kidoodle and will avoid overstretching resources in any too-rapid expansion.

If there is one thing that puzzles me at Five Below it is their refusal to have an online shopping site. When I asked one of their store managers about this, the reply was that selling stuff online would be prohibitive because of the freight factor, given their low unit prices. This is really not borne out by the experience made by both Dollar General and, more aptly, Dollar Tree. Both have a thriving online business in spite of their pricing, which is $1 max in the case of Dollar Tree.

More likely, it could be that Tom Vellios' experience with the Zany Brainy shopping site has put him off this sales avenue altogether but if this is indeed the case, he is making a mistake for four reasons:

1. Their primary consumer group, pre-teen and teenaged girls, is extremely internet-savvy and this could compensate for Five Below's very limited store count compared to the Dollar stores. Online sales are increasing much more sharply than brick-and-mortar sales and the Dollar stores are no exception.

2. An online shopping site could, in fact, well represent a first-class test market venue for those States where the chain has currently no brick-and-mortar stores. At this point in time, Five Below is totally concentrated on the East and South.

3. There is a lot of interest in Five Below as is evidenced by the blog traffic metrics shown below: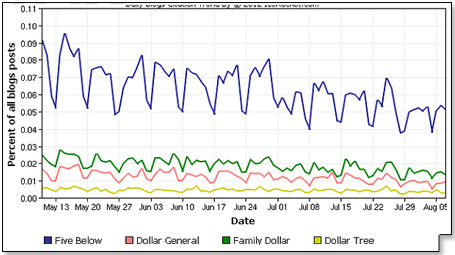 4. Five Below's website is also doing exceptionally well:

| | | | |
| --- | --- | --- | --- |
| Retailer | Visitors in June 2012 | Increase over May 2012 | Increase over June 2011 |
| Five Below | 187,914 | +22.13% | +25.16% |
| Dollar General | 1,128,858 | +0.43% | +12.28% |
| Family Dollar | 1,339,808 | +3.90% | +20.42% |
| Dollar Tree | 1,228,536 | -5.22% | +4.14% |

All in all, I like their way of doing business and I think that they will be inordinately successful. I wish them well.

Writer's Bio:
Lutz Muller is a Swiss who has lived on five continents. In the United States, he was the CEO for four manufacturing companies, including two in the toy industry. Since 2002, he has provided competitive intelligence on the toy and video game market to manufacturers and financial institutions coast-to-coast. He gets his information from his retailer panel, from big-box buyers and his many friends in the industry. If anything happens, he is usually the first to know. Read more on his website at www.klosterstrading.com.
Read more articles by this author
THIS BANNER IS AN AD:
---
---