---
Regulatory Compliance of Aquatic Toys and Aquatic Equipment
Aquatic toys, life preservers and aquatic equipment are all designed for use in or on the water. To ensure regulatory compliance and thereby consumer safety, manufacturers need to make sure to define their products accordingly.

What Constitutes an Aquatic Toy?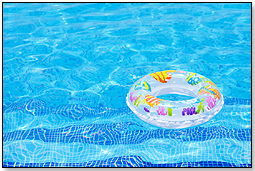 Directive 2009/48/EC defines a toy as a product designed or clearly intended, whether or not exclusively, for use in play by children less than 14 years old. However, toys for use in or on water need further clarification. The Directive differentiates between:





Toys:
- Aquatic toys designed for use in shallow water

And products not considered as toys:
- Aquatic equipment intended for use in deep water
- Swimming learning devices for children, such as swim seats and swimming aids

In simple terms, aquatic toys are intended for play and must be designed and manufactured in accordance with the Toy Safety Directive. The Toy Directive covers toys to be used in shallow water, including:

- Bath toys
- Aquatic ride on toys
- Small battery powered (remote controlled) toy vessels
- Inflatable PVC toys, such as: beach balls, dinghies (up to 1.2m), lilos (up to 1.2m), bathing rings

All above toys need to comply with the Toy Safety Directive and harmonized toy standards like EN 71-1. Only aquatic toys and inflatable toys have to comply with specific aquatic toys and inflatable toys requirements (clause 4.18 of EN 71-1). The EN 71-1 aquatic toys requirements do not apply to bath toys and small battery powered (remote controlled) toy vessels.

Aquatic articles are not covered by the Toy Safety Directive and should meet the requirements of the General Product Safety Directive and (where relevant) the PPE directive. This includes:

- Inflatable PVC toys, such as: dinghies (over 1.2m), lilos (over 1.2m)
- Swimming aids and learning devices, such as: armbands, small jackets intended to learn to swim. Please note that swimming aids and learning devices are category 2 Personal Protective Equipment. They must comply with the PPE directive 89/686/EEC.

Any articles designed for life saving are not toys.

Reasonable Expectation
Avoid confusion. Before manufacturing a product you must decide whether or not it is a toy.
In addition to the criteria set out in 2009/48/EC the most effective way to identify a toy is to consider both its intended use and the use it can be reasonably expected to attract - the two are not always the same.

The Directive's Guidance Document No. 4 provides a list of indicative criteria that will help clarify your decision. It advises that reasonable expectation should prevail and that you should implement the highest level of consumer protection. Consideration should also be given to sales network, packaging, price, sizing, double use and passive uses. If a product is sold in a toyshop, in packaging attractive to children, at an affordable price it is more than likely a toy. Please refer to the guidance for full details.

Swimming Aids Are Not Aquatic Toys
Swimming aids and learning items are not regarded as toys by 2009/48/EC because they call for supervision or special conditions of use. Their use both in and on water means that danger, especially for drowning, is ever resent. To mitigate this risk, manufacturers must include appropriate warnings, such as, 'To be used under the direct supervision of an adult'. One notable example of this product category is the 'floating seat' - a bathing ring with integral seat that allows a child's leg to dangle beneath them in the water. These are not toys, as adult supervision is required at all times.

Vacationers Break Down Borders
Just as consumers vacation across international borders, so will your products. Selling goods internationally increases your responsibility. Wherever you design or manufacture products they must meet the regulatory requirements of your destination markets. Happily, as many vacationers know, the world is getting smaller, and regulatory bodies are recognizing the importance of protecting our children wherever they are. Initiatives are underway to harmonize toy safety requirements across the globe.

Don't Tread Water
Take advice. If you are in doubt about a product's classification or the regulations that apply, certified bodies like SGS, offer guidance and expertise to smooth your route to market. SGS aims to assure toy safety and offers a comprehensive program.

For further information about SGS toy solutions and lab locations, please contact the SGS experts.

Contact details:

SGS Consumer Testing Services
Sanda Stefanovic
Senior Toy Expert
SGS Nederland BV
Malledijk 18, PO Box 200
3200 AE Spijkenisse
The Netherlands

t: +31 181 694517
Email: cts.media@sgs.com
Website: http://www.sgs.com/pages/consumer-testing/sgs-consumer-goods-and-retail.aspx

SGS is the world's leading inspection, verification, testing and certification company. SGS is recognized as the global benchmark for quality and integrity. With more than 70,000 employees, SGS operates a network of over 1,350 offices and laboratories around the world.
THIS BANNER IS AN AD:
---
---