---
18 Retailing Tips: Dealing with Toy and Game Trends
Finding the next hot toy is only the beginning...
With additional reporting by Justina Huddleston

Keeping up with toy and game trends is essential to many specialty retailers, but knowing when to bring a toy in — or ditch it — can be difficult.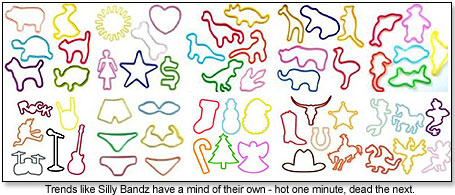 "Trends (ie Silly Bandz) have a mind of their own," Joe Berardoni, Jr. from Pun's Toys in Bryn Mawr, Pa., told TDmonthly Magazine. "You go from selling 100-150 packs a day for weeks, to the point where you are reordering 3 times a week — to then having them sit on your shelves like they are cursed, and no one will touch them anymore. The trick to thriving/surviving trends is knowing what, and how much, to order — but more importantly, when to stop ordering. This can only come from experience and that is why my father [Joe Sr.] is so good!"

For new retailers who have yet to develop that experience, navigating the highs and lows of trendy toys can seem almost impossible. Luckily, TDmonthly Magazine had the chance to pick the brains of several experienced specialty retailers to find out how they deal with toy and game trends.

CATCHING THE TREND

1. Proceed with Caution

"Can we make money [off of it]? Can we get the toy from our source if it does get hot?" Fred Meyer asks himself these questions when he spies a potential hit. Fred's the owner of Meyer's Toy World USA in Battle Creek, Mich., which has been in business for more than 60 years. "So often we turn people on to something before the [big box store], and then once [those stores] bring it in, we can't get it," he told TDmonthly.

Mary Ellen Cerney of Dear Friends & Children in Duncan, Okla., advised store owners not to over-order hit products so you don't get caught with merchandise whose time has passed. "You should ask yourself if you really need to re-order it ... or just order something different," she said.





Mike Castor, owner of the Pentwater Toybox in Pentwater, Mich., agrees. "If we see a trend start dropping a little bit, we are searching for the next trend. Not like the people who were stuck with Webkinz. We try to move on," he told TDmonthly.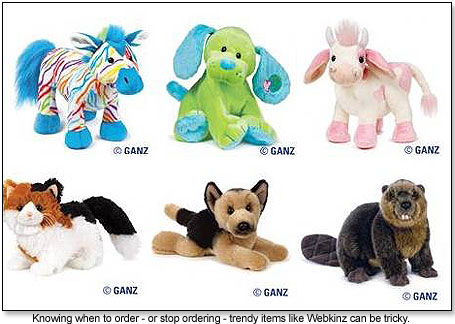 2. Look to the Past

Greg Bonner, owner of Heights Toy Center Inc, in Little Rock, Ark., told TDmonthly that one of his strategies is looking to the trends of yesteryear. "None of those kids are kids anymore," and new generations can appreciate the once-trendy toys. For example, he brought in the Snoopy SnoCone Maker from Sababa Toys, "and they were gone immediately! That just shows you what nostalgia will do for you."

3. Check the Competition

"We decided not to carry Webkinz when we moved to our new location because a competitor was already doing that," said Cathy Gabay, owner of The Toy Parade in Salina, Kan. "It just didn't make sense."

4. Network

Bob and Mary Sisson, owners of Kazoodles in Vancouver, Wash., network through the American Specialty Toy Retailing Association to learn about products from other stores before ordering items themselves.

Michael Ziegenhagen, owner of five Playmatters stores in Ohio, said he had been hearing about Ball of Whacks by Creative Whack Company in early 2008, but hadn't had any customer requests and didn't jump on it. Once he began hearing from other stores that it was a must have, he brought it in.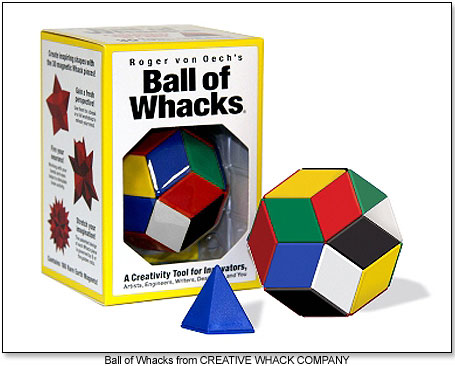 COUNTING ON CUSTOMERS

Though specialty toy-store owners spend care and time selecting the right products for their customer base, they still get requests for items they don't carry, which can be a great way to bring in new toy trends. But how do retailers decide which requested products to order?

5. Calculate Interest

"As a rule of thumb, if three customers have requested it over a week or two, we'll try to bring it in," Diana Gisolfu, co-owner of Sister's Kids in Springfield, Mass., told TDmonthly.

"I talk to my customers about what they're going to buy for their kids or grandkids all summer long. I ask them what they like and study prices: what they're spending, what's a good price point," shared Castor of Pentwater Toy Box. "You just need to know your clientele."

To gauge interest in a particular product, "the manager will poll people as they check out," said Julie Frost, co-owner of Giggles for Kids in Suwanee, Ga.

6. Investigate First

"I'll research the item and base my decision on the same things that I base all my decisions: quality, playability, that sort of thing," Alicia Smith, owner of Juneau's Imagination Station in Juneau, Alaska, told TDmonthly.

"I try to not order things I don't see, because when I do I'm always disappointed and then try to return it," said Patti Tepper-Rasmussen, owner of Learning Tree Toys, Books & Games in Oklahoma City.

Other retailers found past monster hits such as Webkinz, Bakugan Battle Brawlers and rubber-band animals through TDmonthly Magazine and TOYDIRECTORY.com. Our videos can help you determine whether a toy is right for your store.

RESEARCHING TRENDS FOR THE HOLIDAYS

7. Counting on Catalogs

"Starting in late July, but really in earnest in the middle of August, I sit down and go through all of the catalogs," commented Dave Campbell, owner of Amazing Toys in Great Falls, Mont.. "I at least touch every catalog that I have…Then I put the orders together and pretty much have it ready once the reps come through in late August, early September."

"I do a catalog that goes out in early Fall, and those early orders are an indicator for me about what's going to be hot," Terri Bracken, owner of Earth Explorer Toys in Zionsville, Ind., told TDmonthly. "I order early to make sure I have everything in stock."

TDmonthly Magazine sends out a Holiday Wholesale Buyer's Guide each year to help retailers discover exciting new specialty toys and games to bring into their stores. Sign up to receive a copy here.

Retailers can also find out about new toys in our Holiday Preview articles, which can help alert you to the newest toys and games for the specialty market. (See our 2012 Holiday Preview articles: May, June, July, August)

8. Stock Standards

Classic toys, such as baby dolls, dollhouses and train sets, tend to do well during the holidays, retailers agree.

"Some items are a little flat throughout the year, but do well in the fourth quarter, like playsets. I keep them year-round, but I make sure I have them for the fourth quarter," advised Harriet Story, owner of Leaping Lizards! in Mineral Point, Wis.

9. Tempt…and Withhold

"Intentionally carry something different, creative and unique from other stores," advised Daniel Butler, vice president of merchandising for the National Retail Federation. "Contact local artists to personalize items."

Have "back-ups" ready in case you run out of a popular toy, retailers suggest. You can also offer substitutes for customers seeking a toy that's only found in mass-market. Train your staff, too, to think of alternatives to popular toys.

Whatever and whenever you order, never put all of your holiday toys out at the beginning of the shopping season, retailers advise.

"I like to bring new things out a little at a time; that way, there's always something different and it gives people more ideas," Castor of Pentwater Toy Box said.

EXTEND THE TREND

One of the dangers of bringing a trendy toy or game into your store is that consumer interest can drop off at any time. But there are ways that one can extend the life of a trend.

10. Excite your Staff

Julie Gannon, owner of The Toy Box in Hanover, Mass., recommended that retailers contact the toy's manufacturer and inquire about the possibility of someone coming out to do a demo training session. Gannon also encourages her staff to explore new toys and games. "It makes it easier to sell a game if you've played it yourself," she explained.

11. Encourage Interaction

Patti Leo, owner of Toys Galore in Kent, Conn., said that taking a product out of its packaging can help to generate interest. "We'll open things up as long as they're safe" (i.e., they have no small parts that will find their way into toddlers' mouths).

Tim Gessner, co-owner of Deep River Toy Company in Deep River, Conn., agrees. "Demos and giveaways allow me to reach new groups if things are going slow," he told TDmonthly.

12. Trade Spaces

Leo of Toys Galore advocated the idea of changing a toy's location. "Move it from the bottom shelf to the top shelf," she advised, "or place it with something else as an add-on."

Teneen Dobbs, owner of Kits & Kaboodle in Carmel, Ind., agreed: "We just move it to a different spot in the store."

Dean Smith, owner of Jazams in Princeton, N.J., suggests cross merchandising. "We did that with Ugly Dolls, and we went on for 2 years longer than other retailers." A truck can be relocated from the toy vehicle section to the preschool section, or a book about trucks can be moved from the book section and placed with toy trucks. Customers perceive the toy as new and fresh, because they'd never seen it there before.

If you try these strategies, you might be able to save your markups on a broader range of toys. That's certainly the objective for Gannon The Toy Box. As she explained, "Our last line of defense is to put the toy on sale."

LETTING GO

If the toy's still not moving and you need to free up your shelf space, it's time to mark it down, give it away, or stow it until you're ready for a storewide sale. Approximately two-thirds of 64 specialty storeowners interviewed about sales told TDmonthly Magazine they hold at least one sale a year to increase traffic and sell off unpopular items.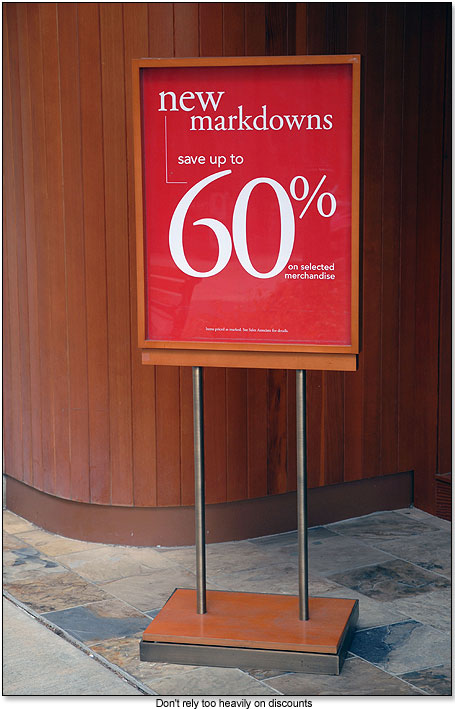 13. Mark it Down

"When we see a trend teetering out, we'll start to mark down a product a little bit until the trend ends," Mark Rosenblum from Hobbytown in Fairfield, Conn., told TDmonthly.

"We usually do sales in January — a clearance sale for the stuff that was overstocked from the holidays," said Randy Horn, owner of Learning Express in Glen Ellyn, Ill. "Then the town has a sidewalk sale in July, and we do a sale after Thanksgiving for Christmas."

14. But Don't Get Sales-Happy

More than half the retailers surveyed believe sales are necessary in specialty stores, but some indicated that sales may be harmful — largely due to the threat of appearing like a discounter — and others warned against holding sales too often, for the same reason.

Bob Phibbs, the Retail Doctor, warns that storewide sales have another drawback: you're money's on the floor and if you discount too heavily, you're eating your own profits.

15. Cut Deeply

Approximately 26 of 64 retailers said they cut prices by up to 30 percent for sales, but others say if it's not a significant cut, people won't buy.

"Forty percent is a nice amount to generate interest; 10 to 20 percent is not enough," said Janet Kysia, manager at A Pink Princess in Boynton Beach, Fla.

Eleven retailers told TDmonthly they are willing to offer half-off discounts, especially for products they are really itching to get rid of.

16. Get the Word Out

Whether you use e-mail notices, store signage, flyers or advertising, sales must be promoted.

"We use a combination of direct mail, newspaper advertising and email," Marilyn Walker, owner of Play Fair Toys in Denver, Colo., told TDmonthly. "It's very effective. We have people waiting in line."

17. Segregate Bargains

A discount area can help move items that were over-ordered or simply aren't popular.

"We have a sales room/clearance room downstairs," said Miles Altman, owner of King Arthur's Court Toys in Cincinnati, Ohio.

18. Or, Avoid Trends Altogether

If the up-and-down nature of toy and game trends seems too risky, consider sticking with the classics.

"I tend to avoid trends," Sue Wrzesinski, owner of Toy House and Baby Too in Jackson, Mich., and one of the winners of TDmonthly's "2012: A Year of Charity" giveaway, said. She looks instead at toys with great play value. "If the toy is interactive, open-ended and creative, it will be popular…and it will probably be popular next year, too!"

Other contributors to this article may have included: Julie Adrian · Michaele Birney Arneson · Leigh Au · Christina Chan · Julia Ann Charpentier · Elizabeth Chretien · Virginia Davis · Laurel DiGangi · Zan Dubin Scott · Lisa Durante · Cicely Enright · Margaret H. Evans · Doug Fleener · Diane Franklin · Janie Franz · Dennis Foley · Dennis Furlan · Rosette Gonzalez · Elizabeth Greenspan · Mort Haaz · Sharri Hefner · Terri Hughes-Lazzell · Kyle Hall · Pennie Hoover · Sheri Jobe · Julie L. Jones · Candyce Kornblum · Christine Lebednik · Susan Ledford · Chris Lundy · Susan Maddela · Hans C. Masing · J.D. Meisner · Adeena Mignogna · Catherine Jo Morgan · Claudia Newcorn · Willow Polson · Marie Raven · Kara Revel · Andrew Robinton · Greg Rock · Brenda Ruggiero · Tamara Schuit · Brent Turner · Vanessa VanderZanden · Jodi M. Webb · Stacy Wiebe· Mark Zaslove · Alex Zelikovsky


Writer's Bio:
ALISON MAREK is an award-winning writer, director and cartoonist whose work has been published by Fairchild Publications and DC Comics (Piranha Press), broadcast on Showtime and other cable networks, and viewed worldwide in film festivals. See her short films and print work on www.alisonmarek.com. Watch her nefarious villains in the web series www.MuggsMovers.com. Get inspired by her cartoons "Daily ARFFirmations to Unleash Your Inner Fido" at www.ARFFirmations.com. Phew! And then ...
Read more articles by this author
THIS BANNER IS AN AD:
---
---