---
The European Toy Market – a Challenge in Many Languages
In spite of the many problems that Europe faces at this point – Euro issues, recession, cutbacks, and unemployment – it continues to be a very important toy market. But it is also a place that poses incredible challenges to anybody who wants to operate in it. Think of a market place about the same size as the United States and Canada but composed of more than twenty major countries, as many languages, sharply contrasting cultural mores, major differences in economic performance and stark historical fault lines.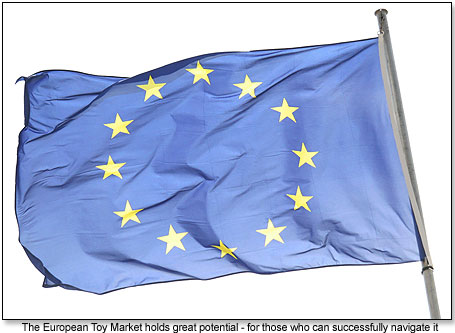 For this article I have used both published sources (NPD and TIE – Toy Industries of Europe) as well as others. However, most of the most recent insights came from two toy executives in Europe. One is Ilio Consorti of New Gioi Srl, located in Rome, who represents companies and whose sales network covers pretty much all of continental Europe – and has a toy career that spans more than forty years. The other is Christophe Baudic, a toy consultant who lives in Paris, with many years of toy marketing experience at Mattel and MGA, and who now advises American and European toy companies on how to enter and operate in the French toy market.

Firstly, let us look at how the European toy market stacks up against that of the other continents: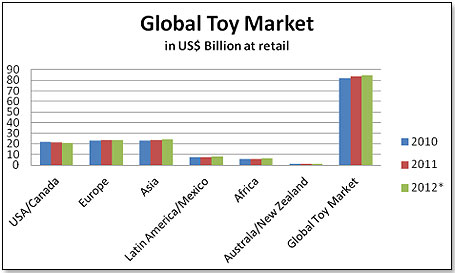 As we can see, the top three country groups – USA/Canada, Europe and Asia – are virtually identical in size and represent more than 80% of the global toy market. This fact puts things nicely into perspective when one or the other toy manufacturer trumpets their phenomenal sales growth in Brazil or South Africa. Even a major success story in these countries will barely move the global market share needle.

The four top European toy markets – UK, France, Germany and Russia – represent slightly more than two-thirds of the total. However, there are really three major country groups and one does well to consider this in any attempt to enter the European toy market. There is the economically viable Northern Tier composed of Germany, France, Scandinavia, Benelux, Austria/Switzerland and UK/Ireland at 70% of the total where the toy market this year is flat to very slightly up. Then there is the Southern Tier representing 15% of the total where the toy biz is falling off the cliff – Italy, Spain, Portugal, and Greece/Cyprus. Finally there is the Eastern Tier – Russia and the former Sovet satellites – where the market is still in its infancy at 15% of the total and growing at a very high clip.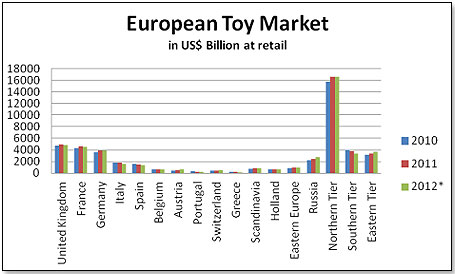 The three Tiers also differ in terms of their obstacles to doing business there – basis World Bank ranking for 2012: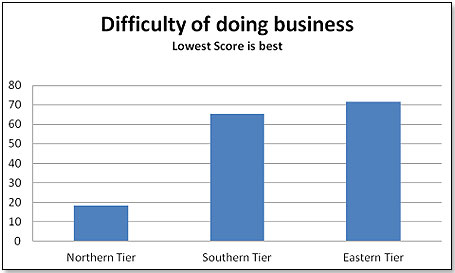 These obstacles include excessive bureaucracy, the need to pay bribes to obtain permits, the absence of good technological infrastructure (e.g. telephones, internet access, lack of good transport options etc.), barriers to the importation of machinery or manufacturing supplies and archaic or inconsistent labor legislation. As an example, the United States is fourth in the ranking (after Singapore, Hong Kong and New Zealand) and is hence superior to even the best of the Northern Tier countries. In comparison, Greece has a ranking of 100 which might explain, at least in part, why the country is in the fiscal mess it is in.

In terms of which toys sell best, the chart below compares the percentage distribution of each category for Europe in 2010 and 2011 versus the United States in 2011: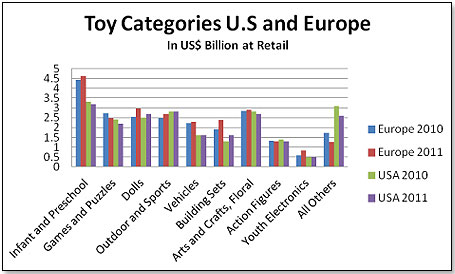 Infant and Preschool is the highest selling toy category on both continents, growing in Europe and declining in the US. Building Sets are the category with the highest growth rates both in Europe and the United States. Games and Puzzles are declining in both. Action Figures are also declining in both whereas Dolls and Outdoor and Sports are increasing in both. This line-up is pretty much confirmed by my contacts at Carrefour, ToysRUs Europe and ASDA UK.

However, there are major differences between countries. According to a study carried out with 2000 UK consumers by E.ON, Construction toys hold 18% of the UK toy market and Dolls hold 16%. Games and Puzzles have sharply declined of late and have dropped to 3% of the market.

In Belgium the line-up is, in this order: construction toys, action figures, dolls, games, crafts and vehicles.

In Poland, consumer preferences are yet again different: Preschool toys came out at #1, followed by dolls, construction sets, vehicles, outdoor products and puzzles.

In Spain, dolls are the toy of choice. One-sixth of each Euro is spent on the category.

Germany is particularly interesting. Typically, toys that suggest conflict and violence are rather taboo there, and brands that are extremely successful elsewhere can be total duds for this reason. Equally interestingly, building and construction toys are clearly #1 – and Lego, whose largest European market is Germany, can attest to this. Recent history may be the explanation for both phenomena.

Clearly, It behooves any toy manufacturer targeting Europe to be aware that consumer preferences differ considerably between countries.

Moreover, the two continents could not be more different when it comes to which type of store sells most toys. In the case of the U.S. this is simple. The mass retailers take the cake: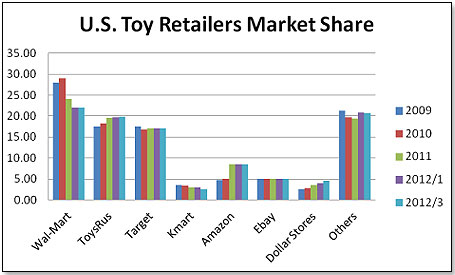 The three top mass retailers account for 40% of the market, ToysRUs for 20% and Amazon for 8%. All the others get the remainder – 32% or not quite one-third.

Europe is another kettle of fish entirely: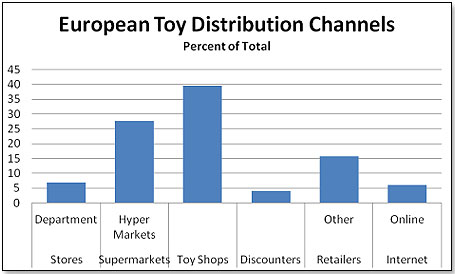 Note that Hyper Markets/Supermarkets include Carrefour, Tesco, Asda; Toy Shops include ToysRUs

There are of course major differences between countries as well. According to Christophe Baudic, Hypermarkets (also called Big Box Retailers) account for 40% of French toy sales with Carrefour and Leclerc having half of this. Toy Shops have 42% with ToysRus and La Grande Récré controlling most of it. The remaining 18% are, to a large extent, online operators.

Looking at the Southern Tier countries, the channel split as reported by Ilio Consorti is markedly different. Hypermarkets account for 35%, Department Stores for 45% and Toy Shops 20%.

Just like in the United States, the various channels are fed by a variety of suppliers. The larger manufacturers – Mattel, Hasbro, etc. – have their own offices and ship from their own warehouses. Medium-sized and small companies tend to rely on distributors who stock the products on their behalf in the country or on sales organizations who obtain orders for shipment from a central warehouse owned by the manufacturer. There are still some wholesalers but they are rapidly disappearing since their mark-ups are not justified by the service they offer. One major factor in any decision is that fact that all retailers, including the biggest, tend to insist that the supplier is willing to ship very small quantities to specific locations. Also, frequent contact face-to-face tends to be more important in Europe than in the United States. Monthly calls are the norm and there is no more apt saying than "out of sight out of mind" when it comes to toy selling in Europe.

Obviously, it is essential that whoever interacts with the retailers in a given country is totally fluent in the language, knows the laws and business practices obtaining to the location, and has a well-established relationship with the decision makers. This particularly applies to the Southern Tier countries such as Italy or Spain where a very large number of retailers have been owned by the same family for generations. As Ilio Consorti puts it: "I work in each Country with the sons of people my father was working with…and this really helps to generate sales."

Another challenge to an American manufacturer is packaging. Christophe Baudic mentions: "Multilanguage packaging is most often used. Any packaging needs at least legal markings in French. The Product name may be in English." In addition, he makes the point that "every toy must pass EN71 European norms and have certificates from a registered laboratory available upfront for any trade customer." Ilio Consorti adds the following: "Normally we have multilingual packaging. However, it is mandatory that the pack identifies the name of the entity responsible for the product under EU law. Manufacturers who are shipping FOB can put their name on the packaging and nominate a Company in the EU, which then becomes the responsible party under EU law. In the event that a manufacturers who ships FOB and does not want to have their name on the pack and does not elect to have an appointed Company responsible in the EU, then the importer becomes the responsible party and their name must be featured on the pack".

While this all looks at Europe as it is today, the future may look even more challenging. The 2010 United Nations report World Population Prospects looks at developing fertility rates: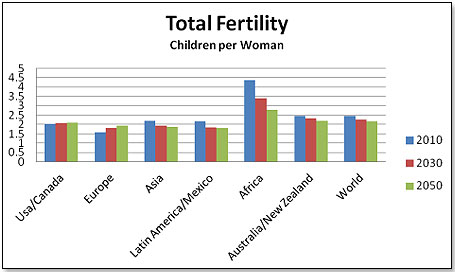 A fertility factor of 2.0 means that the population numbers remain constant. Anything below that tells us that the population is declining and the only variable in this is immigration or emigration. In the case of the U.S. where no organic growth is expected, immigration is expected to continue on a significant scale and will hence swell population numbers in the decades to come which will result in more children and more toy sales. Europe is less fortunate – the population will continue to decline and immigration is not expected to be a major factor. This will increase the problems toy makers will face there.

In summary, you are looking at an incredibly important, incredibly complex and also very rewarding market place but also one with many pitfalls and one whose challenges are likely to increase further over the next few decades.

Writer's Bio:
Lutz Muller is a Swiss who has lived on five continents. In the United States, he was the CEO for four manufacturing companies, including two in the toy industry. Since 2002, he has provided competitive intelligence on the toy and video game market to manufacturers and financial institutions coast-to-coast. He gets his information from his retailer panel, from big-box buyers and his many friends in the industry. If anything happens, he is usually the first to know. Read more on his website at www.klosterstrading.com.
Read more articles by this author
THIS BANNER IS AN AD:
---
---