---
Q&A With Anka Schmollinger of Ravensburger
Ravensburger Helps us Piece Together Their History
Ravensburger has been a best selling brand of puzzles, according to specialty retailers in our Top-10 Most-Wanted Puzzles articles, for years.

TDmonthly Magazine wanted to know more about the history of this iconic puzzle company, and we were lucky enough to have the chance to speak with Anka Schmollinger, marketing/online manager for the company, about their roots, and what sets their products apart from the competition.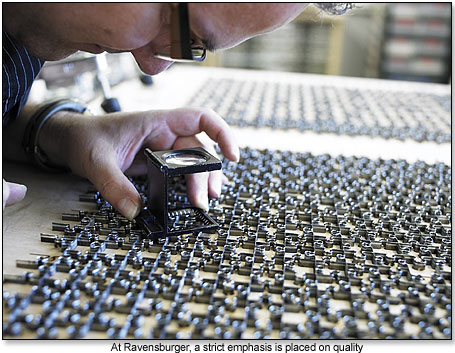 Can you tell us a little bit about the history of Ravensburger?

ANS: Newton, NH-based Ravensburger is the U.S. subsidiary of Ravensburger Spieleverlag GmbH, a German toy and game manufacturer with a 126-year history of tradition. Founded in Ravensburg, Germany in 1883, Ravensburger is a leading producer of toys loved the world over and is celebrated for its meticulous commitment to detail, high production standards and superior quality control.

In addition to Ravensburger-branded puzzles, games and arts & crafts, the company is the exclusive distributor of WOW Preschool Toys and holds licenses for such well-known brands as Thomas and Friends™, Animal Planet™, The Twilight Saga™, Hello Kitty®, Highlights™, Iron Man® 2 and more.

Ravensburger recently made the news for producing the largest jigsaw puzzle in the world. Whose idea was it to break this record?

ANS: It was an internal decision, and what we did was break our own record. Three years ago, we produced an 18,000-piece puzzle, which also received the Guinness Book of World Records certificate for being the largest puzzle in the world. What we were trying to accomplish with the Keith Haring: Double Retrospect was provide a stunning piece of art that is relatable to everyone. Keith Haring's work featured free-form designs and bold colors that are attractive to young and old, and that's the point of puzzles: to engage generations of people in an enjoyable project. When puzzlers finish the Keith Haring, they have a large-scale masterpiece in which they can take pride both as a personal accomplishment and as a terrific piece of art.

As with all our puzzles, this item is also manufactured in Ravensburg, Germany. We use handcrafted die-cutting tools and extra-thick cardboard, which is exclusively developed for us. Together with the fine-linen paper, this ensures a glare-free puzzle image and guarantees that no two pieces are alike.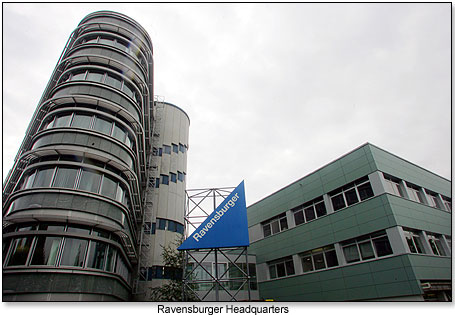 Can you tell us about the design process for puzzles - do you have an in house team of designers, or do you work with outside game designers and inventors?

ANS: Both. For puzzles, we use photography, illustrations, licensed artwork etc. For games, the process is a little different. The first Ravensburger game was released in 1884 and since then we have developed and introduced thousands of games. Many of these have become international best sellers, such as "memory®" or "Labyrinth". But how is a new game created? These days, game development at Ravensburger is a systematic process overseen by experienced product managers. Following a thorough market analysis, the editorial department identifies the theme and target group for a new game, commissions a renowned inventor with its development and coordinates all further steps up to the finished product.

The most important guarantors of quality are the Ravensburger principles – our mission to promote intellectual, social, emotional and creative skills – as well as the major care, passion and commitment, which go into creating Ravensburger games. Age appropriateness is one of the most important parts of our game development process. Theme and illustrations, game play and instructions – all these are lovingly adapted for the designated age group. For example, "memory®" comes with different themes and variations for players aged 2 to 99. "Funny Bunny", for children ages four and above, is age appropriately illustrated and includes simple instructions as well as a three dimensional aspect and playing pieces that help develop the fine motor skills of young children. The Ravensburger product range offers a variety of games for every age group.

Before a new game arrives in stores, it first goes through numerous rounds of testing with children and adults within the target age range. Throughout the whole testing process it is continuously improved and refined. We do not rest until it has reached a stage that satisfies our, and most importantly, our customers' demands.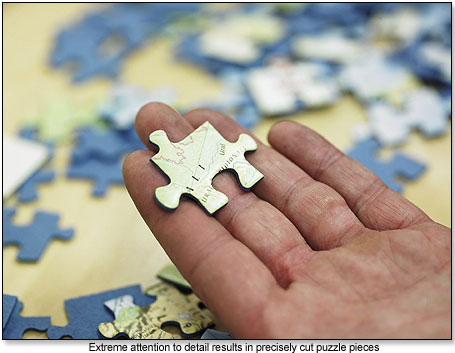 How have new standards for toy safety and testing in the US in the past few years affected your company?

ANS: Ravensburger constantly monitors toy safety and testing standards and every product meets or exceeds all national and international safety testing measures. This meticulous attention to detail ensures that consumers get beautifully designed and safe products that are fun and educational as well as made from the highest quality materials. We test all our products after the latest European and American safety regulations. In addition, Ravensburger has internal quality standards and safety requirements.

In what ways do you utilize the Internet and social media to increase brand awareness?

ANS: Ravensburger maintains a presence on the Internet with a company page featuring our entire toy range with specific product details, colorful photos, a number of how-to videos, comprehensive information on the company, it's history and quality brand, and more. We are preparing for a more comprehensive presence, with a larger social media footprint, and we're very excited about implementing that shortly.

What one unique quality makes your product better than your competition?

ANS: Exacting technology. Our products are unique on a number of levels, from our innovative designs to our superior workmanship that produce premium puzzles with a perfect interlocking fit. We use the highest-grade materials possible, developed exclusively by us with specially designed and hand-crafted steel cutting tools to produce our premium puzzles with Softclick Technology.

Over the last 125 years the blue triangle has become a respected trademark that represents a family company dedicated to promoting fun, learning and family togetherness – important values in today's fast-paced, tech-driven world. While having endless hours of playing fun with our innovative products, children learn to think ahead, to accept losing graciously and to follow directions. Puzzles, games and arts & crafts develop concentration, imagination and children's experience of success and independence.

Our products are the result of our vast experience, long tradition, expertise and knowledge. We use premium grade materials for all our products and thoroughly test them in certified laboratories to exceed U.S. safety requirements. Ravensburger has established a stellar reputation for superior quality that lasts and continues to be the world leader in cutting-edge craftsmanship.

We reflect our commitment to quality in every single product that bears our brand. As a company with a passion for family values, our first responsibility is to engage, educate, inspire and delight children and families of all ages and abilities.

What one piece of advice would you offer to someone just starting out in the toy industry?

ANS: Don't compromise on design or product quality and be faithful to your mission.


Still craving more puzzles? Then check out our interview with ENI Puzzle, or check out our Toys To Talk About - Puzzles and Top-10 Most-Wanted Puzzles!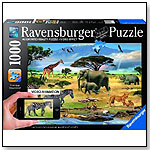 Ravensburger's Augmented Reality technology makes puzzles come to life. Download the free AR Puzzle app from the App Store that utilizes the camera function of the iPhone or iPad versions 2 and 3 to animate the scene. Experience a totally new visual reality and reveal audio details, sound effects and factual information. Watch these fascinating animals roam through their natural habitat and listen to the sounds of Africa.
— As of 07/23/2012 this product had 4.6 out of 5 stars from 17 reviews on Amazon.com. Pros: Great picture quality; has a nice mix of easy and difficult sections; AR component can help encourage kids to play with a more traditional toy (you have to complete the puzzle before you can unlock the digital components). Cons: One reviewer said the interlocking pieces were looser than is usual for a Ravensburger puzzle; only works with iPhone or iPad.

ToyDirectory Product ID#: 34668

(added 7/23/2012)

.

AD
---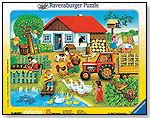 Instead of jigsaw pieces, this puzzle is made up of distinct, smooth-edged, and glare-free shapes that combine to form a picturesque moment in time and pull apart to show that moment in black and white underneath! But this puzzle also reveals in those who complete it the ability to strategize, manipulate space, and exercise manual dexterity. Ravensburger puzzle pieces are extra durable to withstand the demands of little hands and promote the development of fine motor skills, association, task completion and independent play.
— In a July 2013 survey, five out of 12 retailers told TDmonthly that Ravensburger was their best-selling puzzle brand.
— In a July 2014 survey, four out of 14 retailers told TDmonthly that Ravensburger was their best-selling puzzle brand.

ToyDirectory Product ID#: 34680

(added 7/24/2012)

.

AD
---




MSRP: $39.99

Age Range: 12 to 15Specialty: Yes (as of 2012)Gender: Boys And Girls





15th century princes from the Loire Valley devote their efforts to strategic trading and building in order to bring their estates prosperity and prominence throughout Burgundy. Two dice set the action options, but the players always make the final choices. Trading, livestock farming, city building or scientific research many different paths lead to the prosperity and prominence of the players. The many ways to gain victory points in this building game require careful thought and extensive planning ahead. The different estates ensure that no two games are alike and that the game remains challenging for long time.

ToyDirectory Product ID#: 34355

(added 5/25/2012)

.

AD
---




MSRP: $50.00

Age Range: 8 to 15Specialty: Yes (as of 2012)Gender: Boys And Girls





Collect the magic gems and free the Wizard in Electronic Labyrinth. The enchanted Labyrinth is in danger. The evil witch Grimelda banished the wise wizard Akata, guardian of the Labyrinth, into a magic book. Can players break her evil spell and free the wizard? Dangers lurk everywhere; Grimelda has put a curse on anyone who has tried to save him and turned them into mythical creatures. Contents: 1 playing board, 1 magic book, 37 Labyrinth cards, 17 object cards, 5 treasure chest cards, 4 mission scrolls, 4 magic keys, 4 playing pieces, 60 gems, instructions. For 2-6 players. Playing time: 45-60 minutes.

ToyDirectory Product ID#: 34354

(added 5/25/2012)

.

AD
---






An extension of Ravensburger's popular puzzleball line, each of these buildings feature flat and hinged precision-cut pieces that snap together perfectly, and stand up to 15" high when completed. Other sets include Big Ben, the Eiffel Tower, and a New England lighthouse.

ToyDirectory Product ID#: 32952

(added 9/26/2011)

.

AD
---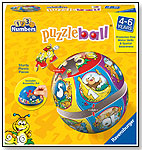 This puzzleball from Ravensburger is designed especially for pre-school kids. Extra large plastic pieces support 3D comprehension and fine motor skills. The 24 piece puzzleball comes with an assembly aide for the little puzzle beginners. 24 curved plastic pieces fit together to form a perfectly smooth surface. No glue required. The finished puzzleball is a "picture-perfect" decoration for every kids room. Colorful and age-appropriate puzzle fun for children from 4 to 6 years. Each puzzle piece is numbered on the back so kids can puzzle by the image or by number – their pick.
— In a July 2013 survey, five out of 12 retailers told TDmonthly that Ravensburger was their best-selling puzzle brand.

ToyDirectory Product ID#: 32951

(added 9/26/2011)

.

AD
---

Writer's Bio:
Justina Huddleston graduated Magna Cum Laude from Emerson College with a BA in Writing, Literature, and Publishing in 2009. After graduating she was the on-site director of the Boston Children's Museum gift store for a year, selling educational, developmental, and creative activity toys that tied in with the museum's exhibits. Justina also interned at children's book publisher Candlewick Press before moving from Boston to Los Angeles, where she is now Editorial Director of
TDmonthly Magazine
.
Read more articles by this author
THIS BANNER IS AN AD:
---
---