---
ToysRUs - Where are They Going?
There have been three pieces of news about ToysRUs lately – sales slipped both in the U.S. and internationally; the IPO awaited since 2010 has been postponed indefinitely; and Jerry Storch is relinquishing his position as CEO.

There is little doubt that the company is facing serious problems and these could worsen over the next few months if the rating agencies begin to downgrade the credit rating. Fitch has already done so, at the end of December when they lowered the rating from "B" to "B minus" or essentially to Junk status. This will have an effect on interest payments as current debt matures particularly if the other two rating agencies – Moody's and Standard & Poor's – follow suit.

The crux of the problem is sales performance and this is how the company did during the past three years.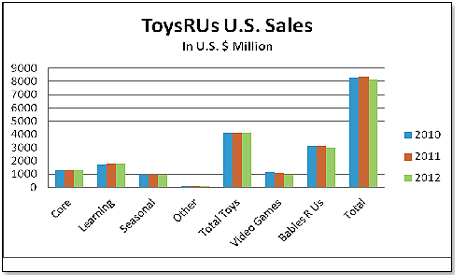 The only category where the company grew in the U.S. was Learning. All others were flat or declining. This is not overly surprising given that the U.S. toy market declined by 5.6% between 2010 and 2012. Also, the decline in the Entertainment Category – mainly Video Games – is understandable since the market place fell off a cliff in the past three years...down by one-third. However, the Juvenile Category performance – essentially all BabiesRUs – is deeply worrying for a number of reasons. One is that the below-five year old population between 2010 and 2012 grew by nearly two percent whereas the sales of BabiesRUs dropped by the same percentage. Secondly, the introduction of BabiesRUs into the side-by-side stores was supposed to grow the range more quickly given that the products were so much more widely available. Thirdly, the availability of the BabiesRUs products in the ToysRUs stores was supposed to catch the expectant and very young mother and to predispose her to buy her toys at the same store when the kid was older. None of these things happened.

A similar picture emerges in international markets: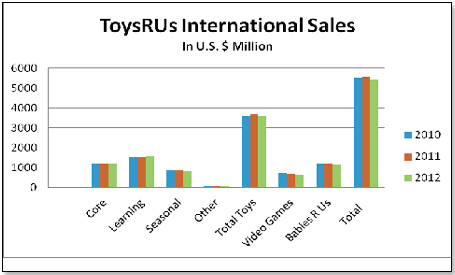 Again, we see a picture which is virtually identical to what happened in the U.S. Yes, European markets were in terrible shape for most of 2011 and 2012 and the decline in the toy category is hence no surprise. Again, in the case of video games, we saw a similar development as in the United States. And again, BabiesRUs is in decline, but this is mainly because of declining birth rates.

On the positive side, it would not be fair to omit the fact that ToysRUs has made great strides in their digital offering which increased from representing 5.6% of total worldwide sales in 2010 to 7.2% in 2011 and 8.3% in 2012. However, whilst real progress has been made, it is not enough to make a major difference to ToysRUs' competitive ranking in comparison to Wal-Mart and Target, and definitely falls short if compared to the progress made by Amazon and Dollar General:



On the negative side, it needs pointing out that the 2012 sales numbers were inflated by nearly 2% because the ToysRUs fiscal year included 53 weeks' sales whereas the 2011 and 2010 periods were for 52 weeks only. In essence, the real 2012 numbers are in fact worse than they appear on the surface.

Just focusing on the toy category, it would be logical to assume that a declining overall market should hit all retailers equally and that ToysRus, by dint of its all-pervasive presence and vast assortment, should in fact do better than its less fortunate competitors. So, how does ToysRUs compare to other U.S. retailers in terms of toy market shares?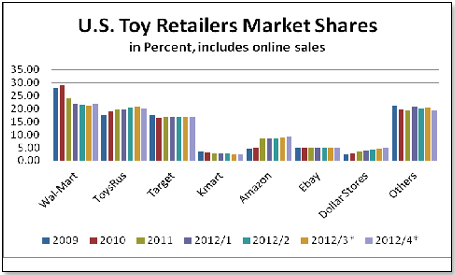 The answer is – not so good. After several years of convincing market share performance, ToysRUs began to flag in the fourth quarter of last year (and all indications are that this trend continued into the first quarter of this year).

Wal-Mart, because of a Herculean effort in the fourth quarter of last year, saw an uptick in market share after continuous declines since 2010, but again first quarter numbers suggest that this was an isolated event and not a trend. Clearly,
Amazon and the Dollar Stores are performing best in that both retailers have had continuous market share growth since 2009 and this is a trend that has continued into the first quarter of this year.

We know why the Dollar Stores are doing well – the name says it all. Amazon is less clear and deserves a closer look.

I looked at the top twenty toy products of Amazon and compared them to ToysRUs' offering:

| | | | |
| --- | --- | --- | --- |
| AmazonRank | Product Description | Amazon Price $ | ToysRUsPrice $ |
| 1 | Cards Against Humanity | 25.00 | not available |
| 2 | Cards Against Humanity 3rd Edition | 10.00 | not available |
| 3 | Cards Against Humanity 1st Edition | 10.00 | not available |
| 4 | Cards Against Humanity 2nd Edition | 10.00 | not available |
| 5 | Accoutrements Horse Head Mask | 18.99 | not available |
| 6 | Syma S107S/107G RC Helicopter Blue | 20.12 | not available |
| 7 | Syma S107S/107G RC Helicopter Red | 19.58 | not available |
| 8 | Spot It | 10.99 | 10.99 |
| 9 | Crayol 4 ct Washable Fingerpaints Primary | 4.88 | 6.99 |
| 10 | Lego Ninjago Golden Dragon 70503 | 24.97 | 29.99 |
| 11 | VTech Sit to Stand Learning Walker | 28.00 | 34.99 |
| 12 | Settlers of Catan | 33.91 | 39.99 |
| 13 | Syma S107S/107G RC Helicopter Colors Vary | 19.10 | not available |
| 14 | Monsters High Travel Scaris Jinafire Long Doll | 19.97 | 24.99 |
| 15 | Syma S107S/107G RC Helicopter Yellow | 19.57 | not available |
| 16 | F-P Wonder Soothe and Glow Seahorse Blue | 16.99 | 16.99 |
| 17 | Lego Green Building Plate 10" x 10" | 4.99 | not available |
| 18 | Insect Lore Live Butterfly Garden | 14.99 | 16.99 |
| 19 | Little Tikes Totsports T Ball Set | 15.81 | 22.99 |
| 20 | Little Tikes Easy Score Basket Ball Set | 36.99 | 39.99 |

In short, half of Amazon's top twenty toy sellers were not available at ToysRUs. Of those that were available, ToysRUs was on average 16.3% more expensive. For a retailer that prides itself on its all-embracing product assortment and uncompromisingly competitive posture this is not particularly impressive. I can vaguely understand the price differential because ToysRUs has a higher fixed overhead due to its brick-and-mortar infrastructure, but I cannot even begin to fathom how the company can allow its most dangerous competitor have a totally unchallenged run in high-demand toy products.

So, to come back to the question asked in the headline "ToysRUs - where are they going?" – it seems to me that they will have a very tough trot this year and their new CEO will have an extremely challenging job on his or her hands. There will be no letup in the pressure exerted on the company – be that from competitive, demographic or technological forces. As a result, ToysRUs is also likely to have to face higher finance costs as their debt matures. They will probably survive all this but only if they deliver on their two basic consumer promises – have all the toys the consumers want, at prices the consumers can afford.

Writer's Bio:
Lutz Muller is a Swiss who has lived on five continents. In the United States, he was the CEO for four manufacturing companies, including two in the toy industry. Since 2002, he has provided competitive intelligence on the toy and video game market to manufacturers and financial institutions coast-to-coast. He gets his information from his retailer panel, from big-box buyers and his many friends in the industry. If anything happens, he is usually the first to know. Read more on his website at www.klosterstrading.com.
Read more articles by this author
THIS BANNER IS AN AD:
---
---