---
Hot New Toys of 2013
We know that retailers are always looking for the "next big thing" - new products that will be exciting to returning and new customers alike.

That's why we asked manufacturers to share with us their 2013 products that they think will make the biggest splash in specialty.

Take a look at the products below, then decide which ones are the right fit for your store.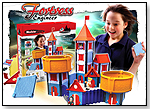 Modular Toy Building Sets from MODULAR TOYS USA
Come build with us! Modular Toys, the most innovative educational construction line on the market is now here in the US. Manufactured in Israel, Modular Toys uses a patented linking technology to help kids ages 3-9 build racetracks, castles and trains in an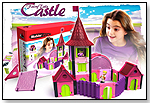 open-ended, creative system. Mix and match parts from all of the sets to expand and innovate new designs and learn to think like an architect. Kids will spend hours building their own toys, while learning to judge 3D spaces and improve abstract thinking. What's different about Modular than other construction products? Our whole system enables the child to experiment with their own intuition and learn to build better over time without the use of a guide book or computer!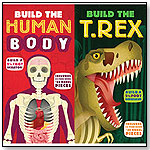 Build It Series by SILVER DOLPHIN PUBLISHING
Silver Dolphin's Build It series combines visual and kinesthetic learning. Perfect for ages 6 and up, each fact-filled title includes a 32-page informative book and pieces to construct a two-and-a-half foot model of the given subject. No glue or scissors are required for assembly! At just $19.95, these unique interactive guides cover everything from the human body and dinosaurs to sharks and rockets. "These interactive guides give children a hands-on experience. They can read about the subject and then build the model to reinforce the concept," a rep from the company told TDmonthly.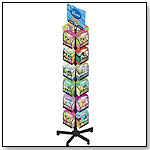 Destination Fun Activity Center by NATIONAL DESIGN LLC
For 2013, National Design is proud to introduce the Destination Fun Activity Center with Floor Spinner Display (see detailed PDF). This Activity Center holds up to 6 Exciting Play Formats, multiple Disney brands that are popular with boys and girls, and offers over $1,100 Retail Value in less than a 2' footprint. The art and writing activity kits are great for traveling or play on-the-go.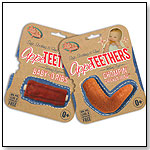 AppeteethersTM – Chompin' Chicken WingTM by LITTLE TOADER
Appeteethers are patented, silicone teething toys. Designed with safety as the highest priority, Appeteethers are Consumer Product Safety Commission compliant. They provide the perfect amount of resistance to help sooth babies sore gums. Babies love them and adults love watching their baby chew on them. BPA, PVC, Phthalate and lead-free. Appeteethers come in the Chompin' Chicken Wing or the Baby-Q Rib. New Appeteethers coming this spring! 0+ months. MSRP $9.99. "You won't find another teething toy as unique, soothing and as fun as an Appeteether. The teething toys were engineered to provide the perfect amount of resistance to sooth sore gums. Kids love them because they are easy to hold and soothing. Parents love them because they work, they are safe, and let's not forget; they are hilarious!" a rep from the company told TDmonthly.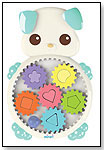 Mirari by PATCH PRODUCTS INC.
Mirari, from the Latin word for "wonder," is Patch Products' new line of preschool toys. These interactive toys engage kids and are designed to help develop "fine and gross motor skills," as well as "cognitive learning, sensory and emotional development," according to the company.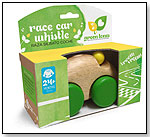 Green Tones by HOHNER
The new Green Tones line by Hohner features instruments for infants and toddlers made entirely of eco-friendly materials like Rubberwood, soy ink, and non-toxic glue, and packed with bleach free recycled paper. Playing with the instruments encourages the development of sensory processing and motor skills, as well as self-expression and creativity.


Learn more about these products below:







.

AD
---






.

AD
---






Silver Dolphin's Build It series combines visual and kinesthetic learning. Perfect for ages 6 and up, each fact-filled title includes a 32-page informative book and pieces to construct a two-and-a-half foot model of the given subject. No glue or scissors are required for assembly! At just $19.95, these unique interactive guides cover everything from the human body and dinosaurs to sharks and rockets.

.

AD
---






Appeteethers are fun, safe, patented teethers that are unlike any others on the market. They come in silly shapes including Chompin' Chicken Wing and a Baby-Q Rib, and are non-toxic, BPA-free, PVC-free, lead-free, and phthalate-free. They are made of silicone and have great texturing to help massage sore gums. Kids love chewing away on these, and parents get a kick out of watching them. Exceeds Consumer Product Safety Compliance Standards. Non-Toxic, BPA-Free, PVC-Free, Lead-Free, Phthalate-Free. Launch date: December 2010.

.

AD
---






This activity set contains 6 activity pages, 6 blank pages, 6 mini colored pencils and 1 die cut sticker sheet. Packaging is 6 ¼" x 8" x ¾".

.

AD
---






Spiral art pad has 12 sheets of colored foil and 8 adhesive art pages that are perforated for easy removal. The foil sheets are stored in a re-sealable bag that is attached to the spiral binding. Simply peel the yellow diecut areas on the pages, revealing the adhesive. Place the foil on the exposed adhesive and rub it onto the sheet using your fingertip. Pull excess foil away and see how beautiful your creation looks! Packaging is 6 ¼" x 8" x ½".

.

AD
---






An engaging 10.5" bear shape. A natural head drum that is recessed into the body provides an easy playing platform. All wood body made from environmentally friendly Rubberwood. Play it with hands or mallet.

.

AD
---






6" Race Car Whistle constructed of environmentally friendly Rubberwood with a colorful finish made of vegetable dyes, all non-toxic. Oversize wheels makes it glide easily on all surfaces. Easy to play whistle.

.

AD
---






.

AD
---






Children will be delighted by this adorable 9.5" toy featuring six removable shape-sorting and color-matching gears! Once all of the gears have been correctly placed, they will move 'round and 'round with a simple turn of the knob, encouraging children's hands-on exploration and discovery. And as a lively bonus, Busy Buddy's eyes blink and ears wiggle when the gears move. For ages 9 months and up.

.

AD
---
THIS BANNER IS AN AD:
---
---