---
TDmonthly Giveaway Blasted Figpickels' Biz to Stratosphere
Holiday Donations Attracted Flurry of Attention and Shoppers
When we conceived TDmonthly's 2012: A Year of Charity promotion, the idea was to help kids by giving them high-quality toys they could otherwise never have, help manufacturers by providing them with a unique way of getting their name before retailers and the public, and help boost specialty toy-store owners' business with events they could use to attract media attention to their stores.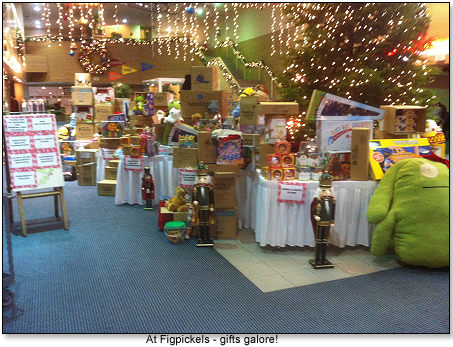 The skyrocketing business experienced by Brett and Susan Sommer of Figpickels Toy Emporium in Couer D'Alene, Idaho — one of the winners in the last leg of the Year of Charity giveaway — by far exceeded any of our wildest hopes for the kind of impact this event could have.

''We felt like we were the busiest toy store in the United States," Brett told TDmonthly. ''We were open from 9 am to 8 pm, 7 days a week for 6 weeks.''





''We had between 8,000 and 10,000 coming into our store this holiday,'' added Susan. That meant thousands of customers learned about the generosity of the program's donors — Safari Ltd., Moonjar, Douglas Cuddle Company and Schoenhut Piano Company — plus associated the Sommers with being warm-hearted activists in their own community.

Opportunity Met Preparation

Seneca's classic definition of "luck" is "when opportunity meets preparation," and the Sommers had put tremendous energy into preparing for the holidays, even before winning the TDmonthly contest.

They had already planned a holiday tree launch at their store, with a theme of "adopt a classroom and change the world." They'd also assembled a Board of Directors of 12 kids to choose the best toys of the season, and had media on hand to cover the kids' announcements. Also in place were a Facebook page, YouTube channel, and a blog. Once the Sommers found out that TDmonthly had chosen their store for the donations, they blasted the news down every avenue they had.

Good Fortune Accrued

The Sommers weren't shy: They told their customers, they told the media, and they told other vendors. Their enthusiasm was catching. Manufacturers who chose not to participate in the promotional portion of the giveaway then decided to add their beautiful products to the bounty, to increase the happiness for Couer D'Alene's kids.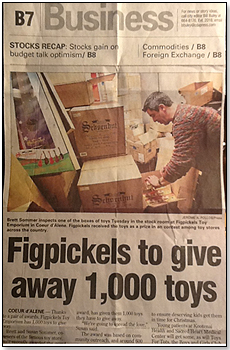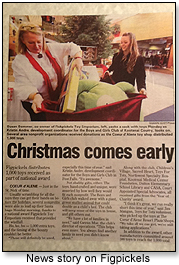 They also won another contest, sponsored by Blue Orange games, and won 500 of that company's products too.

"The donations kept amassing, and then some of our reps started to give things, too," said Brett.

The Sommers also donated products, and soon the 350 toys originally donated blossomed into 1,000 toys!

"We tell all the retailers we know that they should do this program!" said Susan.

Newsworthy Happiness

Though they'd already hoped to have media coverage of their holiday events, the TDmonthly giveaway and its accrual tipped the news scales in their community.

''We had 4 or 5 articles about the giveaways!" said Brett.

Several different local TV stations also covered the various events the Sommers had arranged, including a holiday "store" at Sacred Heart/Providence Chilren's Hospital and Kootenia Health Center for 200 young cancer patients who could not go home for the holidays.

"If you see the photo of the little girl with the tube in her mouth, she was 'shopping' for presents for herself and her family," said Brett.

Other charities that benefited from the giveaway were Children's Village, which cares for children whose parents cannot, Girls & Boys Clubs, Northwest Specialty Hospital, and Toys for Tots.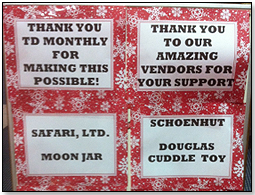 Susan said that of all the toys they'd put out for the kids at various events, they were most attracted to the special offerings from Schoenhut, Moonjar, Safari Ltd., Douglas and others on the Figpickels table. This speaks to all kids' need for high-quality play that stimulates their imaginations.

The Sommers will be forwarding a link to the video coverage, so please check back over the next few days. You can also read about their response to the flurry of attention they received, by reading their Thank-you letter to TDmonthly here. They will also be sending more photos later.

Let's Do It Again

Not only are the Sommers encouraging their colleagues to participate in TDmonthly promotional giveaways, they're hoping for another chance themselves.

Although TDmonthly did three giveaways last year, we will only be doing two this year: One in the spring and one in the fall, just before the holidays. Contact us now to find out how you can build up your business with massive giveaway events that attract customers and help kids get toys they'll remember forever: alison@toydirectory.com.

Still on the fence? Check back next month and find out how Children's World in Sarasota, Florida turned their giveaway into weeks of events that solidified key relationships in their community.
Here are some of the amazing toys the Figpickels gave to their community's needy children:







.

AD
---






In celebration of our tenth anniversary, Moonjar has created a brand new Moneybox with a global twist. Each metallic section is wrapped in the words, "Save, Spend and Share" in languages from around the world. The boxes are gold, silver and copper colors to appeal to the tween set as well as their parents.

.

AD
---






Little rock star swill take center stage playing Schoenhut's "next generation" guitar. Schoenhut's innovative design incorporating a molded composite body with dual curves greatly enhances sound and durability. The birch soundboard which offers excellent tone and resonance, hardwood neck (for rigidity), and molded composite fretboard ensure proper height and spacing of the frets. Six steel strings permit a wide range of rich sounds. Available in several vibrant designs. Includes: Pick and Extra String.

.

AD
---






.

AD
---






.

AD
---






.

AD
---






Our keepers are more than just "cleaner-uppers". They show nurturing in action. Each replica is finely hand painted and accurate down to the last detail. Educational information in five languages is included with each replica. All our products are phthalate-free and thoroughly safety tested to safeguard your child's health. Safari Ltd.® takes pride in providing breathtaking, innovative and value priced figures for now over three generations. Featured is our Safari Ltd.® People Joe & Aussie Zookeeper.

.

AD
---






Extra large, soft, playful, true-to-life vinyl replicas of some of the most amazing creatures in the world. Excellent learning tool to introduce young children to our delicate and often endangered inhabitants of our planet. A fun way to spark the innate curiosity of a child. Each replica is finely hand painted and accurate down to the last detail. Educational information in five languages is included with each replica. All our products are phthalate-free and thoroughly safety tested to safeguard children's health.

.

AD
---






Our action packed swashbucklers will delight the imagination of any young matey. Sculpted by a leading American character sculptor, our pirates are so life-like that they will transport kids back to the days of pirate ships and sunken treasures.

.

AD
---
THIS BANNER IS AN AD:
---
---