---
Top-5 Most-Wanted Action Figures
With additional reporting by Chris Lundy and Brenda Ruggiero

Action figures aren't huge sellers in specialty, according to half the retailers TDmonthly Magazine interviewed in August 2014. However, for some, these toys do generate sales. You can see the Top-5 Most-Wanted Action Figures below.

*No manufacturer paid to be included in the Top-10 list below. All products listed were designated by editorial staff without regard to the company's relationship with TOYDIRECTORY.com/TDmonthly Magazine.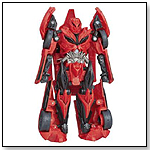 MSRP: $9.99

Age Range: 5 and upGender: Boys





Decepticon Stinger is back, and he's tougher than ever! This Decepticon Stinger changer fights his Autobot enemies every time he can, and he converts so fast they'll never be able to keep up. Press him to convert him from mighty robot mode to speedy sports car mode in just 1 step, then convert him back again when the battle calls for it! Autobots will never be able to handle your fast-changing Decepticon Stinger figure!
— In a August 2014 survey, three out of 10 retailers told TDmonthly that Transformers were their best-selling action toys.

ToyDirectory Product ID#: 36904

(added 8/28/2014)

.

AD
---




Age Range: 4 and upSpecialty: NoGender: Boys





Darth Maul has undergone years of demanding and brutal training under his master Darth Sidious to become an incredible Sith warrior. He demonstrates his skill by expertly spinning his double-bladed Lightsaber. He attacks with precision and ferocity, twirling the twin blades to strike his Jedi opponent. This fierce DARTH MAUL figure is rendered in careful detail to look just like the character in the Star Wars: The Phantom Menace movie. He comes with his trademark double-bladed lightsaber. When the adventure is over for the day, set him on his battle base. Figure comes with weapon accessories, Galactic Battle Game card, battle base and die. Launch date: 2012.

— In a Summer 2012 survey, two out of 10 retailers said Star Wars characters were their best selling action figures.

— In a August 2014 survey, Charles, manager of

Miller's Toys

in Mamaroneck, N.Y., told

TDmonthly

that "Star Wars is finally coming back," and Star Wars toys are among their best-selling action figures.

ToyDirectory Product ID#: 33635

(added 2/12/2012)

.

AD
---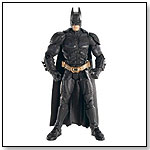 MSRP: $16.99

Age Range: 3 and upSpecialty: NoGender: Boys





Batman The Dark Knight Rises Movie Masters Collector Figures: Based on the hit new Batman film, The Dark Knight Rises. The Dark Knight Rises comes to life with Movie Masters figures, sculpted with superior accuracy and details inspired by the film. Eight of the movie's biggest characters have been meticulously crafted to capture and create fully articulated figures in six" scale. Ready to be the biggest star in any fan's collection, each figure includes a Collect and Connect piece that can be combined with other pieces to create a light-up and wall-projectable Bat Signal. Purchase eight collectible figures throughout the year to complete the Bat Signal.

— In a August 2014 survey, Sunni, manager of

Doodlehopper 4 Kids

in Falls Church, Va., told

TDmonthly

that Batman is one of their best-selling Action Figures.

ToyDirectory Product ID#: 34617

(added 7/16/2012)

.

AD
---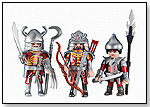 These three knights fight under the red dragon insignia. Their black, red and silver accessories include shields, helmets, swords and more.

— In an August 2014 survey David Stelzer, owner of

Shananigans Toy Shop

in Baltimore, Md., told

TDmonthly

that "Playmobil usually outsells everything else in the store," and Playmobil makes the store's best-selling action figures.

ToyDirectory Product ID#: 36905

(added 8/28/2014)

.

AD
---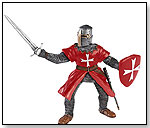 The Malta Knight figuring from Papo is detailed play figure ready for action. With his sword raised and helmet turned to face his assailant, he can stand alone or ride one of the man armored horses available in the line. The Malta Knight wears chain mail and a bright red tabard emblazoned with a white cross, finished with period inspired details like his shoes, helmet, and scabbard.

—"[Our best seller is] Papo action figures by Hotaling Imports. We can't keep them on the shelves," said Kathy Burns, manager of

My Favorite Toy Store

in Downer's Grove, Ill., during a July 2010 survey of top-selling action figures.

— Nine out of 38 retailers said Papo is a best-selling item in their stores.

— Linda Laramy, owner of

Crackerjacks Toys and Childrens Books

in Easton, Md., told

TDmonthly

in a Summer 2011 survey that she sells "a couple dozen" Papo knights each month, making them her best-selling action figure.

ToyDirectory Product ID#: 30320

(added 8/30/2010)

.

AD
---

Writer's Bio:
Justina Huddleston graduated Magna Cum Laude from Emerson College with a BA in Writing, Literature, and Publishing in 2009. After graduating she was the on-site director of the Boston Children's Museum gift store for a year, selling educational, developmental, and creative activity toys that tied in with the museum's exhibits. Justina also interned at children's book publisher Candlewick Press before moving from Boston to Los Angeles, where she is now Editorial Director of
TDmonthly Magazine
.
Read more articles by this author
THIS BANNER IS AN AD:
---
---