---
Toys to Talk About: Preschool Toys
Take a closer look and see if any of these preschool toys are right for your store.
Amphibious Vehicle by HABA USA/HABERMAASS CORP.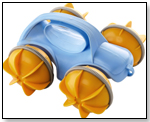 On land or in the sea ... wherever, playing is just fun with this vehicle. It's ability to glide across the water will make your bath or beach time engaging. 7/20/2015 (Price: $14.99; Age: 1 and up) [Add to my Inquiry Basket][?]



Laugh & Learn Piggy Bank by FISHER-PRICE INC.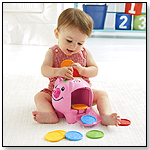 Count on plenty of learning fun and musical rewards with this delightful friend. Baby will learn about counting, colors, animals and sizes with songs, music, speech, and activities that respond to baby. There are 10 colorful coins to drop into the slot while counting along, comparing big and small, and discovering mommy and baby animals. Press the piggy's snout for musical responses, open the door for put-and-take play, and enjoy fun sing-along songs. Make learning more fun with the Laugh & Learn collection of toys. With rich music, sing-along songs, and lots of activities, they combine early academics and everyday experiences—for the way kids really learn! Requires 3 "AAA" alkaline batteries (included). 5/28/2015 (Price: $24.99; Age: 0 to 3)



Ambi Toys Lock a Block Sorting Box by GALT TOYS


This strong lockable box comes with two sets of three-dimensional sorting blocks for hours of shape and color matching activity. Mention ToyDirectory for special considerations

3/24/2015 (Age: 1 and up) [Add to my Inquiry Basket][?]



Janod Princess Palace by JURATOYS US CORP


Colorful cardboard carry case opens to two-level castle. Imaginative playset features a 16 piece reversible puzzle playmat and 28 accessories, including wooden characters, horses, and coach. For ages 4+ years.

1/27/2015 (Age: 4 and up) [Add to my Inquiry Basket][?]



Lite-Brite® 200 by SCHYLLING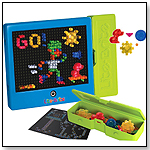 Lite-Brite®, the classic toy that's been letting kids create with light since 1967 is being reintroduced with updates! 200 shaped pegs, light effects, 6 reusable templates, and removable storage tray insure that generations to come will continue to be delighted and inspired by this childhood favorite. 8"x 11.5"x 0.5". 11/13/2014 (Price: $26.00)



Squigz Benders by FAT BRAIN TOY CO.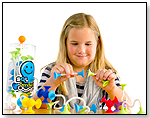 Squigz Benders join Squigz imaginative construction. These Fun Little Suckers bend, twist and loop their way into creative play! Connecting to each other and to any solid, non-porous surface - Squigz are a species all their own. They flex. They stick. They suck people into creativity. Once they take hold, it takes some pull to separate them. When Squigz POP! in protest - you'll have to admit… your hands and ears are shamelessly delighted! 11/13/2014 (Price: $24.95)



Dino Cars by PLANTOYS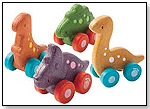 Cute Dinosaur baby cars match perfectly with small baby hands. Baby will enjoy rolling it around. 5/29/2014



Nubble Rumblers by BEGINAGAIN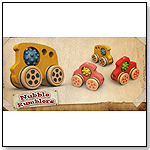 This chunky and funky wooden vehicle has a tactile Nubble "driver" made from natural rubber. The six-inch-tall, red Nubble Rumbler Truck encourages kids to play actively and is great for developing fine motor skills. Made from sustainably harvested rubber wood with non-toxic, child safe stains. For 18 mos+ 4/28/2014 (Price: $15.00; Age: 1 and up) [Add to my Inquiry Basket][?]



Green Tones Monkey Glockenspiel by HOHNER


An eye catching design with an adorable face that children love. The all natural Rubberwood body is easy to hold and play. Featuring eight precision tuned bars arranged in a C scale provides an authentic musical experience and pleasing soundscape. Can be played flat on a surface or vertical.

2/11/2014 [Add to my Inquiry Basket][?]



Caillou Firetruck Set by IMPORTS DRAGON


Caillou Firetruck Set - a play set featuring Caillou and fire-fighting accessories.

1/20/2014 [Add to my Inquiry Basket][?]



Pop! Pop! Piano™ by PATCH PRODUCTS INC.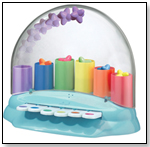 When children press a key on the piano, they not only hear a sound, they see stars pop up! The clear arch guides the popped stars onto a different pipe so when another note is played, they'll pop some more! Adults can remove the arch to allow the stars to land on the floor, encouraging children to crawl after them. Pop! Pop! Piano measures 9" x 11" x 5.34" with clear arch attached. For ages 12 months and up.
— Dean Smith, owner of JaZams in Princeton, N.J., told TDmonthly in a January 2015 survey that Pop Pop Piano is their store's best-selling musical toy. They sell around 10 each month.
— Dean Smith, owner of JaZams Toys in Princeton, N.J., told TDmonthly in an April 2015 survey that the Pop-Pop Piano is their store's best-selling infant & toddler toy. They sell around 12 each month.
7/11/2013



THIS BANNER IS AN AD:
---
---