---
Toys to Talk About: Tween
These tween toys will help keep older kids interested in your store.
3D Head Case Wall Art by FASHION ANGELS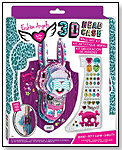 Looking for unique, and interesting décor for your tween's room? It's easy and affordable to get the latest in modern interior design trends with the 3D Head Case™ Wall Art Kits by Fashion Angels. Simply punch out and follow the instructions to slide the bright and colorful patterned pieces together to form the coolest cruelty-free, cardboard wall décor. Then use the decorative stickers, gems, and puffy glitter appliques included with the kit to create the perfect accent and customize your Head Case. Remember: You don't have to be a head case to love our Head Case Wall Art kits… but it helps! Each Kit Includes: laser-cut puzzle boards, puffy glitter sticker sheet, decorative gems, paper flower, charm, lace trim, and instructions. There are 4 styles of Head Case Wall art kits - choose from a deer, dog, cat, or bunny – or collect them all to make a major statement (4 styles sold separate).
Awards: 2015 TDmonthly Top Toy Award 5/28/2015 (Price: $9.99; Age: 8 and up) [Add to my Inquiry Basket][?]



Twisties 7" Carded by PLAY VISIONS INC.


Totally new concept in hair adornment for girls. In seconds girls can wrap their hair inside the coils and have an instant hair accessory. As well, they can connect together to form an interesting myriad of spirals and coils all over their hair to create beautiful masterpieces. Comes with 3 pieces of 7" length per blistercard. 3/18/2015 (Price: $7.99; Age: 3 and up) [Add to my Inquiry Basket][?]



Games for Girls by SUGAR LULU


Two new titles have been added to our bestselling Games for Girls line—also packaged in pretty patterned collectible tins of course! Perfect for sleepovers, camp, parties, and more!
Any girl can be a drama queen when she wants to be. With Drama Queens, girls can be silly, crazy and wacky as they act out what's written on their cards. It's a super sweet spin on the classic game of charades.
Your classic deck of cards just got 10 times better! Decked Out includes 52 pretty patterned classic cards, with instructions for tons of ways to play fun games!
Other games include: Truth or Dare, M.A.S.H., This or That and Fortune Teller 1/7/2015



Assorted Color Rhinestone Cheerleader Necklaces by COOL JEWELS WHOLESALE FASHION JEWELRY


These Assorted Colored Rhinestone Cheerleader Necklaces feature a silver ball chain with a silver cheerleader and pom poms assented with colored rhinestones. The legs of the cheerleader are moving parts that can swivel.
Cost $2.30 /Necklace
Easy $6.99 - $9.99 retails
See our other Rhinestone jewelry by clicking here http://www.cooljewels.com/Jewelry-Crystal.aspx to visit the Cool Jewels® website. 6/27/2014 [Add to my Inquiry Basket][?]



Bo-Po by WORX TOYS INC.


Bo-Po is brush on, peel off nail polish, a kid friendly polish that peels of in seconds without the use of harsh removers. Bo-Po comes in 10 colors and has a spill-proof container.

2/7/2014 [Add to my Inquiry Basket][?]



Marked Private Invite Bandz by MARKED PRIVATE


Marked Private has created a totally new and exciting concept: We've tied physical products to a safe, fun and engaging, invitation-only, online social networking site for tweens. We've started with cool wristbands tied to two distinctly different, yet related, online experiences: MP's Party HubTM for tween parties, and MP's Friendz HubTM for an ongoing social networking experience.

Introducing Marked Private Invite BandzTM - the ticket into the MP Party Hub! Each band comes with it's own unique, private code which gives Guests an all-access pass to the Host's custom online party page. There, Host and Guests can connect about the party, RSVP, share photos and video, take party polls, add fun widgets, chat, and more in a safe and private online hub of activity around the party. The main Invite Bandz kit comes 8 Bandz, Invite Cards and Envelopes for Guests plus a bonus band for the Host. The Add On Kit comes with 4 Guest Bandz, Invite Cards and Envelopes.

After the Party, friends can keep the connection going 365 days a year in the Friendz Hub - Marked Private's safe, cool online social network. Marked Private Friendz BandzTM allow kids to invite more friends to join the extremely engaging Hub. Each wristband comes with its own unique and private code that allows friends to link together and interact safelyonline.

Markedprivate.com's patented technology is 100% COPPA compliant and is fully dedicated to children's online safety.

2/5/2014 (Age: 7 and up) [Add to my Inquiry Basket][?]



Sticky MosaicsŪ Jungle Adventure by THE ORB FACTORY LIMITED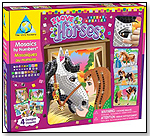 Follow a simple numbered legend and add over 2100 sparkling jewels and tiles. Includes 4 sparkling projects. 11/27/2013 (Price: $16.99; Age: 5 and up) [Add to my Inquiry Basket][?]



CharlieDog Collar Bracelets, for People by CHARLIEDOG AND FRIENDS LLC

Our bracelets are colorful "collars" embroidered with the single word: "Adopt". Launch date: September 2012. 10/10/2012 (Price: $10.00; Age: 3 and up) [Add to my Inquiry Basket][?]



MOGO Shades by MOGO DESIGNS, INC.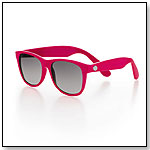 MOGO Shades are the perfect tween accessory featuring retro styling and hot neon colors. Each pair of Shades will hold 2 MOGO Charms - ready for instant personalization. "MOGO Shades let you show the world how you're feeling, what you love or maybe you just want to wear your initials," Katie Elliott, Operations Manager of MOGO Designs, told TDmonthly. Launch date: October 2009.
Awards: 2011 Dr. Toy's Best Picks New Products; 2011 Parents' Choice Fun Stuff Award; 2012 The Next Big ZING Award, Kid's Category; 2012 Mom's Choice Award, Arts, Crafts & Hobbies 5/11/2012 (Price: $10.00; Age: 8 and up)



THIS BANNER IS AN AD:
---
---