Article Synopsis
With licensing agreements expanding to every facet of the toy industry, children aged 5 to 8 years old are delighting in toys with familiar faces.
Hasbro has taken advantage of box-office hits by creating Shrek and Donkey dolls as well as The Incredible Mr. Incredible action figures.
Popular items which merge sports and toys include Hasbro´s Wrestling Buddies, modeled on characters from "The Incredibles," and a Radio Controlled Zamboni by Kid Galaxy.
The American-produced Madame Alexander Dolls and a new generation of Cabbage Patch Kids are popular among young girls.
This year, children aged 5- to 8-years-old are greeted by numerous familiar faces as licensing agreements expand to every corner of the toy industry. From games to dolls and everything in between, children can enjoy play time with their most beloved characters.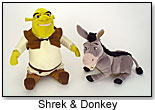 Hasbro, Inc. has a full assortment of products to accompany Shrek 2's theater and DVD release. Wise-crackin' interactive Shrek and Donkey dolls ($29.99) come complete with "friendly" and "ogre"-like responses for kids to choose from.

Also in the Shrek line, Play-Doh's Rotten Root Canal ($9.99) set comes with a mechanized toothbrush and drill attachment.


The already popular Operation ($16.99) game also sports a Shrek 2 version with new ailments such as Ear Wax and Humongous Fungus.

Hasbro also has Disney/Pixar's "The Incredibles" line filled out. Starring is The Incredible Mr. Incredible ($24.99) action figure that has voice capabilities and muscle flexing actions. His real-feel skin and spoken signature-phrases will endear his fans.

At the $19.99 price point, kids can let off some steam with Wrestling Buddies. These plush rough-and-tumble talking versions of the familiar Mr. Incredible, Dash and Syndrome characters are perfect for super-powered imaginative play.

Instruments are getting into the licensing act, too, with Barbie Jam With Me and Hot Wheels Electric Guitars, complete with music cartridges and song books, available for $39.99.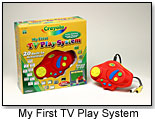 Electronic game manufacturer Techno Source is producing Crayola TV play plug-ins. The first of the My First Electronic Games line are Crayon Racer and Paint Splat ($7.99 each). The My First TV Play System ($19.99) has a colorful controller accessing more than 20 activities by plugging into the A/V input on the TV.

New for the Spring of 2005 from Techno Source will be a Reader Rabbit line of electronic learning aids and a Coleco brand of electronic games and TV Play Systems.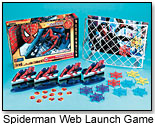 Pressman Toys, a manufacturer of board games and puzzles, has a line of Spiderman licensed products. The board game, Spiderman vs. Doc Ock ($9.99), features 3D buildings that players have to race around while avoiding the evil Doc Ock. In the more active Spiderman Web Launch games ($14.99), players try to hold Doc Ock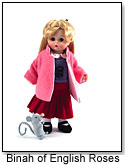 at bay by launching webs at him.

Madame Alexander Dolls, the only remaining manufacturer of handmade dolls in America, has a knock-out licensing list. Already known for superior quality and designs, the company is excited about its new doll based on Madonna's children's books, "The English Roses." Dolls can range anywhere from $24.95 to upwards of $100.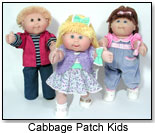 Returning to engage a new generation, 4Kids Entertainment has brought back the Cabbage Patch Kids. Now, a new generation can take the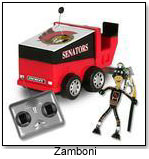 "Oath of Adoption" and commit to a lifetime of unconditional love and caring for a unique plush doll. The dolls retail between $29.99 and $34.99

In those markets where hockey fans are the wildest, Kid Galaxy has produced a Radio Controlled Zamboni ($25) so young fans can smooth the way for fearless hockey heroes or speed skaters. The Zambonis come with a choice of 30 different NHL team logos and have sturdy silver remote controls with buttons resembling treaded tires.