| | |
| --- | --- |
| | Howard Stern's Beetlejuice Steps Into the Spotlight |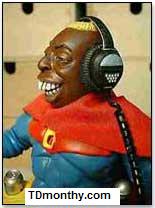 Action figures as collectibles is not a new concept, but the genre may be gaining a new audience. Fighting Amish Toys, in collaboration with Toxic Mom Studios, is releasing "Beet the Jolly Dwarf," an action figure based on the infamous shock radio personality Beetlejuice.

Lester Green, better known as Beetlejuice, has been entertaining radio audiences for years as a frequent guest to the Howard Stern radio program. Green, who stands four feet three inches tall, has incredibly odd looks and mannerisms to thank for his popularity.
Beet the Jolly Dwarf action figure is using those same traits to market the figure. Beet the jolly dwarf stands 8 inches tall, and will be wearing his infamous Superman® costume. The figure comes wearing a cloth cape, and is equipped with a "Bachelor Party Utility Belt," featuring a microphone, earphones, a beer can, and some items you would find in an adult book store. Two heads are available for the figure, one with blond hair, the other with black, and each with an expression that is typical Beetlejuice.
As if Beet could not get more frightening, or attractive to its core audience, the figure also talks. Beet the Jolly Dwarf will spout out his trademark phrases such as "Me? I get hot with the womenz" and "Me? Blah blah blah blah"
---
---