Children's Books
Tween the Lines: Challenging Reading for Pre-Teens
By Karen Mendez Smith
June 2003



While 8-14 year olds donít really like to be categorized as Tweens, publishers find this in-between age group packs considerable buying power. Some new titles for fall should appeal to kids who have outgrown Dr. Seuss, but arenít quite ready for Michael Crichton.
Dangerous Girls
Sun and Shadow

From Dial Press comes A COOL MOONLIGHT by Angela Johnson, the story of a girl who cannot be touched by sunlight. Also in the shadows is R. L. Stineís DANGEROUS GIRLS (HarperCollins), an older novel about twin girls soon to become vampires.

Keeper of the Night
Love and Death

Abuse in teen relationships is the subject of FAULT LINE by Janet Tashjian (Henry Holt). KEEPER OF THE NIGHT by Kimberly Willis (Holt) captures a young womanís struggle to shelter her family after her motherís suicide. In THE WRONG ONE (Houghton Mifflin), a girl and her brother move from Brooklyn to Massachusetts after the death of their father. Set in Virginia in the 1900s, FLYING SOUTH (HarperCollins) tells the story of a girl who copes with her fatherís death as well as the political tumult of the 1960s.
Health and Wealth

Good advice abounds in ITíS A GIRL THING: GET HEALTHY by Mavis Jukes and Lilian Wai-Yin Cheung (Random House/Crown). Life in a New England prep school is seen through the eyes of a boy from Harlem in THE BEAST: A NOVEL by Walter Dean Meyers (Scholastic Press).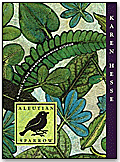 Aleutian Sparrow
History and Mystery

The Japanese invasion of Alaskaís Aleutian Islands during WWII is the setting for ALEUTIAN SPARROW by award-winning author Karen Hesse (Simon&Schuster/McElderry). A boy who must leave his family to find safety when the Sudanese War reaches his village is the hero of YEAR OF NO RAIN by Alice Mead (Farrar, Straus, Giroux).
Writer's Bio: Karen Mendez Smith has been involved in children's media for over twenty years as a literary agent, writer, and creator of animated television and film. Co-founder of Satori Organics and M/Path Press, she is a parent to eight children and five incredible grandchildren (and counting).

---
---