Cool Company
Cardchess Reinvents Two Classic Games
By Tim Connolly
June 2003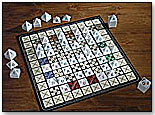 CardChess
Jeff Widderich is not your ordinary board game inventor. Possessing a degree in architecture and a love for art history, Widderich launched 3D Artifacts, a company utilizing hand-carving and photography to produce unique and affordable reproductions of masterpieces from Van Gogh to da Vinci. His new company, Cardchess, employs the same care in creating breakthrough games such as Crossword Pyramids and the aforementioned Cardchess – which makes it possible for four players to engage in a game of chess, a problem chess masters have been trying to solve for 250 years.
A Canadian by birth who spent much of his childhood in Germany, Widderich has made a name for himself in the German board game market. "Forty-two percent of all board games sold in Europe are bought in Germany. It's a $40-billion-a-year business. There are 7,800 journalists in Germany writing about board games."
With the voracious German market already embracing his games, Widderich is in no hurry to sell out. "I'm absolutely against licensing," he said. "It doesn't make sense when we've got good people backing us and so many game concepts ready to go."
TDM: What prompted you to start producing games?

JW: I am in a unique position: my second company called 3D Artifact (3dartifacts.com) reproduces ancient artwork. I used the energy from this company to produce all my board games. Cardchess, our first game, was actually carved in an ancient 3-D look and photographed. Starting with carved artwork helps create a real-world look for the games. Cardchess took several thousand hours to carve.
TDM: How many games does Cardchess plan to put out?
JW: We want to publish a minimum of four strong games each year for the North American and German game markets.
TDM: What elements do you consider when creating a new game?
JW: I have a very strange brain; my thought process and visualization abilities are always in 3-D. The third dimension allows me to see just a little bit more hidden information that someone else might have missed. To be real honest, my best work on game concepts takes place while I am sleeping.
TDM: What do you want the players of your game to feel when playing?
JW: The most important thing for me is to create games that allow players to feel comfortable while playing. I want them to feel as if they have played the game before. My new mouse game [Käse - Mäuse Chaos, currently available in German language version only] is the best example. It takes place in a kitchen; the cat, mice, chairs, and holes in the wall, etc., are all something you would find in a kitchen setting. These elements interact with each other just the way they would in real life. Pure and simple games are so incredibly hard to create. Games that require a huge rulebook are a lot easier to put together. The rules create the game [rather than] the game itself.
TDM: Are your games marketed toward general interest players or a specific demographic?
JW: Family, family, family, family.
TDM: Where do you position your games in the retail market?
JW: We are trying to create quality games for quality companies that appreciate our attention to detail.
TDM: What inspired your latest game, Crossword Pyramids?
JW: The main objective for creating Crossword Pyramids was to allow players to spell large words. Why struggle with three or four letter words when players can battle it out using ten and twelve letters? This concept of "bigger is better" is more suitable for our times, especially when the game board industry is competing against video games.
Crossword Pyramids is such a simple game to play; the complex structure of the game is hidden and the enormous struggle [we made] to simplify this game is not visible. Everyone involved in the process [was left] brain dead for several weeks. We try not to do much computer manipulation, but with Crossword Pyramids the hand-carving approach didn't work, so we had to start from scratch. But the effect in this case is visually much more pleasing.
TDM: Can you briefly explain how the game is played?
JW: The backbone of Crossword Pyramids is the four-sided pyramids with the same letter on all four sides. This is the only word game based on dismantling the game by first spelling a word and later removing those letters that were used from the board. By removing those letters, players expose a fresh batch of letters for their opponents to use.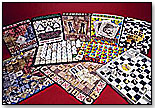 CardChess' Line of Board Games
The game is unique because all four players are playing a different game. If, for example, a player sitting across from another player sees the word "god" horizontally, the other player sees the word "dog," and the two players on the sides would only see one word horizontally.
The 60 letters are always available to spell any size word; the big conflict in the game is "stealing" the letters from your opponents. Steal too many and you help them finish their 30 pyramids, stopping the game. Your leftover pyramids are subtracted from your grand total. The built in runway is a totally new concept allowing players to bend large words around the board.
I only ask you to play this game once with a kid and see what happens. Be careful: kids are in a league of their own playing Crossword Pyramids. They are the ones that are easily able to visualize the patterns in the game that allow them to see words. We took the game to a local game show last weekend. Four kids sat down. The youngest was 8 years old. They played quietly for an hour without fighting. That's a real statement about that game.

TDM: What does it take to succeed in the board game or gaming market?
JW: I do not have a clue. I only have one weapon to succeed and that is my strange ability to develop and create these games.
TDM: Where do you think the board game industry is headed?
JW: The game industry could be so powerful as a category if everyone involved would unite instead of fighting and treating each other as competition. The timing is so perfect for board games to be reintroduced into the fabric of North Americans' daily lives. Parents are fed up with their kids being addicted to TV and video games. Germany is showing us how powerful board games can be. This beautiful art form deserves to survive, flourish and be promoted.
TDM: Where do you think Cardchess is headed in the next couple of years?
JW: Our first two games are very strong. With Cardchess we have solved the 250-year-old riddle of four-player chess, without changing any regular chess rules. I'm not a chess player; that's how I was able to see the solution. It's so simple that people in Europe are kicking themselves for not thinking of it. Each player introduces one piece at a time as a card is turned over. This keeps the board from getting clogged-up. Kids are able to focus better, and even beat a better player.
Crossword Pyramids is the word game for the future. It removes all limits to what you can do with your built-in vocabulary. My big concern is not that the public [fails to] appreciate our games, but that the stores give our games a fair chance.
Card Chess retails for $35, and Crossword Pyramids sells for $45. For more information, visit their website at cardchess.com.
Writer's Bio: Tim Connolly has a degree in film production from the University of Texas at Austin and writes screenplays when he isn't test-driving remote control speed boats in his bathtub.
---
---