Rainbow Stacker
by
MELISSA & DOUG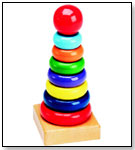 The 3.5" x 3.5" x 8.5 Rainbow Stacker is a classic toy that allows infants to develop cognitive and motor skills. It comes with seven rings, each a different color and size, as well as a ball and a wooden base. Kids can stack the rings in order from largest to smallest, and place the red ball on top to complete the task.
— When asked to predict a hot baby item for Christmas 2007, Shirley Reilly, owner of Let's Play in Hillsboro, Ore., said, "Probably the Melissa & Doug Wooden Stacking Rings ... because they sell for $5. Parents and grandparents like to buy it for kids."
— Seven of 54 retailers asked by
TDmonthly
said that Melissa & Doug baby toys will be big-ticket items for the 2007 holiday season.
— "The Rainbow Stacker is a true classic toy. It includes eight smooth, easy-grasp wooden pieces to stack on the solid wood, rocking base," said Valerie Cavallaro of Melissa & Doug. 9/20/2007 (Price: $6.00)