Caterpillar Dice Game
by
HABA USA/HABERMAASS CORP.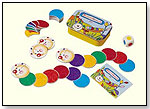 This lacing toy and dice game includes six caterpillar pieces, one head, one cord and one wooden threader. It is designed to teach colors and comes in a compact, round container for convenient storage and travel.
— Products by HABA account for the third best-selling line at Silly Goose in Essex, Mass., store owner Diane Robinson told
TDmonthly
.
— "Pretty much anything from Germany," sells well right now, said Amy Barrett, owner pf Lasso the Moon Wonderful Toys in Last Chance Gulch in Helena, Mont. HABA is a customer favorite. "Because of all the Mattel recalls, people are really concerned about children's toys in particular." 10/2/2007
[Add to my Inquiry Basket][?]