TDmonthly Product Review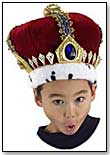 Name: Little Daydreamers Royal King Hat
Company: ELOPE INC.
Age: 3 and up
Price: $19.99
Category: Pretend Play



What is it?


This fully lined crimson velvet plush hat is trimmed with fake ermine and bedecked with plastic jewels and gold filigree. A large plastic sapphire festoons the front. The hat is trimmed with intricate gold and blue ribbon and set with a jeweled golden knob. A secret pocket hidden in the lining holds a fortune for the King to read. Or, it can be used to hide state secrets from unruly contenders. Velcro tabs allow adjustment for almost any head size.



What We Thought


Elaborate, colorful and highly decorated, the crown confers instant royalty on its wearer – kid or adult. It's great for funny photos, birthday parties and – most important – dressing up and pretending to rule the world. Even if a few of the doodads fall off over time, it's well made enough to go through a few lives: dress-up toy & Halloween costume for little kids, then joke prop for the older set.



Why They'll Want It


Why settle for Princess when you can be King? Kids will like its adjustability and the fact that no hard plastic or metal pieces will ever touch their heads. The secret pocket is a big plus and will probably get a lot of use. Kids may fight over who gets to wear the crown, but that'll just make the play more realistic.

Elope´s ToyDirectory Listing


-- Alison Marek, 6/15/05




Learn more about Little Daydreamers Royal King Hat

See other products by ELOPE INC.


---
Search Toy Review: