TDmonthly Product Review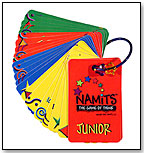 Name: NAMiTS Junior
Company: NAMiTS LLC.
Age: 3-8
Price: $9.95
Category: General Games



What Is It?
There are four different color-coded kinds of cards that ask children to name items that share a common feature, such as all things with buttons or things that are shaped like a circle. Other times this open-ended game has kids make up stories or share their knowledge of a specific topic. There are no winners or losers.

What We Thought
This simple game is a fun conversation-starter and creates talkative children, aiding in building their vocabulary. Most adults will find this rudimentary game enjoyable only in the company of young kids as a way to bring them out of their shells. By far the biggest crowd-pleaser for any family is bound to be the "Clap out the names of different … Stores, Opposites, Insects, Meals" card. It's a truly ingenious feat trying to guess what others are clapping. It would have been nice to have a few more abstract cards, like this one, thrown into the game. Also, it would be nice to see versions of NAMiTS in foreign languages, which would be useful for players of all ages.

Why They'll Want It
This deck of brightly colored cards will occupy young minds on long road trips. The compact playing cards are looped on a plastic ring, guaranteeing that they won't spill all over the car. The product encourages a creative mind and advances English skills. Players can make up their own rules if they decide to turn the game into a competition.

-- Vanessa VanderZanden, 8/16/05



Learn more about NAMiTS Junior

See other products by NAMiTS LLC.


---
Search Toy Review: