TDmonthly Product Review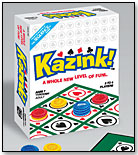 Name: Kazink!
Company: JAX LTD INC.
Age: 7 and up
Price: $18.95
Category: General Games



What Is It?


Players are each dealt three cards. When it is a player's turn, he/she discards his/her card, placing his/her poker chip on a corresponding game board square. When all of the squares of one suit are covered, that player can choose to crown his/her chip or can place the crown on someone else's chip. Players win by completing two rows (three chips in a row) of triple-stacked chips of in their poker chip color.



What We Thought


This game of strategy and skill requires a calculating mind, yet can still be fun for all ages. The game has enough chips for two or three players (or teams of players) to enjoy anywhere from a 20-minute to an hour-long match. Competition grows more intense as more chips stack up on the board and players are left with fewer board options. In addition, the inclusion of three special types of cards — crown cards, wild cards and double-up cards — keep the game play interesting.



Why They'll Want It


It doesn't take long to get down to game play after reading the instructions, yet it does take multiple rounds to understand the finer strategic nuances. In other words, this game can be enjoyed by family members for years to come. Conveniently, the board folds up into a manageable size, just at little bit smaller than 8" x 11", so it's no problem to pack for weekends away or to store at home.


                                                -- Vanessa VanderZanden, 9/26/05




Learn more about Kazink!

See other products by JAX LTD INC.


---
Search Toy Review: