TDmonthly Product Review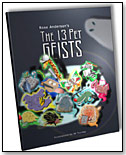 Name: The 13 Pet Geists
Company: ROSEKNOWS INC.
Age: 4-12
Price: $15.99
Category: Books



What Is It?


It's a book about ghosts (well, actually, Geists, which are animal ghosts that live on the Geist Reserve, their enchanted afterlife home). This is the companion piece to Geist Junior, and has … count 'em, 13 Geists in it, each with a little rhyming story written by Rose Anderson. There's Sami the Geist crocodile, Twinga the Geist giraffe, a cat, a lion, all the way to a zebra. With very slick illustrations by Jean-Baptiste Tournay that almost jump out of the page.



What We Thought


Have to say, we didn't know the book was a companion to anything when we got it, so my 6 year old and I simply took it at face value (but now that we know there's a game, we're gonna try that, too). First, to quote my kid: "The pictures are cool!" It's very "rendered" looking, with a touch of later Berkeley Breathed, mixed with some basically good solid illustration for the Geists. We laughed at lines such as, "Fingers like Popo's would be pretty neat. If yours were that long, they'd go down to your feet" for Popo, the Geist bat, and one from Kiboko the Geist Hippo (who's a singer, though not a very good one), "She sings every night and still waits for the cheers, While the Pet Geists all run as they cover their ears."



Why They'll Want It


This is just a great book with great pictures and fun stories/rhymes. Ghost animals could be really scary, but Anderson plays these for laughs and fun, and gets a lot of both. My son and I are looking forward to trying the game. If it's half as good as the book, it's a winner.


--TDmonthly Staff, 10/18/05




See other products by ROSEKNOWS INC.


---
Search Toy Review: