TDmonthly Product Review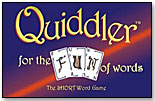 Name: Quiddler
Company: SET ENTERPRISES INC.
Age: All Ages
Price: $12
Category: General Games



What Is It?


A fast word game played with cards, Quiddler is designed for 1 to 8 players. Each game consists of 8 hands. The first hand is played with 3 cards, and a card is added during each hand until the players begin the final hand with 10 cards each. The object of the game is to combine an entire hand into words of two or more letters, drawing and discarding on each turn. The first player to have an entire hand of words goes out.  Bonus points  are given for the longest words and the most words made by players in each round. The average play time ranges between 20 and 40 minutes



What We Thought


Even small words count, so the youngest players can win by deftly combining their cards. The game moves quickly in the early hands, then requires a bit more concentration as the number of cards increases. Quiddler combines a bit of Scrabble, a bit of rummy and a lot of fun.



Why They'll Want It


Kids will want this game because it's a fun way to compete against their friends to find out who can compose the cleverest words most quickly. They can challenge words and look up meanings, adding to their vocabulary, without having to invest in a long-playing word board game.  Quiddler is a deck of 181 cards, so it's transportable enough for long trips or boring visits to relative's houses, or just a fun way to liven up a slumber party without toting around a heavy game.


-- Alison Marek, 10/24/05




Learn more about Quiddler

See other products by SET ENTERPRISES INC.


---
Search Toy Review: