TDmonthly Product Review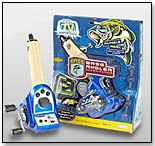 Name: Bass Angler Championship TV Games
Company: JAKKS PACIFIC INC.
Age: 5 and up
Price: $19.99
Category: Electronics

What Is It?
The Bass Angler is the latest title from JAKKS Pacific's award-winning Plug It In & Play TV Games brand. It comes with a fishing-reel controller that plugs directly into the TV (nothing else required) and features fishing so realistic, you'll wanna wipe the worm goo from your fingers when you're done. It has all the elements: weather, temperature, water conditions, time of day and more than 30 different lures and six different lakes to create a fishing extravaganza. And the controller vibrates real cool, too when you hook a fish and reel it in.

What We Thought
So, me and The Boy (six years old and already a fishing fanatic) opened up the package on a Saturday morning, plugged it in, and went straight to fishing, completely bypassing the practice mode. Who needs to practice when the fish are biting? We cast and let the first lure sink down into the depths. Fish were everywhere as we reeled in, bouncing the bottom and then … getting a strike! The reel-controller tugged and vibrated, and my son totally started screaming. He landed a 1.2 lb bluegill, and we were — dare I say it — hooked. Saturday night saw us still playing, our biggest fish being a 5.4 lb. largemouth bass and some big ol' pike. It was a good day at the lake.

Why They'll Want It
It vibrates and feels like a fish is at the end of the line. Who can resist that? Plus, there are lots of different places to fish, types of fish and lures to fish with, so it doesn't get boring. Tournament play adds an extra element (we kicked butt), and any fisherman worth their waders will want one of these babies. The only thing missing is being able to fry up your catch at the end of the day. We went out and got some fish sticks, and the world was perfect.


--TDmonthly Staff, 1/5/06



See other products by JAKKS PACIFIC INC.


---
Search Toy Review: