TDmonthly Product Review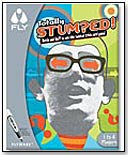 Name: Fly — Totally Stumped
Company: BINARYLABS INC.
Age: 8 and up
Price: $19.99
Category: Computers

What Is It?
Totally Stumped is a trivia game designed for 1 to 4 players … and a LeapFrog Fly Pentop Computer (sold separately). The game comes with 68 Trivia Category Cards, 4 Answer Cards, 2 Category Counter Cards, a carrying case and a rulebook. It is also a 2006 Parent's Choice Gold Award Winner.

What We Thought
The solo games are fun. The Flypen actually keeps track of how many questions you get right in a row. I only got 3. Some of questions are hard. For example: "Which one of these products was not invented by a woman? Band-Aids, Circular Saw, Windshield Wipers or Duck Shoes?"" The answer was Band-Aids; I'd chosen Duck Shoes. Totally Stumped would be good for travel if you planned on playing solo games. The game requires too much setup and too many cards to accommodate multiple players on a car trip, though you could always improvise and test each other with the questions alone, avoiding the actual laying out of the cards.

Why They'll Want It
Basically the game is fun! The questions are broad enough to make it comfortable for an adult to play against a child. The kid may know the answers to the video game trivia and random questions about pop culture, while the adult would favor other categories based on accumulated knowledge. The only drawback was that the Flypen volume was sometimes too low for a public setting. You have to pass the pen back and forth for each player to hear it. Using the earbuds solves that problem when playing solo. — Jon Arsenault, 8/25/06


Learn more about Fly — Totally Stumped

See other products by BINARYLABS INC.


---
Search Toy Review: