TDmonthly Product Review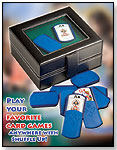 Name: Shuffle Up Playing Cards
Company: SHUFFLE UP INC.
Age: 11 and up
Price: $39.95
Category: Card Games

What Is It?
It's a brand new look for the classic deck of playing cards. The cards are encased in a hard, lightweight plastic sheath. The face of the cards is concealed by a plastic shield, and is revealed only when sliding the covering down. These cards are designed for the shuffling-impaired, giving everyone a chance to be the dealer. Boxed neatly in a leather case, the cards are lined up in two rows of 26 cards each, with the two Jokers in the center. Resistant to wind, water and the usual wear and tear of regular playing cards, Shuffle Up opens the door for card games to be played outdoors or even in the pool.

What We Thought
The design of these cards is certainly revolutionary. The concealment of the cards is useful in a number of ways: 1) Fundamentally, the design allows anyone to shuffle cards. No longer is any person singled out during game night for not being able to shuffle correctly. 2) The chances of your opponents seeing your cards during Poker and other betting games are greatly reduced. However, dark sunglasses are still recommended for a poker face.

Why They´ll Want It
For players who can´t shuffle, but always wanted to be the dealer in a card game, then this deck is the solution. Even for players who can shuffle, Shuffle Up Playing Cards are a good variation to the norm, giving rise to new and creative card activities and games that can´t usually be performed with regular playing cards. And the nice carrying case adds a bit of intrigue and mystique when you bring it to the table, hyping the anticipation for a night of cards. — TDmonthly Staff, 4/3/07

Learn more about Shuffle Up Playing Cards

See other products by SHUFFLE UP INC.


---
Search Toy Review: