Products from INTERNATIONAL WORLD OF TOYS
THIS BANNER IS AN AD:
---


View: By latest product added | By earliest product added



Below are a select number of products from INTERNATIONAL WORLD OF TOYS



---
When the soap becomes wet, the talking module activates, and kids will hear the voices of Max and Ruby. The soap is hypoallergenic and smells of grape raisin. Other i-soap varieties include Backyardigans, Dora the Explorer and SpongeBob Square Pants.
ToyDirectory Product ID#: 14662
(added 8/15/2007)
.
Wholesale Price: (Log in to view)
MSRP: $7.99
Age Range: 1 and up
Launch Date: November 2007
Gender: Boys And Girls
i-feeders are designed to attract the attention of young children and make meal time fun and interactive. Available in an animal variety and an automotive variety, the mere push of a button will make a wonderful sound, such as the sounds of a bird singing or an airplane flying overhead. The utensil pieces are removable, interchangeable and dishwasher-safe. Launch date: November 2007.
ToyDirectory Product ID#: 14188
(added 7/19/2007)
.
Wholesale Price: (Log in to view)
MSRP: $12.99
Age Range: 3 to 7
SKU or Item #: CCZ-1006
Launch Date: September 2007
Gender: Boys And Girls
This giant puzzle is 4' long and contains 64 pieces. Children "will love playing with the huge pieces while putting them together, [and] learning their alphabet in the process... [Kids] can easily lie down on the completed puzzle and be quite comfortable doing so!" Marketing Director Mona Ali of International World of Toys told TDmonthly. "The toy is great for the specialty market since it combines so many fun things in one single product." Launch date: September 2007.
ToyDirectory Product ID#: 11552
(added 2/21/2007)
.
This fun and unique craft set includes a Dora printed youth T-shirt and a set of four Puffy Paint and two Glitter Paint tubes. Children can follow the design or use their imagination as they paint. The shirt should dry for 48 hours, and then an adult should hold an iron above it to let the steam "puff up the paint." The tee can be washed inside-out. It is also available in SpongeBob Squarepants and Go Diego Go! versions.
ToyDirectory Product ID#: 10661
(added 12/14/2006)
.
Dora Talking icrayons
TDmonthly rating: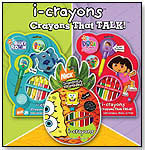 This educational toddler toy helps children distinguish between and spell six colors. When a button on the Dora talking head is pressed, the Dora theme song is played; when finished, Dora's voice prompts children to insert a specific color crayon into the head. If the wrong one is inserted, she repeats herself; if the right one, she spells it in English and Spanish and names an object of that color. The product is also available in Blue's Room and SpongeBob Squarepants varieties.
ToyDirectory Product ID#: 10660
(added 12/14/2006)
.
This hypo-allergenic hand and body soap not only looks scary but sounds scary, too. The i-soap comes in the shape of a Ghost, Tombstone or Pumpkin. Once wet, the i-soap is activated and will make the eerie sounds of each image. Washing-up can now be a spooky, fun-filled experience for the young ones.
ToyDirectory Product ID#: 3498
(added 5/4/2005)
.