Products from MARBAN INDUSTRIES INC.
THIS BANNER IS AN AD:
---


View: By latest product added | By earliest product added



Below are a select number of products from MARBAN INDUSTRIES INC.



---
Sentence Says Dice Edition
TDmonthly rating: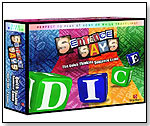 Sentence Says Dice Edition is hilarious fun for the entire family to play at home or on the road. Draw an action card and read the sentence instruction. Now roll the letter dice to see what letters you will get to create your sentence. Hurry, the timer's running out! What will your sentence say? For the letters: F, L, S, I and P, how about "Frogs like singing in ponds?" Opponents judge a winning sentence and can steal it if you're not careful. The game is for 2 to 4 players and includes 4 consonant dice, 2 vowel dice, 1 danger die, 1 steal die, 40 action cards and a dice cup.
ToyDirectory Product ID#: 6462
(added 1/10/2006)
.
InStructures is a family/party game in which two teams race to build a structure with building blocks. However, only their "Foremen" get to see the blueprints. Good verbal communication is the key to winning.
— This game turns block-building into a competitive sport.
— The high-quality wooden building pieces make the game aesthetically pleasing, too.
— MarBan took "tons" of pre-orders for InStructures at Toy Fair, said vice-president Jenna Banks. The game will be available in June 2006.
ToyDirectory Product ID#: 6013
(added 12/15/2005)
.
Sentence Says is a quick-thinking sentence game in which players have fun creating sentences out of letter cards while working against action cards and a time limit.
— "This game has done really well for us," says Jeff Boss, president of Brain-Builders.com.
— It is the winner of a 2005 Toy of The Year award from Creative Child magazine
— This game was named to the Chicago Tribune's "Top Ten Games 2004" list.
ToyDirectory Product ID#: 315
(added 9/1/2004)
.