Products from LEGENDARY GAMES
THIS BANNER IS AN AD:
---


View: By latest product added | By earliest product added



Below are a select number of products from LEGENDARY GAMES



---
JUMBULAYA: The Rearranging, Ever-Changing Word Jumble Game
TDmonthly rating:

(
Read Review
)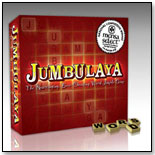 MSRP: $29.95
Age Range: 10 and up
SKU or Item #: 234
Launch Date: December 2007
JUMBULAYA is an award-winning, multi-faceted word strategy game in which players rearrange, add, and trade tiles on the board to build and claim longer and longer words each turn. As players build words horizontally, they also look for a Jumbulaya - a word of seven or more tiles that can be seen vertically on the game board. "Jumbulaya is a word strategy game where players need to THINK ON MULTIPLE LEVELS simultaneously," said Karl Archer, CEO and cofounder of Platypus Games. "It incorporates strategy into the game play, as players are able to add, as well as remove, tiles from the board and think many moves ahead in order to try to win." It has won a 2008 Mensa Select Gold Seal and iParenting Media Award. Launch date: 12/15/2007.
ToyDirectory Product ID#: 20204
(added 8/25/2008)
.
A terrific card game that's very addictive for adults and extremely educational for the kids. Played in rounds of adding the card values, this is a very fast and exciting family game that's destined to be a family tradition. Peg packaged identically sized to the Spicy and Classic Farkel games.
ToyDirectory Product ID#: 10724
(added 12/19/2006)
.
CLASSIC FARKEL™ has all components to play the game of Farkel including standard-size dice, instructions and a 20-sheet score pad, all packaged in an attention-grabbing peg package over 8-inches high.
ToyDirectory Product ID#: 10723
(added 12/19/2006)
.
The Pocket Farkel Travel Set includes larger 16mm dice, a travel size score pad and a pencil, all contained in a 4" high resealable container.
ToyDirectory Product ID#: 9207
(added 9/1/2006)
.
The Pocket Farkel "FLAT PACK" is an extremely popular version of the game for mature adults. It includes full-size dice, scoring combinations in larger type and can easily be custom printed for your store, city or tourism attraction. Available in six assorted colors.
ToyDirectory Product ID#: 9206
(added 9/1/2006)
.
At 2" high and available with more than 95 labels for states, hobbies and lifestyles, this game may be used to teach math and strategy skills. The aim is to score 10,000 points by rolling dice and collecting combinations. Risky players will keep rolling for more points, but there's always the danger they will earn no points, or Farkel.
— With scoring rules on the package, Pocket Farkel is self-contained. Even climbers have played the game at the summit of Mount Kilimanjaro. Families laud the game as a perfect time filler for long trips or short breaks. One version of Pocket Farkel received an average of 5 out of 5 stars from 18 reviews on Amazon.com, as of Nov. 2009. Amy Barrett, owner of Lasso the Moon Wonderful Toys in Helena, Mont., told TDmonthly in fall 2009 that her store is "selling quite a bit" of Pocket Farkel since its low cost and small size make it easy to stock near registers as an impulse item. Of 39 retailers surveyed in March 2010, two said it's their top-selling travel game.

ToyDirectory Product ID#: 9205
(added 9/1/2006)
.
This classic dice game takes rolling to the next level, with a red-hot die that explodes the possibilities for winning ... or losing. It's high stakes and double scores, with a score pad and bonus game inside this highly portable game.
ToyDirectory Product ID#: 7446
(added 3/31/2006)
.