Products from FUN GAMES INC.
THIS BANNER IS AN AD:
---


View: By latest product added | By earliest product added



Below are a select number of products from FUN GAMES INC.



---
MSRP: $24.95
Age Range: 6 and up
Launch Date: July 2008
Gender: Boys And Girls
Players roll the dice and hit a single, double, triple or Home Run and win, just like real baseball. Each time the dice are rolled, the tokens will move according to the outcome of the total on the dice. Depending on the outcome, the tokens will make a move based on the commonly known rules of baseball. The object of the game is to score the highest number or runs possible to beat one or more competitors. It includes instructions, two dice, a baseball diamond, nine playing pieces per player, a scoreboard card, a statistical sheet per team, two dry-erase markers, an official Baseball's Board Game sticker and a Baseball's Board Game Cup. Players "will feel the passion of playing baseball in winter, summer and all the seasons," Aurelio Rodriguez, marketing director for Fun Games, told TDmonthly. Launch date: July 2008.
ToyDirectory Product ID#: 21058
(added 10/27/2008)
.
Baseball Board Game
Shop for It!
TDmonthly rating: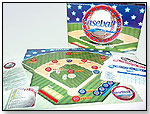 This easy-to-learn game for two players features a baseball-diamond board design and includes two dice, chips that represent players, a scoreboard to keep track of runs and outs, and a statistical sheet to follow up singles, doubles, triples and other plays. It is based on aspects of the baseball game played around the world. The game consists of odd innings (five, seven or nine), and championships can be played by preliminary rounds. Baseball's Board Game is endorsed by Carlos Lee, Star Game player in 2005 and 2006, MLB Home Run Derby 2005, and current star of the Houston Astros.
— "In [the] USA [and] some countries in Latin America and Asia, the sport of baseball is the number one in preference of the people," Aurelio Rodríguez, marketing director for Fun Games, told TDmonthly. Baseball's Board Game "is different because it is just like real baseball and now there are no similar board games in the market," he added.
— "All four children enjoyed playing the game — my daughter included," enthused Teresa Wilson, an evaluator for TDmonthly's Homeschooling Roundtable. "I can play baseball and not sweat" relished 8-year-old Alyssa. Wilson summed up by saying that "the children concurred with the product's claim [that it's] 'just like real baseball.'"
ToyDirectory Product ID#: 11010
(added 1/8/2007)
.