Products from RESTORATION GALLERY LLC
THIS BANNER IS AN AD:
---


View: By latest product added | By earliest product added



Below are a select number of products from RESTORATION GALLERY LLC



---
MSRP: $29.99
Age Range: 3 and up
Launch Date: February 2009
Gender: Boys And Girls
Recycle Kyle™ likes to get people motivated about recycling because it is fun, easy, and something everyone can do. From Seattle, he loves to ride his skateboard, a pollution-free form of transportation. Kyle's dedication to recycling began one day while cruising through a park. He hit a soda can and fell down and hurt himself. Since then he has been spreading the word about recycling. He even started a recycling program at school. Kids can join Kyle and the other Global Green Pals on their mission. "The Global Green Pals are a unique group of dolls that highlight important environmental issues and encourage children to learn through play. They have the capability of inspiring children of all origins to take action by changing small things in their daily activities," Malini Goel, founder and president of Restoration Gallery LLC, told TDmonthly. Launch date: February 15, 2009.
ToyDirectory Product ID#: 22771
(added 3/12/2009)
.
Pink Coral Laurel
TDmonthly rating:

(
Read Review
)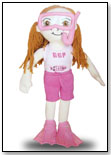 Wholesale Price: (Log in to view)
MSRP: $29.99
Age Range: 3 and up
SKU or Item #: GGP2009004
Launch Date: May 2009
Gender: Boys And Girls
Uniting environmentally conscious manufacturing with environmentally conscious characters, Global Green Pals has created a line of dolls for boys and girls that make environmental issues accessible to children. Made from organic cotton with detailed clothing and stitched faces, the 12" dolls each have a theme that they are passionate about. Pink Coral Laurel is concerned with the health of the beautiful marine ecosystems of her home in Australia. She comes with a pink swimsuit, flippers, and snorkel along with her story and green living tips tailored for children. Available for delivery: August 2009 Launch Date: May 2009
ToyDirectory Product ID#: 22519
(added 2/17/2009)
.
Hi! My name is Clean Air Kate™ and I think clean air is great! I am from Chicago in the United States. I am a city girl who believes in living life to the fullest and giving back to the environment. I love riding my bike because it does not pollute and it is fun! By riding my bicycle and walking, I don't add harmful chemicals to the environment. I also enjoying gardening and planting trees! There is much we can do to help the environment. Join me and Global Green Pals™ in greening the planet!
ToyDirectory Product ID#: 21676
(added 12/10/2008)
.
Greetings! My name is Carbon Offset Chet™. I'm from London, England and I love to fly! By flying in my special solar-powered plane, I've reduced the amount of air pollutants or "carbon emissions" I emit. This leaves the air and land cleaner for everyone to enjoy. And furthermore, I get to see the world with my Global Green Pals™ without polluting the environment! Roger that! Join me and my pals on our mission!
ToyDirectory Product ID#: 21675
(added 12/10/2008)
.
Global Green Pals,™ group of young eco-explorers from around the world know that everyone can do something good for the environment whether it's turning off a faucet, riding a bike, recycling a can or planting a tree. Made with organic and natural cotton, Global Green Pals ™ are loved by kids and adults alike. Each soft doll comes with its own environmental message and character tag. A portion of your purchase goes to saving the planet.
ToyDirectory Product ID#: 21674
(added 12/10/2008)
.