Prince Lionheart Play Mat
by
PRINCE LIONHEART INC.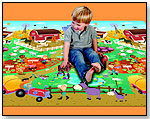 Finally, a well-designed play mat that lasts through the developmental stages of your child! Our play mats have been designed to cushion and delight babies during tummy time, entertain toddlers for play time, and encourage young learners of all ages to engage and explore. Search for the hidden characters, count the creatures, sound out letters, or master the road rules: the only limit is their imagination. Reversible: engaging art on both sides; Water-resistant, wipes clean; Soft & cushiony ; Non-toxic. "The play mat lasts through multiple developmental stages of a child - from baby to kindergarten," Lea Janowicz, marketing director for Prince Lionheart, told
TDmonthly
. Launch date: February 2012.
(

Watch Video)
12/15/2011 (Price: $29.99)
[Add to my Inquiry Basket][?]