You Can Dance!
by
THE LEARNING STATION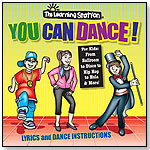 This 69-minute dance fitness CD features 19 songs that go with various styles of dance — ballroom, disco, hip hop, free form clogging and much more. It includes a 24-page booklet with lyrics and dance instructions, and is designed to introduce children to basic dance moves that help with natural rhythm and motor skills. "Creative movement and dance is an enjoyable way for kids to develop their physical strength, channel their energy, stimulate their imagination, promote their creativity and foster their social skills — especially if adults and other children get involved," Laurie Monopoli of The Learning Station told
TDmonthly
. Launch date: August 31, 2007.
Awards:
A
TDmonthly
Classics Award for being an all-time favorite children's product. 11/27/2007 (Price: $15.00)
[Add to my Inquiry Basket][?]