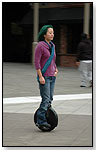 Solowheel
MSRP:
$1500.00
Category:
Bicycles & Tricycles

Watch Video Now
ToyDirectory Product ID#: 31757
Gyroscope technology is behind this new self-balancing electric unicycle. Externally, the Solowheel consists of a wheel and two foldable foot platforms. Internally, the inner workings of the Solowheel use gyro sensors, a 1000-Watt motor and a rechargeable Lithium-ion battery. All this technology is housed under a slim case with leg pads and a handle for easy carrying. 100% battery operated. Lean forward to go forward and backward when you want to slow down. The lithium ion battery recaptures energy when going downhill or slowing down. It has a two hour battery life and can be fully recharged in forty-five minutes. The Solowheel is easy to learn and very portable, weighing twenty pounds.
2/22/2011
[Add to my Inquiry Basket][?]