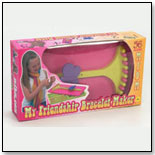 Friendship Bracelet Maker
MSRP:
$24.95
Age:
6 and up
Category:
Creative Activities

Watch Video Now
ToyDirectory Product ID#: 24580
Designed to make it easier and convenient to create colorful friendship bracelets, the Friendship Bracelet Maker features an adjustable butterfly clip to hold the top of the bracelet during construction, as well as a holder to keep all the strings in place. It's travel-ready, with a pull-out drawer for string storage and instructions, and comes with 56 threads in 14 colors. Launch date: Fall 2009.
Awards
: Dr. Toy's Best Vacation Products 2010
Past videos:
Product Demonstration
7/16/2009
[Add to my Inquiry Basket][?]