est. 1996
Mobile

---
---
Product Information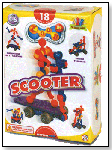 Age Range: 3 to 6
Specialty: Yes (as of 2013)
Gender: Boys And Girls
The ZOOB JR. Scooter features 18 ZOOB JR. pieces, 4 wheels, and instructions for 17 creations, such as a scooter, a mini go-cart, a skateboarder, and a spinning robot (but kids can make up lots more). The instructions require no reading, and are printed on sturdy cards. ZOOB JR. is our fastest-growing product category.
ToyDirectory Product ID#: 36185
(added 5/21/2013)
---
Below these ads, you'll find other products by INFINITOY

AD:



---
MSRP: $29.99
Age Range: 6 and up
Specialty: Yes (as of 2013)
Gender: Boys And Girls
Based on the success of last year's ZOOBMobile Fastback (which included one pull-back friction motor), the ZOOBMobile Fastback H2H features two pull-back friction motors so kids can create their own ZOOBMobiles and race them against each other. But kids can also put the motors together to make a super vehicle that goes even faster, for up to 40 feet. The Fastback H2H features 45 ZOOB pieces and 8 high-quality tires that are notched so they work like gears. Because ZOOB® pieces snap together so many different ways, kids can use their imaginations to create their own vehicles, and add on pieces from their ZOOB collections to make even more. The Fastback H2H is fully compatible with all other Infinitoy ZOOB pieces.
ToyDirectory Product ID#: 36184
(added 5/21/2013)
.
MSRP: $32.00
Specialty: Yes (as of 2012)
Gender: Boys And Girls
How can kids move a ball into a target with 2 high walls from 2 feet away? Build a ramp? A catapult? A trampoline? A zip-line? There are no right answers and we provide no solutions--it's up to kids to use ZOOB pieces (and other materials that they choose) to build contraptions that solve the challenges. The ZOOB Challenge features 175 ZOOB pieces, string, wheels, a ball, rubber bands, a foam play pad, and 25 challenges based on STEM (Science, Technology, Engineering, & Math) skills-skills that educators have targeted as essential to helping the US compete successfully in the 21st century.
ToyDirectory Product ID#: 34343
(added 5/25/2012)
.
Microsoft VBScript runtime
error '800a000d'
Type mismatch: 'UserLogin'
/product.asp, line 1652