---
TDmonthly's Charity Promotion Can Make Your Store a Star
Riding Wave of Success Into the New Year and Beyond
We knew we could get news coverage for manufacturers and retailers by running a program that donated almost 2,000 toys worth $60,000+, but even we didn't know how extensive and powerful TDmonthly's 2012: A Year of Charity promotional giveaway program would be for sales!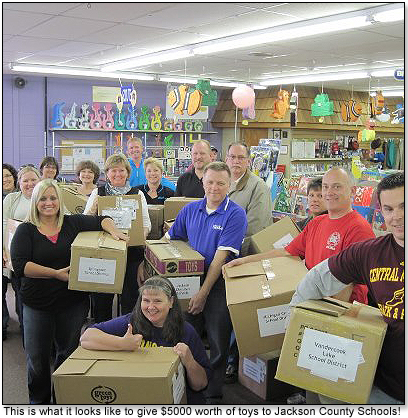 Brett and Susan Sommers of Figpickels Toy Emporium said they felt like "the busiest toy store in America" thanks to all the media coverage they got from their holiday giveaway. Children's World's New Year giveaway made it onto TV, as did Jake's Toy Box's giveaway in the spring. Nine specialty toy stores and 17 specialty toy manufacturers were covered by local newspapers, radio shows and TV stations! And thousands of needy children benefited from the generosity of Hape, Magicforest Ltd., Moonjar, b. dazzle inc., Uncle Skunkle, Douglas Cuddle Company, Crossen Creations, FindIt Games, PlayMais Canada Inc., Amazing Science!, Moving Picture Books, Education Outdoors, We R Fun Games, The Spelling Bee Game, Schoenhut Piano Company and Safari Ltd®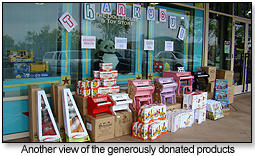 Safari Ltd® and Schoenhut Piano Company loved this unique promotional program so much they signed up repeatedly.

And now, we're ready to bring joy and happiness to kids again for Spring 2013 ... and so are Safari Ltd® and (new to the program) Infinitoy and Glide Bikes! But space is limited to 10 manufacturers, which means there are only 7 spots left! HURRY! And only two for retailers (at least two of the retailer spots will be offered first to veterans of the program). New to the program will be video coverage of the events to be posted to ToyDirectory's YouTube page.

"The gift of giving is contagious," said Safari Ltd® owner and CEO Ramona Pariente. "We are excited to work together to bring joy to those less fortunate again this year."

Ed Mondello of Glide Bikes is happy that some of his bikes will be donated to kids with special needs, because they are the top-recommended balance bike by physical therapists who work with that population. Greg McVey of Infinitoys will be donating his Zoobs Challenge Sets, which turn building a variety of contraptions into a fun competition that increases in difficulty level as you progress. McVey said he is excited to be "helping needy kids further their skills." As with the Glide Bikes, Zoobs are great for all kids, including those with special needs.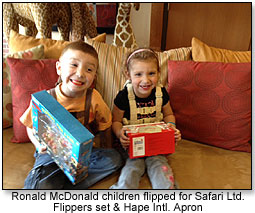 Vendors should sign up now to reserve their spots. We need at least 7 manufacturers to make the program do-able. This is a promotional program for manufacturers that gets them unique and lasting news coverage from the moment they sign up all the way until after ASTRA Marketplace in June, and with a final wrap-up article in July, helps stores create noteworthy events that gets them local media coverage and helps thousands of needy kids. Please note: This may be the only charity giveaway we do in 2013; a holiday giveaway depends on the success of the Spring giveaway program, so don't delay in signing up or entering the contest.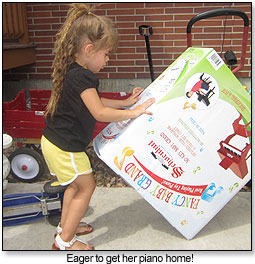 TDmonthly's Charity Giveaway is a unique and dynamic promotional program where your company or store will get recognition for your generosity and your high-quality products while you help needy kids and schools while elevating the presence of specialty toys in communities around the nation.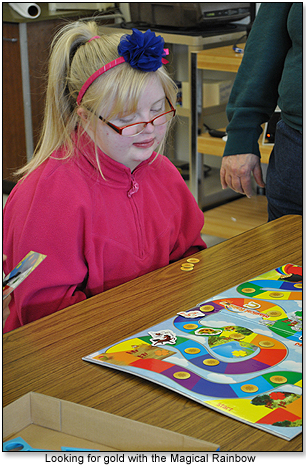 Read here about how each retailer was able to get exposure for the donors, for their stores, and for specialty toys in general: Figpickels Toy Emporium in Coeur D'Alene, Idaho; Children's World in Sarasota, Florida; Kidstop Toys & Books in Scottsdale, Arizona; Toy House & Baby Too in Jackson, Michigan; Fairhaven Toy Garden in Bellingham, Washington and Fun Things Etc. in Waynesville, NC; Jake's Toy Box in Arvada, Colorado; Kazoo Toys in Denver; and Doll House & Toy Store in Scottsdale, Ariz.. Some of the retailers increased the value of the giveaways by adding in their own donations, or even matching the value of product received from the vendors. Tina Schwindt, of Fairhaven Toy Garden, visited each of the schools and educational programs she donated product to so that she could teach the kids and teachers how to play the games.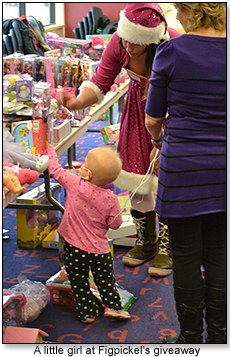 Some of the charities that benefited were: Family Tree, Hope House of Colorado, Stride, Ronald McDonald House, Starlight Kids, The Crisis Center of Scottsdale, Forty Carrots Family Center, Devereux House, Mothers Helping Mothers, Sacred Heart/Providence Children's Hospital and Kootenia Health Center, Children's Village, Girls & Boys Clubs, Northwest Specialty Hospital, Toys for Tots, Big Brothers/Big Sisters, children's camps, fire stations plus dozens of schools around the nation.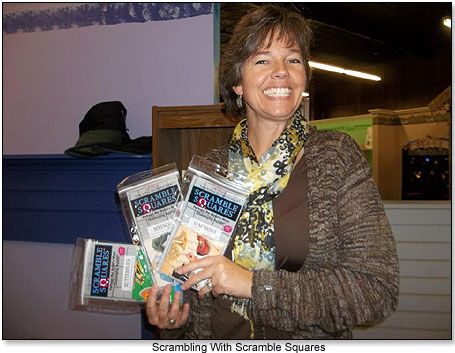 Retailers, if you want a chance at this one-of-a-kind event-creating, newsworthy giveaway, please email alison@toydirectory.com the following information by MARCH 25, 2013:
Your name:
Phone #:
Email:
Name of Store:
Year Founded:
How many events you hold per year:
How many events get covered by your local media:
Why you want to participate in this program:
How you intend to promote the specialty toy manufacturers who are donating through the program:
Charities you currently work with and would like to benefit from this program:
Are you willing to follow TDmonthly's guidelines for holding events promoting this program?
Are you able to ensure that all toys are photographed and that Releases are obtained for all photos and videos taken during the giveaways:

Good luck!! Below are some of the toys that were donated last year and a sneak preview at some of this year's toys!!







16" Go Glider for children ages 5-10. Made from lightweight aluminum alloy, the Go Glider features our patented slow speed geometry along with removable foot pegs, child sized handbrake, quick release seat post clamp, kickstand, and a lifetime warranty! Available in 5 metallic colors, weighs only 10 pounds.

.

AD
---






12" Mini Glider for children ages 2-5. Made from lightweight aluminum alloy, the Mini Glider features our patented slow speed geometry along with removable foot pegs, child sized handbrake, quick release seat post clamp, kickstand, and a lifetime warranty! Available in 5 metallic colors, weighs only 8 pounds.

.

AD
---






How can kids move a ball into a target with 2 high walls from 2 feet away? Build a ramp? A catapult? A trampoline? A zip-line? There are no right answers and we provide no solutions--it's up to kids to use ZOOB pieces (and other materials that they choose) to build contraptions that solve the challenges. The ZOOB Challenge features 175 ZOOB pieces, string, wheels, a ball, rubber bands, a foam play pad, and 25 challenges based on STEM (Science, Technology, Engineering, & Math) skills-skills that educators have targeted as essential to helping the US compete successfully in the 21st century.

.

AD
---






Our keepers are more than just "cleaner-uppers". They show nurturing in action. Each replica is finely hand painted and accurate down to the last detail. Educational information in five languages is included with each replica. All our products are phthalate-free and thoroughly safety tested to safeguard your child's health. Safari Ltd.® takes pride in providing breathtaking, innovative and value priced figures for now over three generations. Featured is our Safari Ltd.® People Joe & Aussie Zookeeper.

.

AD
---






Extra large, soft, playful, true-to-life vinyl replicas of some of the most amazing creatures in the world. Excellent learning tool to introduce young children to our delicate and often endangered inhabitants of our planet. A fun way to spark the innate curiosity of a child. Each replica is finely hand painted and accurate down to the last detail. Educational information in five languages is included with each replica. All our products are phthalate-free and thoroughly safety tested to safeguard children's health.

.

AD
---






Our action packed swashbucklers will delight the imagination of any young matey. Sculpted by a leading American character sculptor, our pirates are so life-like that they will transport kids back to the days of pirate ships and sunken treasures.

.

AD
---






Detailed replicas of tropical marine life and a realistic coral reef surround this young diver with a wild underwater adventure. Exquisite sculpting and attention to detail make this the ideal gift for any child. The packaging features educational information in 5 languages on the back. All Safari Ltd.® products are phthalate and lead free and safety tested to safeguard children's health. We take pride in the quality, innovation and design that have characterized our products for over 3 generations. Flippers, Fins & Fun Gift Set Includes: Dolphin, Sea Turtle, Queen Triggerfish, Grouper, Coral Reef, and Freddie the Free Diver. Box Size: 11" W x 4.75" H x 4" D (28 x 12 x 10 cm)

.

AD
---






In celebration of our tenth anniversary, Moonjar has created a brand new Moneybox with a global twist. Each metallic section is wrapped in the words, "Save, Spend and Share" in languages from around the world. The boxes are gold, silver and copper colors to appeal to the tween set as well as their parents.

.

AD
---






Little rock star swill take center stage playing Schoenhut's "next generation" guitar. Schoenhut's innovative design incorporating a molded composite body with dual curves greatly enhances sound and durability. The birch soundboard which offers excellent tone and resonance, hardwood neck (for rigidity), and molded composite fretboard ensure proper height and spacing of the frets. Six steel strings permit a wide range of rich sounds. Available in several vibrant designs. Includes: Pick and Extra String.

.

AD
---






.

AD
---






Hilarious! Combines fast "moo"-ving action and authentic family-farm mishaps for "udder"-ly unpredictable fun! Teaches basic economics, yet is simple to understand and play. A REAL family game - designed so ages 8 to 108 can easily play together, comfortably! First to "Retire" wins! "Life on the Farm" has won a National Parenting Center "Seal of Approval 2012"; Best Family Fun Tillywig Toy Awards; National Teacher's Choice "For the Family" Award; "Outstanding Product"and "Hot Product" *iParenting Media Awards, among many others.

.

AD
---






.

AD
---






PlayMais is a biodegradable crafting material made from corn and colored with food coloring. It is manufactured in Germany, 100% safe, and biodegradable. PlayMais stimulates children's imagination and creativity, trains fine motor skills, and develops social group skills. PlayMais can be shaped, squeezed, cut and all it takes is a little bit water to create unlimited fun. Children can build in 2 or 3 dimensions, or wherever their imagination takes them.

.

AD
---






.

AD
---






.

AD
---






Fishing Camp is a game where both children & adults can play & learn fun facts about Fishing. The game is designed to grow with the player, starting at level one questions, which are primarily identification of fish and fishing tackle. As the players increase in their knowledge about Fishing, they grow into the higher level questions. A fun & educational game where parents & children can play to see who catches the first fish and gets back to the docks. Game includes: 1 game board, 200 game cards(400 questions, and 100 fun facts), 1 decoder, 8 game characters, 1 die, 16 level cards, and 1 GPS card. Launch date: 2012.

.

AD
---






.

AD
---






By combining high quality animation, rich narration, sound effects and music, Moving Picture Books provide a fun and educational digital reading experience for children ages 0-7. There are 38 titles — both classic stories and new favorites — each available in English, Spanish and English Read-Along-Text versions. Our books can be purchased as digital downloads, or DVDs.

.

AD
---






Learn fundamental principles of science through Amazing Science Experiments. Viewers learn about electricity, magnetism, heat, temperature, pressure, surface tension, buoyancy, and much more. For every demonstration, a complete materials list is given, and each experiment features multiple camera views so kids can see exactly what happens. Most importantly, every concept is explained in a step-by-step fashion. Viewers not only be amazed - they'll understand the science behind every experiment.

.

AD
---






.

AD
---






.

AD
---






.

AD
---






Music is a wonderful opportunity for little ones to expand their sensory and imaginative personality. Music helps them to understand rhythm and harmony, and also to express themselves and their moods. This set of percussion instruments from Sevi is an easy way to get kids started. It comes with 8 pieces, including a tambourine, castanets, a triangle, maracas and a noise maker. Produced by Sevi, Europe's oldest wooden toy company, this product contains parts and components that are recommended for children ages 2 and up.

.

AD
---






Noah's Ark Balance Game comes with pairs of brightly painted wooden animals and can be played either cooperatively or competitively by the entire family. Kids learn about weight distribution and how the shape of an object affects where it is able to be balanced. Played against an opponent, kids learn to place animals just so their opponent has difficulty finding a spot for their piece. Pieces are the perfect size for ages 3+. Kids can also work together to see how quickly they can stack all the animals on the rocking ark. Sevi is Europe's oldest wooden toy company.

.

AD
---






Everything tastes better when you've got the right accessories. These safe and simple toys revolve around food and cooking, to promote realistic role play, and encourage healthy eating. The Apron Set includes an elasticized chef's hat, quilted oven mitt and bright orange-trimmed apron. The mitt and apron fabric is exclusive to Hape.

.

AD
---






This sturdy little dump truck belongs at every construction site. The chunky maple design includes a removable load. The truck measures 4.6" x 2.4" x 3.5". Ages 10 months and up.

.

AD
---






String-Along Shapes are first toys that encourage coordination, dexterity, imagination, and simple problem solving. This brightly colored set of 30 maple shapes includes two strings that turn blocks into a train, a caterpillar or a tower. The possibilities are endless and so is the fun. Shapes are approximately 1.25' wide each.

.

AD
---






Featuring the same great play as The Original LCR Left Center Right Dice Game, players flip over three LCR cards that are labeled with L's, C's, R's and dots, which determine where the flipper's chips will go. The last player with chips, wins the game. It's that simple!.Fast-paced, exciting and fun, it's a great game for kids to play along with adults providing hours of entertainment for the whole family. LCR Left Center Right Card Game includes 110 Playing Cards, 24 playing chips and Instructions. For 3 or more players.

.

AD
---






.

AD
---
THIS BANNER IS AN AD:
---
---