---
Retailers Lavished With Amazing Toys for Local Charities
TDmonthly's Latest Giveaway Promotion Rides High This Spring
Dozens of needy kids across the country are about to get a memorable treat: toys from Safari Ltd., Glide Bikes and Infinitoy, brought to them by their local specialty toy stores.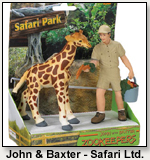 Figpickels Toy Emporium in Coer D'Alene, Idaho, Doll House & Toy Store in Scottsdale, Arizona, Children's World in Sarasota, FL, and Kaleidoscope Toys in Round Rock, Texas, will each be passing on to their local children's charities 15 ZOOB H2H Fastback sets from Infinitoy (for ages 6 &up, MSRP $29.99), which features two pullback motors, so kids can build any two cars from ZOOB pieces and race them side-by-side; 15 ZOOB Jr. Scooters, which has larger, softer ZOOB pieces, for younger builders, (ages 3-6) so they can build any number of wheeled creations, such as a skateboarder, scooter, or robot, etc.; 25 Safari Ltd. Incredible Creatures® and other lifelike sets (includes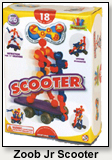 combinations of Incredible Creatures® Queen Triggerfish, Incredible Creatures® Galapagos Marine Iguana, Incredible Creatures® White–lipped Snail, Incredible Creatures® Cobra Hatchling, Wild Safari Flippers, Fins & Fun Set, and Safari People John with Baxter Zookeeper on Platform); plus each store gets one red and one blue 12" Mini Glider from Glide Bikes.

All of the toys have high play value, are of superior quality and also have the added bonus of being appropriate for kids with special needs.

Keeping Specialty Toys and Charities In the Public Eye

"The publicity generated by the story of this giveaway in the community is something that will hopefully inspire others to do something as well," Tim Holliday of Children's World told TDmonthly. "Last month, our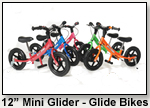 store was recognized as a finalist for the Most Community Minded Business in the area, and that is something we are very pleased with. If we can inspire people to do a little, give a little, or do anything to help others, we have done our job. As we often say, if everyone would just do a little something to help someone else, imagine what the world would be like."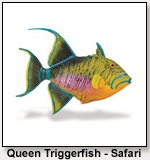 Terry from Kaleidoscope Toys agrees. "When people see one person helping another, the 'bug of giving' can be contagious. Through this contest I hope to spread the joy of giving and helping one another. Kind of like creating a 'Pay It Forward' wave. I've held many charity events at the store and have seen my customers in action; giving from the heart and teaching their own children to do the same."

Sari Powazek from the Doll House & Toy Store is excited to donate these toys, especially after seeing the positive affect last year's giveaway had on her community. "Last year we worked with a child crisis center and a school for problem children, which also had foster homes and shelters. The toys, wonderful pianos and guitars, were used over and over by multiple children."

This year, her store will be working with The Wellness Center. "They deal with children with cancer," Sari shared.

Additionally, her store has brought on a publicist to promote the giveaway to local television stations and media outlets.

All of the lucky retailers are holding events in their stores to promote the donated toys and the charities that will benefit from the specialty toy industry's generosity. For the first time in TDmonthly giveaway history, they will also be holding a contest among their clientele to find video spokespeople to create video memories of the responses to the toys.

Gifts That Keep Giving

There are lots of business benefits to this program: donors get a unique way of keeping their name in front of specialty toy store owners and the public. Local mom-and-pop shops and children's charities get free local and national publicity. But one of the benefits that keeps donors and retailers coming back to the program again and again goes beyond the bottom line: photos of kids' smiling faces, and stories of how the toys transformed their lives.

"The gift of giving is contagious," said Safari Ltd® owner and CEO Ramona Pariente. "We are excited to work together to bring joy to those less fortunate again this year."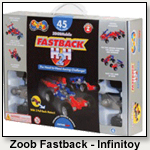 "The stories from TDmonthly's charitable giving keep our perspective about what is most important to us: introducing music into the lives of children... We are honored to have been a part of TDmonthly's Giveaway," said Renee Trinca of Schoenhut Piano Company (3-time participant).

"We are very proud to have participated in this well thought out program," added Marshall Gavin of b. dazzle, inc.

The stores' events and donations will begin this month and continue until just before ASTRA Marketplace. Check back next month for the next episode!

Here are the toys the lucky kids are getting:







12" Mini Glider for children ages 2-5. Made from lightweight aluminum alloy, the Mini Glider features our patented slow speed geometry along with removable foot pegs, child sized handbrake, quick release seat post clamp, kickstand, and a lifetime warranty! Available in 5 metallic colors, weighs only 8 pounds.

.

AD
---






The ZOOB JR. Scooter features 18 ZOOB JR. pieces, 4 wheels, and instructions for 17 creations, such as a scooter, a mini go-cart, a skateboarder, and a spinning robot (but kids can make up lots more). The instructions require no reading, and are printed on sturdy cards. ZOOB JR. is our fastest-growing product category.

.

AD
---






Based on the success of last year's ZOOBMobile Fastback (which included one pull-back friction motor), the ZOOBMobile Fastback H2H features two pull-back friction motors so kids can create their own ZOOBMobiles and race them against each other. But kids can also put the motors together to make a super vehicle that goes even faster, for up to 40 feet. The Fastback H2H features 45 ZOOB pieces and 8 high-quality tires that are notched so they work like gears. Because ZOOB® pieces snap together so many different ways, kids can use their imaginations to create their own vehicles, and add on pieces from their ZOOB collections to make even more. The Fastback H2H is fully compatible with all other Infinitoy ZOOB pieces.

.

AD
---






Our keepers are more than just "cleaner-uppers". They show nurturing in action. Each replica is finely hand painted and accurate down to the last detail. Educational information in five languages is included with each replica. All our products are phthalate-free and thoroughly safety tested to safeguard your child's health. Safari Ltd.® takes pride in providing breathtaking, innovative and value priced figures for now over three generations. Featured is our Safari Ltd.® People John & Baxter Zookeeper Size: 1.5" L x 3.75" H (4 x 9.5 cm). Suggested age 3+. All of our products are lead free and thoroughly safety tested.

.

AD
---






At almost five inches long, not many snails can measure up to our Incredible Creatures® White-lipped Snail. The wild animals in our Incredible Creatures® collection are the largest models of any series, making them perfect for children's small hands. For added value to both toy lovers and collectors, most of the replicas in this collection are made to scale, and some are even life sized. Like all Safari Ltd® figures, these toys are professionally sculpted and hand painted for stunning, accurate detail. The scale of this White-lipped Snail is 1:0.5

.

AD
---






Part of the stunning Incredible Creatures series, this Queen Triggerfish is a stunning example of nature in all its wonder. The product is soft to the touch for added realism and it floats. Finely hand painted, phthalate free and safety tested. Each comes with an educational hang tag in 5 languages. Size: 6" L x 4" H. View our entire collection at safariltd.com.

.

AD
---






Safari Ltd introduces a new edition to the stunning Incredible Creatures Series. Our hand painted, phthalate free Galapagos Marine Iguana shows intricate detail. These iguanas feed on the seaweed from the ocean, and expel the salt from the water by sneezing it out through their noses. Our Incredible Creatures series are soft to the touch for added realism and include 5 language educational information. Replica size: 9.1" L x 5" H. View our entire collection at www.safariltd.com

.

AD
---






Extra large, soft, playful, true-to-life vinyl replicas of some of the most amazing creatures in the world. Excellent learning tool to introduce young children to our delicate and often endangered inhabitants of our planet. A fun way to spark the innate curiosity of a child. Each replica is finely hand painted and accurate down to the last detail. Educational information in five languages is included with each replica. All our products are phthalate-free and thoroughly safety tested to safeguard children's health.

.

AD
---






Detailed replicas of tropical marine life and a realistic coral reef surround this young diver with a wild underwater adventure. Exquisite sculpting and attention to detail make this the ideal gift for any child. The packaging features educational information in 5 languages on the back. All Safari Ltd.® products are phthalate and lead free and safety tested to safeguard children's health. We take pride in the quality, innovation and design that have characterized our products for over 3 generations. Flippers, Fins & Fun Gift Set Includes: Dolphin, Sea Turtle, Queen Triggerfish, Grouper, Coral Reef, and Freddie the Free Diver. Box Size: 11" W x 4.75" H x 4" D (28 x 12 x 10 cm)

.

AD
---
THIS BANNER IS AN AD:
---
---