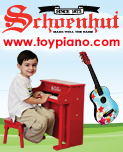 Article Tools:








TDmonthly's Top-10 Specialty Toy Fair Toys
Curved Dominoes and Banana Bags Catch Retailers' Attention
With additional reporting by regional correspondents Dennis Furlan, Elizabeth Greenspan, Terri Hughes-Lazzell, Christine Lebednik and Brenda Ruggiero

Specialty toy retailers had hundreds of booths to browse at this year's American International Toy Fair in New York.

TD

monthly Magazine surveyed 20 toy-store owners about their favorite products after they'd returned home and had a chance to reflect on the show.

Here are their diverse picks:

To read more about retailers' opinions, check out specialty retailers' Toy Show Favorites and First-Day Impressions. Also, see other products retailers liked by clicking here.
.
.
.
.
.
.
.
Catalog Request Form


Advertisement: