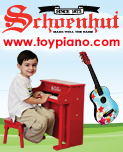 Article Tools:








My Best Sellers: At Once All Agog
Wooden Toys and Active Options Keep Shoppers Happy
Owner Candace Gooch of At Once All Agog in Limerick, Maine, encourages her customers to play with the toys in her store and experience their craftsmanship. Here are the items she told TDmonthly Magazine shoppers want most.
.
.
.
.
.
.
.
.
Catalog Request Form


Advertisement: