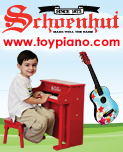 Article Tools:








Top-10 Most-Wanted Plush and Puppets
Folkmanis Leads the Pack of Soft, Cuddly and Interactive Toys
With additional reporting by Terri Hughes-Lazzell, Chris Lundy, Claudia Newcorn and Brenda Ruggerio

In May 2009, TDmonthly Magazine surveyed 43 specialty retailers about their sales of plush and puppets. More than half of the storeowners said Folkmanis accounted for their top sales. As Susan Swickard, owner of The Talking Teddy in Estes Park, Colo., summarized, "They're the king of puppets."

Other retailers said their customers are wild for fashionable animal and handbag sets such as Sassy Pet Saks from Douglas, or unusual creatures like the Galoompagalots, dreamed up by Manhattan Toy. Here are the top-10 best-selling plush and puppets in specialty toy stores.
.
.
.
.
.
.
.
.
.
.
Catalog Request Form


Advertisement: