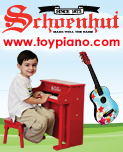 Article Tools:








Top-10 Most-Wanted Furniture and Play Houses
Guidecraft provides sturdiest sales
With additional reporting from Chris Lundy and Brenda Ruggiero

In a May 2012 survey about best selling furniture and play houses, GUIDECRAFT was mentioned by three of 11 retailers as the best selling brand. KIDKRAFT and MELISSA & DOUG both got two nods.

Three of the 11 retailers said that they don't sell furniture or playhouses at all. "Being a 1000 sq. foot operation, space is an issue and we sell only doll furniture and no play houses," explained Joe Berardoni, owner of Pun's Toy Shop in Bryn Mawr, Pa.

Three of the retailers also said that they mostly sell large furniture items and play houses during the holidays.

Take a look at the Top-10 most wanted items below, then decide if they're a good fit for your store.

No manufacturer paid to be included in this article. All products listed were designated by editorial staff without regard to the company's relationship with TOYDIRECTORY.com/TDmonthly Magazine.
.
.
.
.
.
.
.
.
.
.
Catalog Request Form


Advertisement: