This is the second of three articles in the series, "Toys to Talk About." To read parts I and III, click here: (PartI) (PartIII)
Adams Apple

Adams Apple offers their line of "Mushroom Base Lamps." This creative décor comes in a variety of colors: green, orange, magenta and mushroom (spotted) so as to accommodate anyone's tastes. These lamps allow you to show your creative colorful side in any room in your home!
ADLM, INC.
ADLM, Inc. (ToyDirectory) presents a 10,000 year crusade in time with "Chain-Mail Armored Knight: History & Hands-on Forging Techniques." This thorough book provides a comprehensive history of chain-mail armor and the influence it had on the majority of history's battlefields. Many exciting trivia facts are also included, such as the fact that Julius Caesar's legions and King Arthur's knights wore chain-mail armor into battle. The book even includes a silver and bronze plastic chain-mail!
Air Games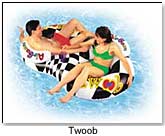 Air Games introduces the Twoob TM , an inflatable inner-tube with two holes. The colorful Twoob is ideal for the beach, lake or pool and allows face to face seating for two people. You'll never want to leave this comfortable water seat as it offers pillows and drink-holders for maximum enjoyment.
Hypergee Inc.
Many people might ask, "Is it a pogo stick or a swing?" The answer is: both! Air Pogo by Hypergee Inc. is a pogo on a rope. When suspended from a 8 ½ ft. overhead support with 6 ft. obstacle clearance (including tree limb, deck, wooden swing), Air Pogo gives children a great ride! Kids can swing and bounce up to 2 ½ ft. without ever touching the ground.
Air Waves Inc.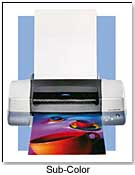 Sub-Color ™ paper by Air Waves Inc. is formulated for all water based sublimation ink systems. It provides consistent print quality design and will tolerate the needed heat for the application of SubliJetXL ™ and other sublimation ink systems. This high definition printing paper will provide better image quality, good density, rich color reproduction, special formulation and reduced paper jamming during printing. It also allows a direct even flow of dye across to all surfaces and is designed for sublimation inks.
Airflow Collectibles Inc.
The Pink Princess Trike is an exact replica of the 1936 Sky King Trike that has started to become a collectible. With the original Sky King trikes selling for $3000, the Pink Princess Trike is a fun and affordable trike. This trike is made of steel with solid rubber tires, an adjustable spring seat, a working light, and reflectors. The trike is covered in a fresh, beautiful Pink Powder Coat. The Pink Princess Trike is for ages 3-6 and is painted with lead-free paint.
Aladdin Innovations, Ltd.

The Fly Catcher by Aladdin Innovations catches House Flies, Fruit Flies, Blue Bottles, Wasps and even Mosquitoes. The Fly Catcher provides a lure which attracts most flies and mosquitoes, but you can use your own lure. Strawberry jam, honey and even red wine have been used to catch these annoying pests. After the Fly Catcher successfully lures a victim into its trap, it lets out a mighty belch to show its satisfaction and is automatically ready for the next fly!
Alexander Doll Co. Inc.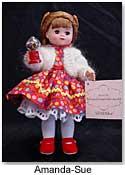 Amanda Sue by Alexander Doll Co. Inc. is a beautiful, red-haired, freckled 8" doll. Cutely pigtailed, this doll wears a cotton print sleeveless dress, white cardigan, white knit stockings and red Mary Janes. The skirt is designed with red and yellow ric rac and a red ribbon waistband. In her hand, Amanda Sue holds a miniature gumball machine that mimics the color found on her dress. She is really a gorgeous addition to any doll collection.
Almas Designs
My First Barbeque by Almas Designs is a unique bag that opens to form a pretend barbecue. Once opened, children can find conveniently stored plastic tongs, spatulas, patties, hot dogs and buns, even corn on the cob, to make believe they are cooking an entire meal!
Amber Sporting Goods
5 Star Professional Shuttlecocks by Amber Sporting Goods are THE best tournament grade shuttlecock in the country. These shuttlecocks, 12 shuttles in a case, are made of the best quality Chinese Duck Feather and offer the most consistent flight quality shuttlecocks for your game.
American Home Products
The Bungee Ball ™ by American Home Products is a challenging toy to that helps improve reflexes, speed and coordination. To play with the Bungee Ball ™, place the strap around the wrist of the arm you throw with. Throw the ball and bounce it off the ground approximately 7 feet in front of you. When the ball flies back, try to catch it. Bungee Ball ™ can be used to improve your skills in baseball, t-ball, basketball, tennis and even soccer! Bungee Ball ™ can be played by yourself or with a friend. Bungee Ball ™ is recommended for ages 3 and older.
American Paper Optics
3D Fireworks ™ Glasses have been worn by over 150 million people viewing fireworks and laser shows. These glasses have specially designed lenses that boost fireworks, laser shows, laser displays and holiday light shows. Three-dimensional rainbows will seem like they are actually racing at you. These visually-altering glasses are offered in a multitude of different colors and designs and are great for national and international holiday celebrations.
American Trend Wares
American Trend Wares presents, "The Best Leather Animals." Skillfully crafted and detailed, these stuffed leather toys of are both aesthetically pleasing and of great quality. These stuffed toys are started from a foundation of armature of iron wire which has dried grass or wood-wool tied onto it. After that, a coating of papier-mache paste is applied and the animal's details are shaped. Goat-leather is then pasted on the structure for the final shape.
Amerigames International
Quick Checkers (ages 4+) by Amerigames International has been shown to help improve strategy skills for players of all ages. This game, a compact version of the original Checkers, can include as little as 6 checker pieces per player. Every set includes a 36 block board, 64 square checkers mat, a complete 24-piece checkers set and easy to read instructions and visual diagrams. With Quick Checkers, kids can begin to learn strategizing within 10 minutes. This multi-award winning game has received recognition from 1998's National Parenting Center Seal of Approval and 1999's Parent's Choice Award, Dr. Toy's 10 Best Games, Dr. Toy's 100 Best Children's Products and Canadian Toy Testing Council Three Stars (highest rating).
Amosquito.com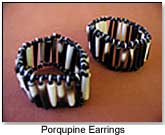 Amosquito.com offers genuine African products directly from the tribesmen and tribeswomen in Africa . The elasticated porcupine bracelet is made from real porcupine quills. However, no porcupines were killed in the process as porcupines regularly shed their quills and these quills were picked up in the forest after shedding. These unique bracelets are sure to be a topic of discussion wherever they are worn!
Ampersand Press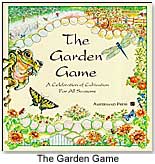 The Garden Game by Ampersand Press shows players the fun in gardening for food and pleasure. In this game, players feed the soil, plant seeds, nurture plants, have harvest festivals and help one another through natural disasters. The player to plant the largest garden and save the most seeds is the winner! The Garden Game is for 2-6 players, ages 8 and up.
Amusement Products

The Shockwave Bumper Boat by Amusement Products can accommodate either two adults or an adult and two children. This top-quality product has a standard motor cover in either red or yellow or an optional pink elephant character cover. The soft start allows the power to ramp up for fast take off but is easier on the batteries and motor. There is also a squirt gun kill switch which is hidden on the motor. The Shockwave Bumper Boat is able to operate all day on overnight charge in most applications.
This is the second of three articles in the series, "Toys to Talk About." To read parts I and III, click here: (PartI) (PartIII)