June 2015 New Specialty Toys — Educational
Learn how motors work. Connect a simple circuit to build this amazing Tractor with a lightweight but sturdy body. Have fun exploring basic mechanics. Easy-to-build! No screws are needed! Contains a set of pre-cut colourful foam boards, a set of plastic cases, gears and wheels, a motor, a screw, stickers and detailed instructions. (Also required two 1.5 V AA batteries but not included. The battery cover needs to be fixed with a cross-head screwdriver.)
Awards: 2015 TDmonthly Top Choice Award
ToyDirectory Product ID#: 37330
(added 6/30/2015)
.
The Praying Mantis is a fascinating insect with more than 2400 species in the world! With the Backyard Safari Mantis Mansion, you can watch the amazing life cycle of these unusual creatures, and you may even see some intense "preying" action! It's easy to set up and it even includes a coupon for ordering praying mantis online. The Mantis Mansion features the exclusive collectable Bug Wrangler: Mantis patch and pop-up field guide!
ToyDirectory Product ID#: 37319
(added 5/28/2015)
.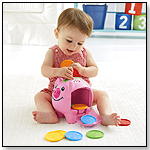 Count on plenty of learning fun and musical rewards with this delightful friend. Baby will learn about counting, colors, animals and sizes with songs, music, speech, and activities that respond to baby. There are 10 colorful coins to drop into the slot while counting along, comparing big and small, and discovering mommy and baby animals. Press the piggy's snout for musical responses, open the door for put-and-take play, and enjoy fun sing-along songs. Make learning more fun with the Laugh & Learn collection of toys. With rich music, sing-along songs, and lots of activities, they combine early academics and everyday experiences—for the way kids really learn! Requires 3 "AAA" alkaline batteries (included).
ToyDirectory Product ID#: 37317
(added 5/28/2015)
.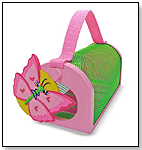 Bella Butterfly swings open on the easy-access door of this whimsical bug house. A sturdy handle, a beautifully striped floor and lots of air holes provide the perfect place to house and observe insects and bugs. Dimensions: 5.5" x 7.5" x 3.5"
— Mary Porter Green, owner of
Curiosity Zone
in Ashburn, Va., told
TDmonthly
in an March 2015 survey that bug houses are one of her store's best-selling outdoor toys.
ToyDirectory Product ID#: 37284
(added 3/30/2015)
.
FrankenWords™ is the fast-paced matching game that puts a thrill into making new words! Stitch two words together to create new meanings and watch vocabulary come alive in amazing ways. Encouraging kids to be inventive and experiment with compound words, FrankenWords is the exciting word laboratory of electrifying play! For 2+ players.
ToyDirectory Product ID#: 37270
(added 3/18/2015)
.
Book contains four children's stories written in English and Spanish. Each story has a lesson at the end.
- Ponkie Can't Roar/Ponkie no Puede Rugir
- The Bully Duck/El Pato Peleonero
- The Bored Chick/El Pollito Aburrido
- El Muciélago y el Pájaro
ToyDirectory Product ID#: 37252
(added 3/3/2015)
.
Since 12/28/04 people have visited this page.