July 2012 New Toys — Video Games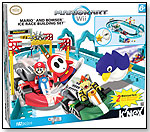 Wholesale Price: (Log in to view)
Ships From: (Log in to view)
Age Range: 6 and up
Specialty: No
Made in: China; United States
SKU or Item #: 38189
Gender: Boys
Kids can bring Mario Kart Wii to life as they race Mario and Bowser through a series of ice-themed obstacles. The set includes the parts to build Mario and Bowser, 2 Standard Karts with super-fast battery-powered motors, 2 moving obstacles: Penguins & Shy-Guy Snowboarders PLUS 2 collectible items from the game: a golden mushroom and a spiked blue shell. Also includes 16 pieces of buildable, interconnectable track that creates a closed loop - combine this set with other sets from the Mario Kart Wii Series to build even bigger tracks. Building set includes 182 parts. Launch date: May 2012.
ToyDirectory Product ID#: 34553
(added 7/5/2012)
.

Wholesale Price: (Log in to view)
Minimum Order: (Log in to view)
Minimum Reorder: (Log in to view)
Ships From: (Log in to view)
Terms: (Log in to view)
Age Range: 3 to 7
Specialty: Yes (as of 2012)
Made in: United States
SKU or Item #: 850755003067
Gender: Boys And Girls
Follow-along yoga story classes on DVD for ages 3 - 7 that enhance fitness, focus and coordination while also teaching self-regulation techniques called Adventure Skills. Launch date: November 2010.
Awards: 2010 Telly Award; 2011 Creative Child Magazine Exercise DVD of the Year; 2011 NAPPA Gold; 2011 Parents Choice; 2011 Mom's Choice
ToyDirectory Product ID#: 34236
(added 5/11/2012)
.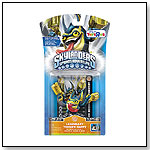 Age Range: 6 and up
Specialty: No
Gender: Boys
For centuries, Skylanders have competed in gladiator-style events inside epic arenas of sport, where only the greatest of combatants become immortalized as magical, golden statues that stand watch as guardians. These are the Legendary Skylanders. Whenever the world is in peril, special Portal Masters can bring these statues to life and summon the Legendary Skylanders to defend Skylands against any evil that threatens it. Bring the Skylanders to life in the Skylanders Spyro's Adventure video game and on the web in Skylanders Spyro's Universe. Build the ultimate collection of Skylanders - over 30 Skylanders to collect. Each Skylander has their own unique powers and abilities to enhance game play experience and save Skylands. Each character has unique abilities and powers - play more and unlock special moves and superpowers. Skylanders are action figures with brains - the Skylanders are so powerful that they remember their in-game experiences and upgrades. Skylanders figures work on and across all major video game systems, including Wii, Nintendo 3DS, Xbox 360, Sony PlayStation 3 and PC/Mac computers. Skylanders Single Pack includes: 1 Skylander Figure, 1 Trading Card, 1 Sticker Sheet, 1 Web Code.
— As of 4/11/2012 this product had 4.7 out of 5 stars from 10 reviews on ToysRUs.com.
ToyDirectory Product ID#: 34069
(added 4/11/2012)
.
Since 12/28/04 people have visited this page.